The Loop
Arnold Palmer commemorated again...for making a septuple-bogey 12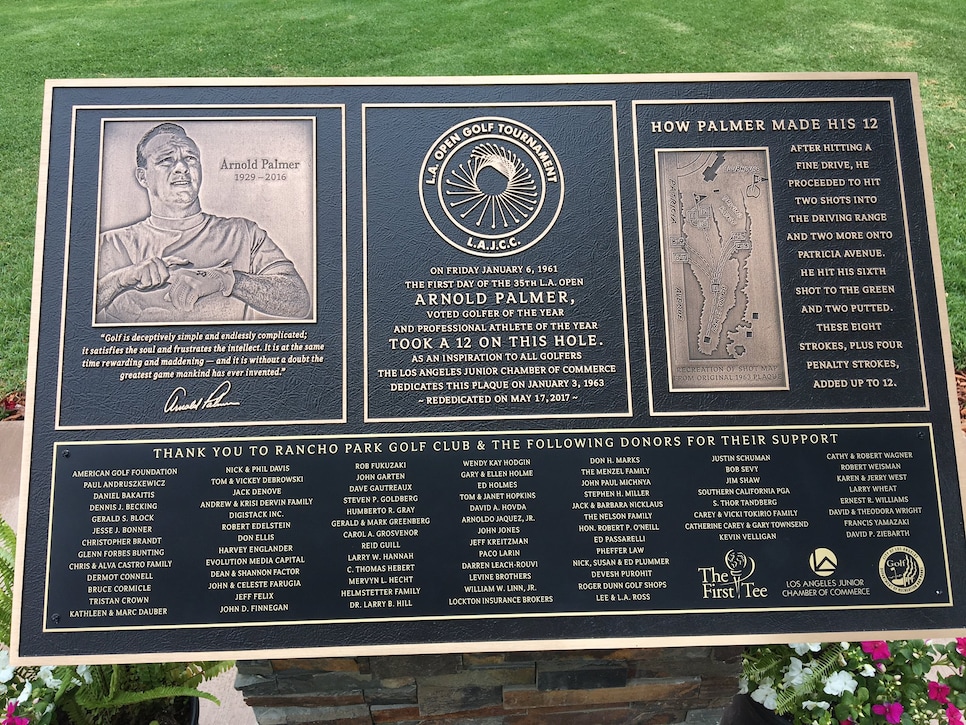 Remembering Arnold Palmer is a good thing, of course, but remembering him for making a septuple-bogey 12 seems an unusual way of doing so.
It was on the par-5 ninth hole there (now the 18th hole) that Palmer made a 12 in the Los Angeles Open in 1961. Two years later, the city placed two plaques there commemorating the septuple-bogey.
In a ceremony that included Los Angeles City Councilman Paul Koretz and World Golf Hall of Fame member Amy Alcott ("this is where I started my golf career," she said), a new plaque was unveiled (shown above) at the hole.
The best part of that story of his making a 12 came when his round concluded that day. He was asked how he had made a 12. He ran through all the strokes, including the 11th, a putt that rimmed the hole and left him a tap-in.
"Golf scholar Stan Wood and I looked at each other," the late Los Angeles Times columnist Murray confessed in his autobiography. "Clearly, here was a quotation that needed tightening up. So, we rearranged Arnold's words only slightly. 'What happened on the ninth hole, Arnold?' 'I missed a short putt for an 11.'
"Sometimes, art needs a little help."
For the record, as the new plaque notes, "After hitting a fine drive, he proceeded to hit two shots into the driving range and two more onto to Patricia Avenue. He hit his sixth shot to the green and two putted. Those eight strokes, plus four penalty strokes, added up to 12."