The Loop
Armchair Captain: Why was "Wild" Phil Mickelson playing foursomes?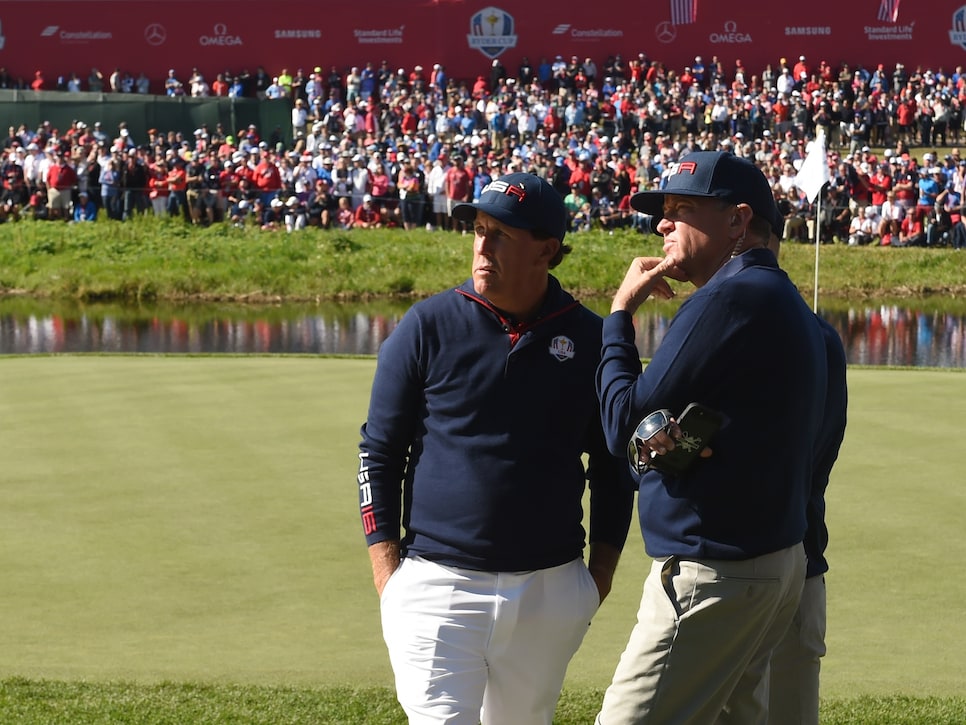 CHASKA, Minn. -- Each day, we'll examine a decision made by a captain at the 41st Ryder Cup. Sure, it's easy, to second-guess these guys, but the best part, is that we're always right!
This decision by captain Davis Love III (Co-decision by a certain vocal left-handed player?) was so questionable that we first first-guessed it on Thursday night when Phil Mickelson was paired with Rickie Fowler for Friday's foursomes. After all, Mickelson's oft-criticized career Ryder Cup resume is especially bad in this format with a 4-6-4 record entering this week.
To be fair, Mickelson and Fowler won Friday's match, but they needed a late rally that was aided by Ryder Cup rookie Andy Sullivan rinsing a tee shot on 17. They also got away with wild tee shots all day, in particular from Mickelson on 16 and 18.
Yet after spraying tee shots that brought the Mall of America into play, Mickelson was sent back out in foursomes Saturday morning. And this time, Love wasn't as fortunate.
If only Love had the best driver of the golf ball on the planet at his disposal. You know, a guy who is a lock to win PGA Tour Player of the Year. You know, someone like Dustin Johnson. . . Oh. Right.
That's part two of this critique. While Wild Phil played, DJ sat on the bench as Europe closed the gap to one point. Something tells us he's fit enough to handle playing in all five sessions, but alas, America's best player will only wind up playing in four.
And no, the loss wasn't all Phil's fault. His partner put him in some tough spots in those two matches, most clearly evidenced by the fact that Lefty had to play a shot righty each of the first two days. As a result of Rickie's erratic play, Love's most-talked-about captain's pick rode the pine on Saturday afternoon for four-balls.
And so did Phi-- wait, he's playing again?! Oh, boy. You probably haven't heard the last on this subject.