News
Arkansas women shoot 41(!) under, tie NCAA scoring record with season-opening win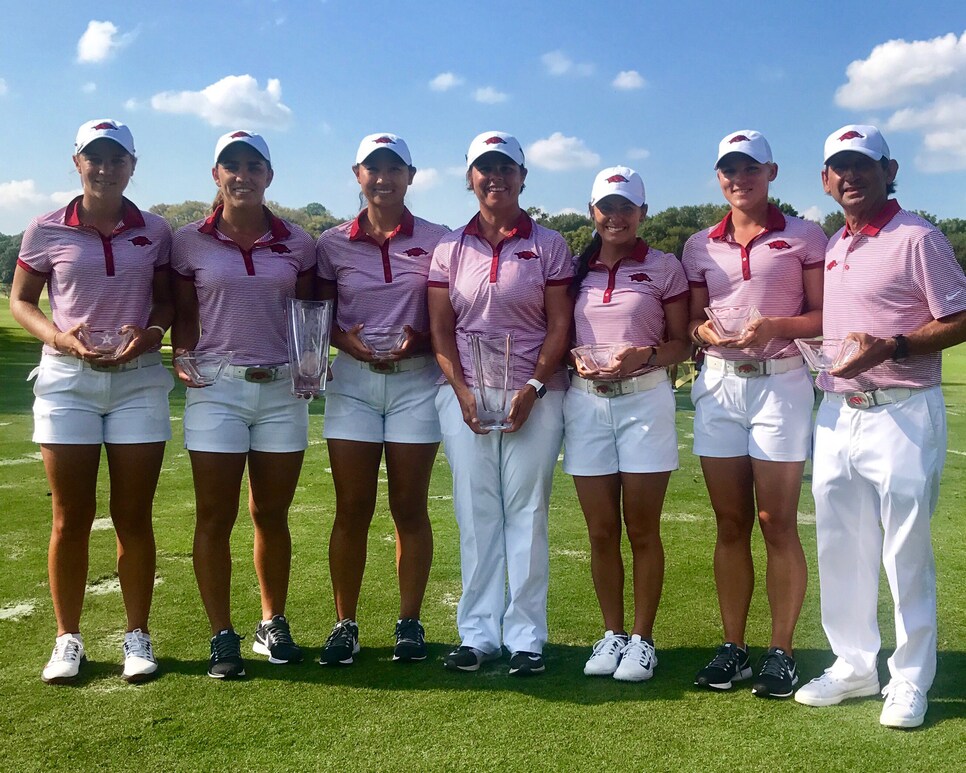 Courtesy of Arkansas Sports Information Department
How is this for an opening act: En route to winning the Mason Rudolph Women's Championship, the Arkansas women's golf team capped its first tournament of the 2017-'18 college season by tying the NCAA record for lowest 54-hole team score.
The Razorbacks, ranked 15th in the preseason coaches' poll, shot rounds of 273-277-273 for a 41-under 823 on Vanderbilt's Legends course in Franklin, Tenn., beating third-ranked Alabama by six strokes and defending NCAA champion Arizona State by 16. Arkansas' team total matched the 81-under 823 that Pepperdine shot in 2008 at the Las Vegas Showdown.
Leading the charge was Maria Fassi, a junior from Mexico, who shot a closing 64 for a 16-under 200 to win a share of medalist honors with Alabama's Lauren Stephenson. It's the third straight season Fassi has won the individual title in her first start of the fall.
Fassi's victory came with a heavy heart. Her grandfather died on Friday night. Arkansas coach Shauna Taylor said the team rallied around Fassi. "We played with a purpose, to win for her grandpa and to win for our Razorback family," Taylor said.
If not for Fassi's performance, Alana Uriell's 12-under 204 would have matched the team's 54-hole individual scoring mark. As it was, she finished third while Dylan Kim, a transfer from Baylor making her Razorback debut, tied for fourth with her 10-under 206.
"This was a great field to come out and start the year off with a win," Taylor said. "To shoot 41-under as a team shows a lot about this team and what they are capable of."