The Loop
So, Arkansas got ROYALLY screwed against Auburn on Saturday night
After both No. 4-ranked Florida and No. 17-ranked LSU fell in the early slate of games, it appeared to be Upset Saturday in the SEC. Auburn, a 14-point favorite over Arkansas at home, was looking like it'd be the next domino to fall, as the Tigers trailed the Razorbacks 28-27 with 2:06 to play in the game.
But Auburn got great field position after a poor Arkansas punt, setting the Tigers up at the Razorbacks 45-yard line. Sophomore quarterback Bo Nix quickly got his team into field-goal range, and faced a 2nd and 2 with 40 seconds to go as time ticked down. After a one-yard Nix run, he got the offense up to the ball to spike it with just 30 seconds remaining. Nix then fumbled the snap, picked it up and spiked it, appearing to spike it backwards:
If called correctly, this is a backwards pass and thus a fumble by Nix, meaning that ball is live and an Arkansas recovery would effectively end the game. But the whistles blew and the refs wound up calling it intentional grounding, which is loss of down and a spot foul. Nix was only three yards in the backfield, so it went from 3rd and 1 at Arkansas 19-yard line to 4th and 4 at the Arkansas 20. With just seven seconds remaining, Tigers kicker Anders Carlson hit the chip shot and won the game for Auburn, 30-28.
Here's how the SEC explained it:
It is true that there was no immediate, clear recovery from either team. Here's the massive problem with that: the refs blew the whistles so quickly that they didn't give either team a chance to make a clear recovery. Here's the full play, which shows that an Arkansas player and an Auburn player each go for the fumble, only to miss it. For some reason, the officials then blew the whistles:
What on earth are these refs doing? They let the play go at first, then they stopped it right before a clear recovery could even occur. By the way, one did, after the whistles: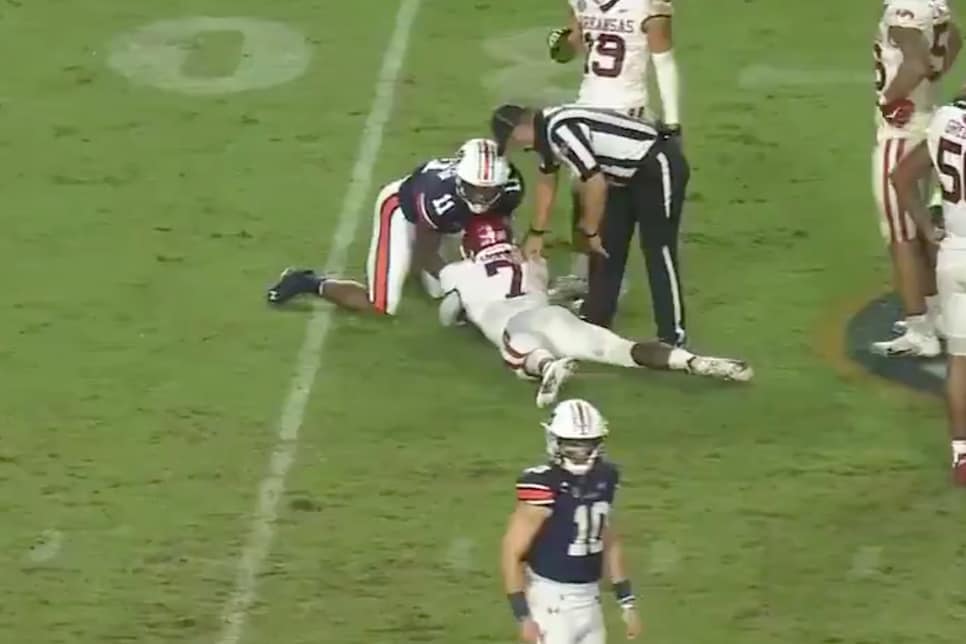 No. 7 is on the ball, with a ref standing directly over him. How much clearer can it get? Unfortunately, the quick whistles botched this whole situation. In other words, the refs decided the outcome, which is always a tough pill to swallow. Pray for Arkansas fans. This would have been the Razorbacks' second SEC win of the year, something they haven't accomplished since 2016. Brutal.