Courses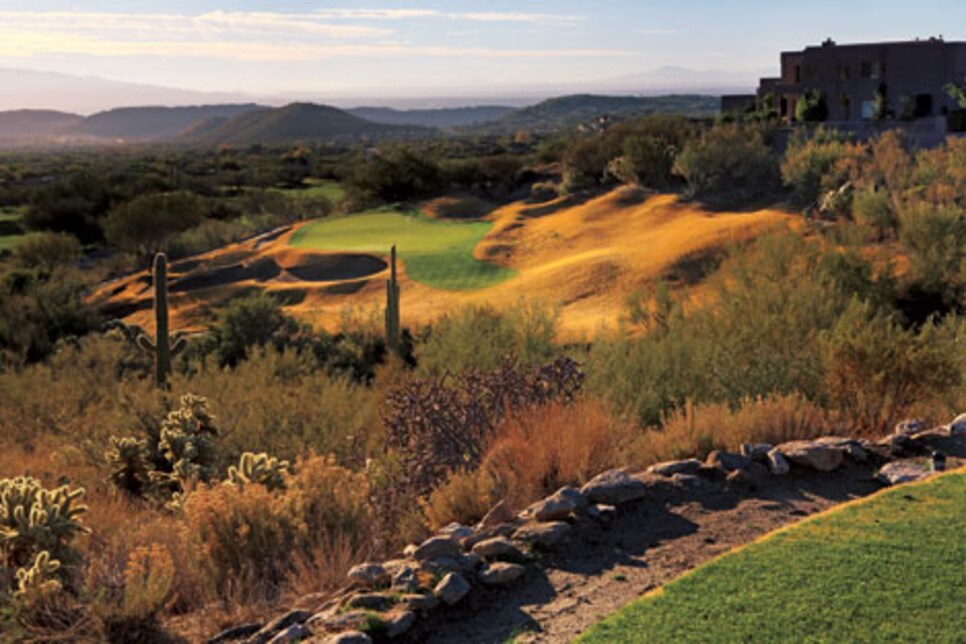 Tom Fazio's two courses at Ventana Canyon might be the toughest in Tucson. They're also the most spectacular visually, as evident by the 158-yard 13th on the Canyon Course.
There's something about riding the two-wheeled Segway Human Transporter that makes you the master of your domain. Right off, the gyro-balanced technology allows you to stand on a platform and roll in like Caesar on a royal chariot. And because the Segway is futuristically cool and uncommonly rare (the only golf resort in the country where it's available is the Westin Kierland Resort Spa in Scottsdale), people stare respectfully as you go by. On the golf course, you can eschew cartpaths, feel the lay of the land and assess your shot as you approach. Getting to your ball is such an ethereal sensation that you might as well have been beamed down by Scotty.
The Segway was a fitting way to start a sampling of public golf in Phoenix and Tucson. Arizona is the place where golf's creature comforts—like GPS yardage devices and air-conditioned carts—got their start. The truth is, it's not easy keeping the ball on those emerald islands of grass amid all the wasteland—or looking for it when you don't. In the Sonoran Desert, where the weather is ideal from November through March but hot and hotter the rest of the year, any innovation that saves sweat, energy and time off the dawdling pace of play is encouraged.
My traveling companion is my 76-year-old father, who still plays the bare-bones, pullcart golf at his local muny that is the antithesis of the Arizona resort experience. Though bag drops continue to befuddle him and "cartpath only" policies make him nuts, he revels in the exotic adventure that our far-flung golf trips occasionally provide. The excitement tends to exacerbate his nervous compulsion to make grand pronouncements about not much, a trait that it pains me to admit I share. (Hey, I write about golf for a living.) I remain haunted by the numbed silence I induced in a group of fellow 9-year-olds when I uttered the words, apropos of nothing but my own desperation: "You know, the Nautilus is a very great submarine." So the left side of my face twitched a bit when, on the drive to Tucson via Interstate 10 on the third day of our trip, he assayed an absolutely desolate landscape 45 miles south of Phoenix where the only chance for development this century is as a nuclear test site and declared, "In 10 years, all this will be nothing but miles and miles of homes."
Still, in part because Arizona golf is built on efficiency, our four days go smoothly. From Sky Harbor International Airport, it's an easy drive to the Westin Kierland, a fully loaded resort with 27 holes near high-end stores and restaurants in a tony part of Scottsdale. As Kierland's head pro, Ryan Eckroat, gives us a Segway training session, I feel a bit like a contestant on "Fear Factor" as the next unnerving challenge is being explained. But the battery-powered Segway HT's tip-proof technology, sturdy construction and simple start-up make it essentially idiot-proof. Once you step on, you control the speed and forward and backward movement by leaning your body weight accordingly. Turning—controlled by twisting a knob on handle bars that don't move (but which allow you to spin 360 degrees like an ice skater)—is not quite as intuitive. You've got to think about what you're doing, kind of like driving a car in reverse. But after about 10 minutes of training on pavement, Eckroat declares us course-ready.
In case I need to be rescued, the old man takes a conventional cart. But I quickly find playing nine holes with the Segway fun and liberating. The two wheels—slightly fatter than those on a mountain bike—and the 83-pound total weight cause only a fraction of the turf wear produced by a conventional cart. It's also estimated that Segways could take as much as 30 percent off pace of play. Eckroat hopes the new-age aura will prove a selling point, especially with newer, younger golfers. At the speeds we were set for (between 4 and 8 miles per hour), there were some power limitations taking steeper hills, and my attempt to go over a cartpath curb failed. My guess is that even at the souped-up 12-mph top speed in the latest models, the Segway is best suited for flatter courses. In fact, I think it would be perfect at the Old Course at St. Andrews, and that day will come.
Kierland, like so many Arizona resort courses, is a beautifully conditioned layout of only moderate challenge and memorability. Overall, the resort is well-suited to new trends in desert golf vacations. Rather than trying to squeeze in 36-hole days, resort guests are increasingly opting for a multi-pronged golf experience that can typically include nine holes, followed by a golf lesson and a golf-specific fitness class. It's a movement built on factors including the increased desire to truly improve at a difficult game, the growing need to mix more business with pleasure and, perhaps, shorter attention spans.
The next morning we hit the TPC of Scottsdale, home of the FBR Open. The facility that annually handles the PGA Tour's largest crowds remains a model of seamless organization the other 51 weeks of the year. Everything, from the world-class practice area to the Grill restaurant, a steak and seafood restaurant, works flawlessly. And to my taste, the Stadium Course, designed by Tom Weiskopf and Jay Morrish, better than any desert course around achieves a very difficult blend: the capacity to challenge the best in the world while providing playability and pleasure for the middle- to high-handicapper. There is room off the tee, the ball can be rolled through openings to the green, and the putting surfaces are not unduly undulating. Even the waste areas have been cleaned up to increase the chance of spotting the ball and getting a club on it.
In our foursome, Ken from Chicago and George from upper Michigan, two genial and very pale guys thawing out their games, hit a lot of foul balls but were able to find and play most of them. Best of all, there are the finishing holes made famous by television, beginning with the par-5, island-green 15th. The 162-yard 16th is where Tiger Woods set off the most raucous golf celebration in history when he made the hole-in-one in 1997. And the expertly wrought 332-yard 17th is Exhibit A in the case for why championship golf needs more short par 4s.
As a respite from the excesses of resort golf, we drove across the entire east-to-west expanse of Phoenix to the Estrella Mountain Golf Course in the cotton farm town of Goodyear (not to be confused with Estrella Mountain Ranch Golf Club, a high-end Jack Nicklaus course nearby). This no-frills public course, with a modest clubhouse, gravel cartpaths and a scruffy range, doesn't look like much, but thanks to a masterfully simple 1962 design by underground legend Red Lawrence, its 6,866-yard par 71 has a classic feel. Although it's surrounded by rocky foothills and desert wasteland, the course gently rolls along tree-lined Bermuda-grass fairways, off which it is hard to lose a ball. We didn't arrive until nearly 4 p.m., but for 15 bucks, we got in a cart and played nine holes, alone, in an hour and a half and finished as the sun set behind the Estrella Mountains. Delightful.
About 120 miles down Interstate 10, Tucson is to Phoenix as Fort Worth is to Dallas—less glitzy, more authentically Western, slower. Low-key Annika Sorenstam played her college golf here at the University of Arizona, and before stardom, Tucson is where Linda Ronstadt learned the songs of her Mexican-American father.
Still, it's arguable that Ventana Canyon, perched high above downtown Tucson, is the ultimate resort in Arizona. Its two Tom Fazio courses, the Mountain and Canyon (one of the two is available to hotel guests each day) are dramatic pieces of landscape art sculpted at the base of the jagged Santa Catalina Mountains. The 107-yard third on the Mountain Course is a miniaturist marvel set in an intimate alcove of multicolored rock, arresting cacti and deep shadows that make it a leading candidate for Most Perfectly Staged Hole in Golf.
My only problem with the Ventana courses is that for all their beauty, if you are a bad player or play badly, you essentially can't play. Thick and prickly bushes lurk punishingly on the edge of many holes, as if sacrificing $5 pellets to the sacred Sonoran is a required ritual. Fred Funk would have no problem, but if stroke-and-distance penalties tend to get you down, keep reminding yourself that Ventana golf is an extraordinary boutique experience that's as stunning as the desert gets.
The resort has two premier hotels, Loews and The Lodge, the former a 398-room Frank Lloyd Wright-style edifice of sandstone that somehow succeeds in being understated, the latter a rustically elegant complex of 50 spacious suites. Rather than glitz, the overriding theme is high-end zen, with an emphasis on quiet space, holistic pursuits and healthy food. Indulged and very happy dogs -- the place is pet-friendly—add to the atmosphere. Ventana's pleasure principle reaches its zenith in the Ventana Room, one of only three five-diamond restaurants in Arizona, according to AAA. Chef Philippe Trosch is said to specialize in "serving food in three dimensions." Personally, I find the two-dimensional stuff hard to get a fork on.
For just golf, my favorite Tucson course is Tucson National, the site of the PGA Tour's Chrysler Classic. Adjoining an Omni hotel complex that is a bit tired architecturally is a course similarly low on aesthetics. But like the TPC of Scottsdale, it provides room for the hacker and a challenge for the expert on terrain that was cleared of waste areas when it was built in 1960 (a Tom Lehman-designed "desert style" course just opened). There's no eye candy, but I still find these Trent Jones-inspired tracks more playable than most of their dreamboat descendants. The uphill, 469-yard 18th is truly tough, perennially ranking among the hardest holes on the PGA Tour.
The most venerable parkland experience in Tucson also has tour heritage. The Randolph Golf Complex is civic recreation the way it should be, a huge facility in the middle of the city that includes 36 very respectable holes at the Randolph North course and the slightly shorter Dell Urich. Johnny Miller won the last of his four Tucson Opens on the Randolph in 1981, and David Frost shot 60 there in 1990. Until 2004, the courses were also a regular LPGA stop. The spirit is lively around this blue-collar hangout, and a city ordinance governing slow play is enforced. Tax-paying Tucsonans can be proud.
On getaway morning, we girded ourselves for the peanut diet now standard on many commercial flights with a superb breakfast buffet in Loews Canyon Café. Somehow we never drive each other crazy on the last day of our trips, so when Mr. High Cholesterol pronounced, "The sausage is quite fatty, but it is very, very good," it didn't bother me that he'd dived into territorial waters patrolled by the Nautilus. He could have easily added that our four-day crosssection of Phoenix and Tucson golf had been very, very good as well.