News
Arizona State beats Northwestern, wins eighth NCAA Women's title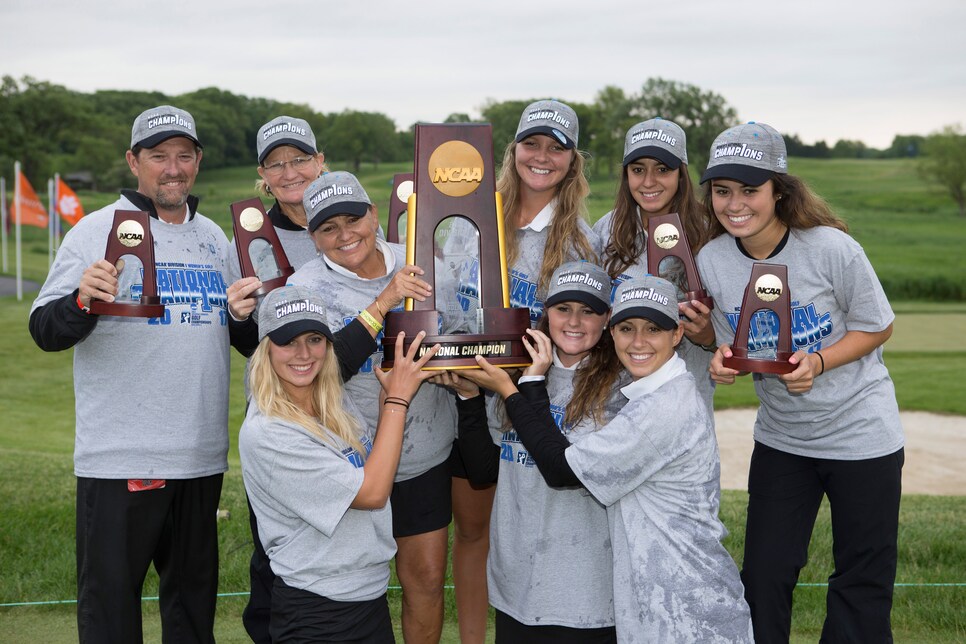 Scott Walstrom/NIU Athletics
This had been the rallying cry for the Arizona State women's golf team during the 2016-'17 college season, the date serving as a guiding light for what the most decorated program in women's college golf history was striving to accomplish. To play golf on May 24 meant the Sun Devils had advanced to the finals of the NCAA Women's Championship.
But when the date arrived, and ASU was one of the last two teams, joined by Northwestern, competing at Rich Harvest Farms outside Chicago, second-year head coach Missy Farr-Kaye realized she needed a slightly different message if her team was to claim the school's record eighth national title, and its first since 2009. The job wasn't quite done, and the fivesome of senior Monica Vaughn, juniors Sophia Zeeb and Robert Liti, sophomore Linnea Strom and freshman Olivia Mehaffey had to stay calm, relax and let their talent take over.
Whatever Farr-Kaye said, the message was well-received. The nation's seventh-ranked squad, winners of four team titles with three players ranked in the top 15 of the Women's World Amateur Golf Ranking, the team that "practiced" celebrating a national championship victory after a blow-out win at their home tournament in March, played with poise after a long, trying week, taking the real title with a convincing 3-1-1 victory over the hometown Wildcats.
"We keep saying, 'Is this real? Is this real?' and it is," Farr-Kaye said late Wednesday evening, her own personal journey a large part of the story. "This is a grueling championship now with the format, and it's an exciting format, but you have to be ready to play a lot of golf."
In hindsight, the hard part for ASU may well have already been accomplished. The Sun Devils had done some heavy lifting earlier when they returned to the course Wednesday morning to resume their semifinal clash with top-ranked Stanford. The ask was as straight-forward as it was daunting: Win both of the two remaining matches suspended due to darkness the previous night. Mind you, in one of those matches, ASU's Vaughn was 1 down on the 18th hole.
Sure enough, Vaughn birdied the home hole to square the match with Albane Valenzuela. The All-American from Reedsport, Ore., who two days earlier won the NCAA individual title, then made par on the 19th hole to thrillingly win the match. Strom followed suit, winning her match after parring the 19th hole to push ASU to the finals.
With new life, Arizona State played free and loose in the afternoon. Mehaffey, a Curtis Cupper in 2015 from Ireland, jumped to an early 5-up lead through seven holes on Northwestern's Sarah Cho, en route to a 4-and-3 victory. Italian native Liti followed suit, winning the 10th, 11th, 12th and 13th holes before defeating Janet Mao, 5 and 4.
While Kacie Komoto put Northwestern on the board with her 3-and-1 win over Zeeb, Strom was in control of her match with Stephanie Lau. The sophomore from Sweden put her foot down and locked up the team title on the 15th hole to close out a 5-and-3 win.
"Everyone keeps saying that they can't believe it, but I can totally believe it," Vaughn said. "We thought it all year, we believed in it every single day all year long, and we accomplished it."
Indeed, at the risk of jinxing themselves, the Sun Devils actually took time to practice a national championship victory celebration last month. The team had just won its home tournament, and the players had gathered at one of their apartments. They each stood over a three-foot putt into a cardboard hole, watching the putt drop to "win" the NCAA title. Players in the background pretended to be announcers declaring the Sun Devils national champs.
Credit Farr-Kaye for getting the most out of her group. A member of the Sun Devils first national championship team in 1990, Farr-Kaye grew up 10 minutes from campus and has had long ties to the program. Most recently, she had been an assistant for 13 seasons in Tempe before becoming the head coach in 2015 when her predecessor, Melissa Luellen, took the top job at Auburn.
Farr-Kaye's older sister, Heather, was a Sun Devil as well and became one of the most popular players on the LPGA Tour before losing a four-year battle to breast cancer in 1993. Shortly after, Missy had her won fight with cancer, beat it, only to see it return in 2008. As she beat the disease a second time, she also helped inspire the last ASU national title team in 2009.
Eight years later, there was more to be proud and grateful for. And there was also a new question to answer: What happens on May 25?
For at least one school, it's a day to celebrate.