Short Game
Ariya Jutanugarn's Bunker Technique Helped Win The U.S. Women's Open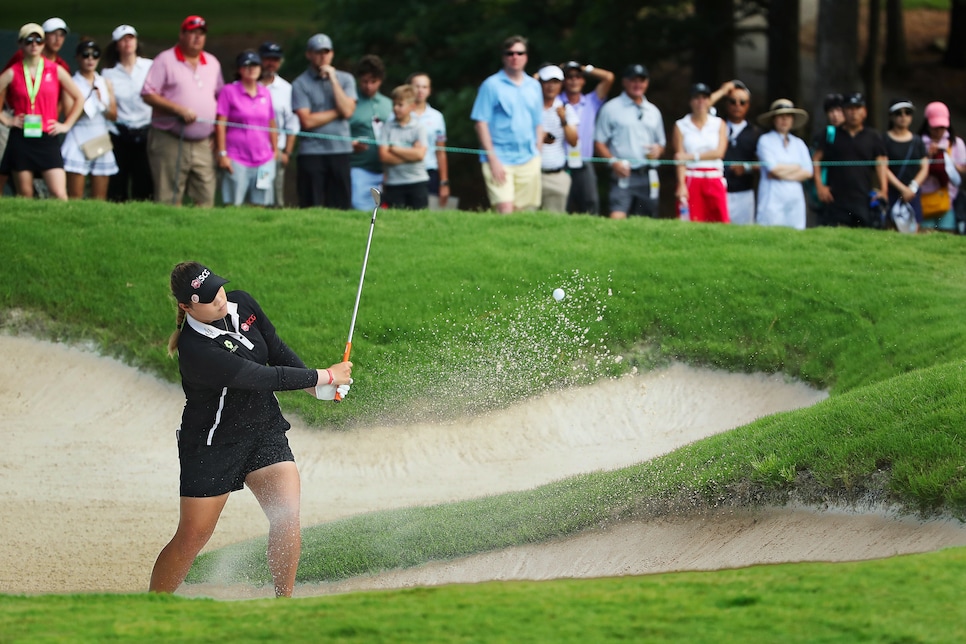 Photo by Christian Petersen/Getty Images
Ariya Jutanugarn was on her way to the worst collapse in major-championship history, blowing a seven-shot lead on the back nine of the final round of the U.S. Women's Open in June. She needed something good to happen to hold off Hyo-Joo Kim in a playoff—and she got it, ironically, by relying on a part of her game she had just been focusing on prior to the event.
She saved par twice from greenside bunkers—the first to extend the two-hole playoff (above) and the second to win it two holes later. Her final bunker shot nearly went in the hole, but she settled for a tap-in par to win her second major.
"After the work I had been doing in the bunker, I felt comfortable in that playoff," she says.
The technique she used was a little unconventional, but it's worth copying if you've got some green to work with and there's real trouble on the other side of the hole, says her coach, Gary Gilchrist. In those cases, flying the ball all the way to the hole and hoping it will check up is risky.
How did Jutanugarn get the ball to release? She aligned her body slightly left of the hole, opened the clubface a little and played the ball back, off her right ear. From there she made an armsy swing with the hands moving toward her left hip after impact, Gilchrist says.
"It's a swing where the body follows the arms," he says. "You want to hit about two inches behind the ball so it spins less and rolls, and you're using more of the leading edge of the club, letting it dig more than a normal bunker shot."
To help that happen, Gilchrist says to lean your knees toward the target at address so your left thigh is supporting your weight. "It should stay mostly on your left side when you swing. This creates more of a descending blow," Gilchrist says.
Do that and the ball will roll, so don't forget to do one more thing: You've got to read the green like you're putting.