The Loop
Are caddies lobbying to be on Tiger's bag?
AKRON, Ohio -- Tiger Woods has had since early July to ponder his choice for a new caddie after dismissing Steve Williams at the AT&T National, but he decided to buy himself extra time by employing boyhood friend -- and president of his course design division -- Bryon Bell for this week's WGC-Bridgestone Invitational and next week's final major, the PGA Championship.
What he's looking for in his next caddie goes a bit beyond the usual job description of show up, keep up and shut up.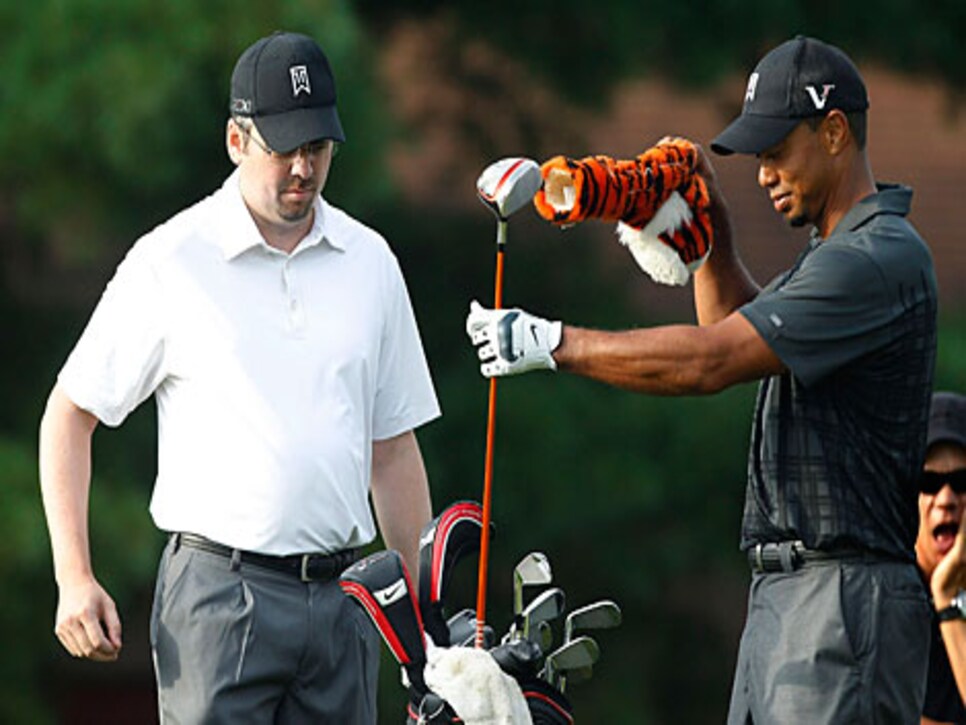 "Someone that obviously understands the pressure of the game coming down the back nine, someone who probably has been there before and who understands it and can deal with that," Woods said when asked about desirable caddie qualities. "It's something that ... I had Fluff prior to Stevie. He's been there plenty of times with Peter (Jacobsen), and obviously Stevie with Greg (Norman) and Raymond (Floyd), been there plenty of times. So an experienced caddie who's been there before and understands it, knows how to handle the situation. That's something that I will definitely be looking for."
OK, that's what Woods wants. But it has to be asked: who wants that bag? There are positives and negatives to carrying clubs for the former No. 1 player in the world and still the No. 1 draw in the game.
"Flags and cash," said one veteran caddie when asked about the benefits of working for Woods. "He's still going to win tournaments and he's going to win money. And you probably don't have to work too many weeks. But as far as negatives, I can't think of one."
Another caddie could, however, identify a drawback. "There's dealing with the circus. That can mean different things, but it's just a whole other atmosphere, added drama, whatever. But for a lot of guys, it would probably be worth it."
Is anybody lobbying for the job? If they are, no one is saying.
"Guys talk all the time, but I don't think anyone would admit he is going after that job. I haven't heard anything," said a third caddie. "You know, I'm sure there are plenty of guys who want that bag; more power to them. Yeah, it would be tough because of the scrutiny involved. But if you're worried about being under a microscope or added pressure, then you probably shouldn't be a caddie anyway."
Follow on Twitter: [@DaveShedloski
](http://twitter.com/DaveShedloski)
(Photo: Matt Sullivan/Getty Images)