New Courses
A first look at Gil Hanse's new ultra high-end Florida course
Apogee Club's West Course is one of eight planned designs in Martin County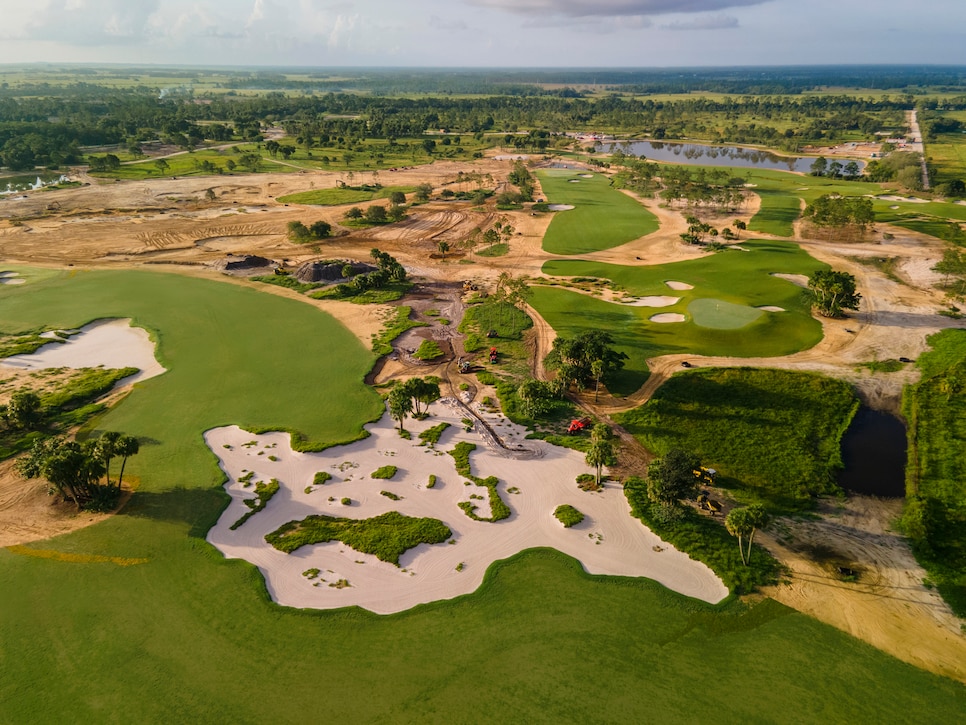 Golf has seen many booms over the years, but the collective development around Hobe Sound, Fla., just north of Jupiter, is where many of the game's leading architects are all working right now.
Between now and the end of 2025, eight new golf courses are expected to open in Martin County (where the Atlantic Ocean beach town of Hobe Sound is located). That doesn't include the Jack Nicklaus-designed Panther National, fifteen miles south in Palm Beach Gardens, opening this November, or The Park at West Palm, the new public course from Gil Hanse, Jim Wagner and Dirk Ziff that opened in April.
Covid drove people to central and south Florida in waves, to either ride out the worst of the pandemic or to relocate permanently. In a short period of time, West Palm Beach has become one of the southeast's fastest growing centers of finance and business with the cityscape undergoing a seismic wave of new high-rise office and retail construction. As the population has surged, so has the demand for golf. Clubs struggling to attract members in the saturated golf market between Miami and West Palm Beach just four years ago now cannot accommodate the heightened interest. Virtually every club and course has a waiting list, most of them years long.
The unprecedented demand has created a land rush toward low-growth Martin County, the nearest location to West Palm Beach and Jupiter that still possesses open space tracts large enough for golf. A handful of prescient developers recognized the opportunity early. The first courses out of the gate, slated to open as early as November, include the second course at McArthur Golf Club (a Bill Coore and Ben Crenshaw design called The Back Yard, complementing the club's 2001 Tom Fazio/Nick Prize design), and the West Course at Apogee Club, a new non-residential golf club from developers Michael Pascucci and Stephen Ross that will feature 54 regulation holes in addition to several short courses and par-3 holes.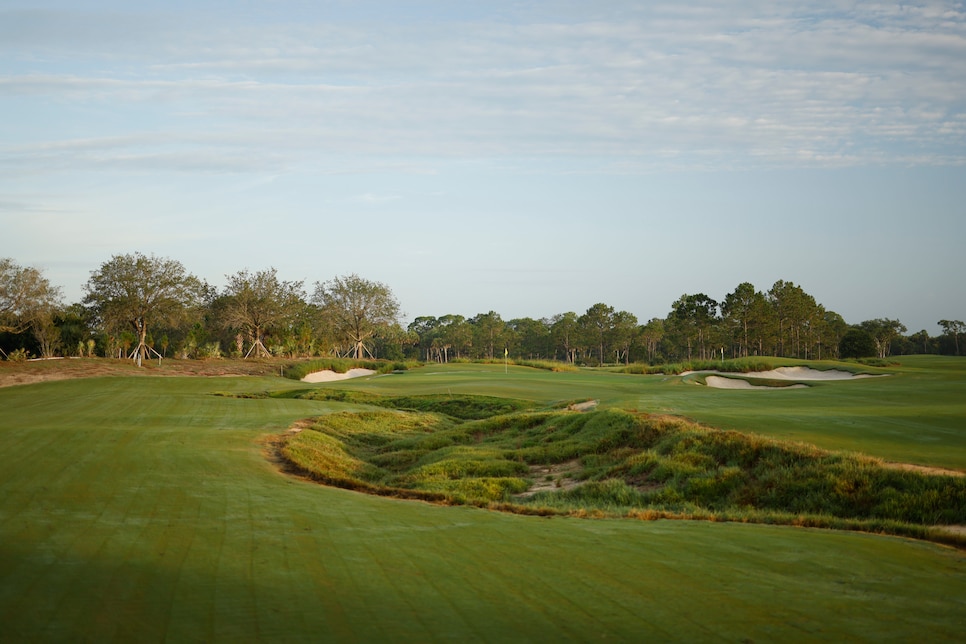 A constructed barranca divides the left and right fairways at the par-4 10th.
Jensen Larsen
The Hanse-Wagner designed West Course is situated on a roughly 500-acre section of Apogee's 1,200-acre site with frontage along the St. Lucie Canal. While this part of the property possesses and attractive blend of stately oaks, pine and palm, the most notable aspect of the topography is an elevation 15 to 20 feet above sea level, which qualifies for the high ground in this part of the state. With sand down almost as far as the crews are allowed to dig there's an endless supply of malleable material available to fabricate golf holes, which is necessary given the scant topographical inspiration to riff on.
In a perfect scenario, Hanse and Wagner like to work with the land and only enhance the contours that already exist, as they did at Ohoopee Match Club in Georgia (ranked 34th on America's 100 Greatest Courses). However, it's often the case on neutral sites that they must manufacture the product, as they've done at the Olympic Course in Rio de Janeiro and Ladera Golf Club near Palm Springs, also opening in November. The lack of interesting terrain to drive design decisions gives them the freedom to push the architecture in intriguing directions.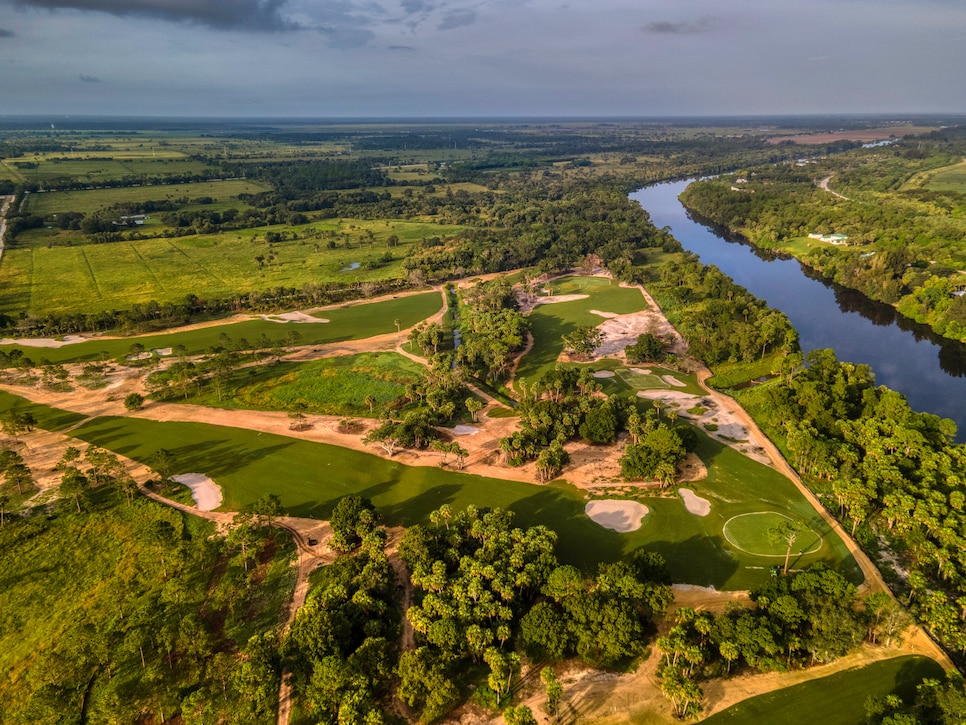 A number of the West Course's holes run along the St. Lucie Canal.
Jensen Larsen
Even though only half the holes were grassed on a visit earlier this year (the other holes were in various stages of shaping), it wasn't difficult to detect the experimental and often whimsical edge to the architecture. I toured the course with Wagner and Mike Davis, the former chief executive officer of the USGA, who is helping oversee the development of the three courses and is currently designing Apogee South with Tommy Fazio. The holes dart in and out of the trees in circling patterns with broad fairways slithering into relatively small greens full of character and contour and winking humor.
The fifth hole is a short par 4 that runs parallel to the canal with a perched up green and several driving options. As we stood on the tee contemplating them, Wagner, a tall, native Philadelphian fluent in both blue-blood greens-committee-chairman-speak and the blue patois of the most diehard Eagles fan, spoke mischievously about using the boundary line as a strategic out-of-bounds hazard.
"I think we could even turn the angle of the fence in a little to create a corner to see if guys want to flirt with that line to get to that nice little hidden spot in front of the green," Wagner said. "Or, if they want to chicken out over here to all this fairway, they get that tricky blind shot over the hill. It's a classic set up."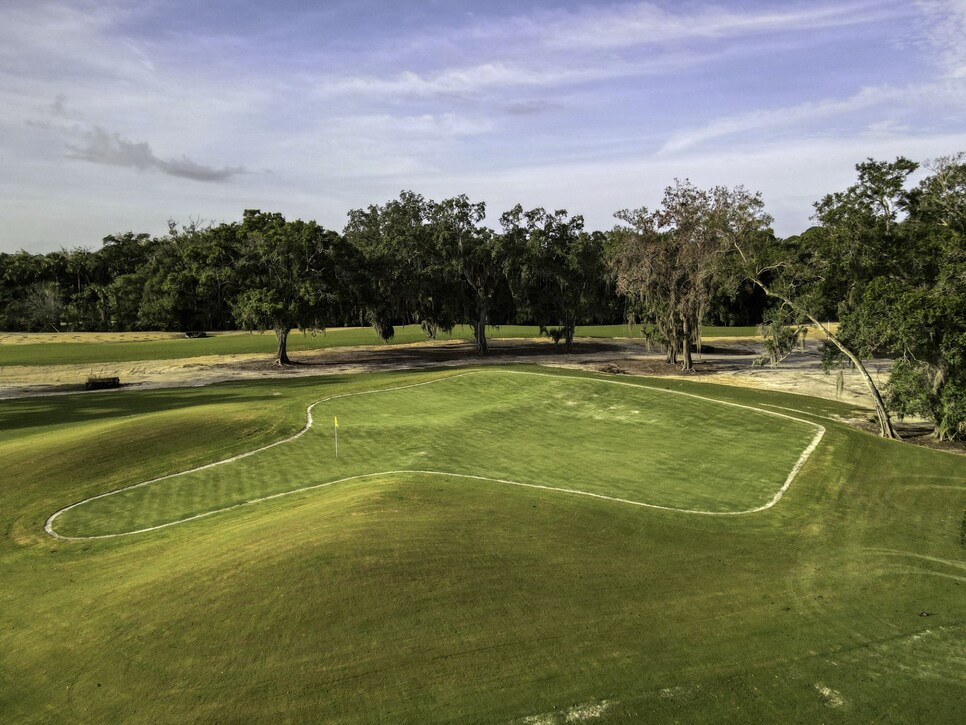 Hanse has long wanted to build a green like the 14th.
Jensen Larsen
Later, we stood on the green at the 14th hole, another drivable par 4, for about 10 minutes trying to make sense of its shapes. I couldn't recall seeing anything like it before, and neither could Davis, who is intimately familiar with most of the greatest courses in the U.S. from his time setting up championships for the USGA. The green wasn't a punchbowl, but rather three separate punchbowl sections linked together, the extended front section bracketed by Mae West mounds. Think of the Mercedes-Benz symbol and you just about have it, or the ghost mask from "Scream."
"This is a green Gil has always wanted to build," Wagner said. "Apparently up to this point nobody's been crazy enough to let him do it."
Scoring on the West Course will be predicated on not losing shots around the greens, many of which are elusively shaped and cocked and spill off into bunkers and chipping hollows. The yin-yang putting surfaces of the par-4 10th and par-5 15th, playing from colliding directions and separated by a yawning bunker, are each narrow and set up to best receive shots only from drives that have flirted with a barranca and a line of woods, respectively. Missing them will leave touchy up and downs. The par-5 18th is similar, its deep, elevated, taco-like green angled toward a difficult angle to access.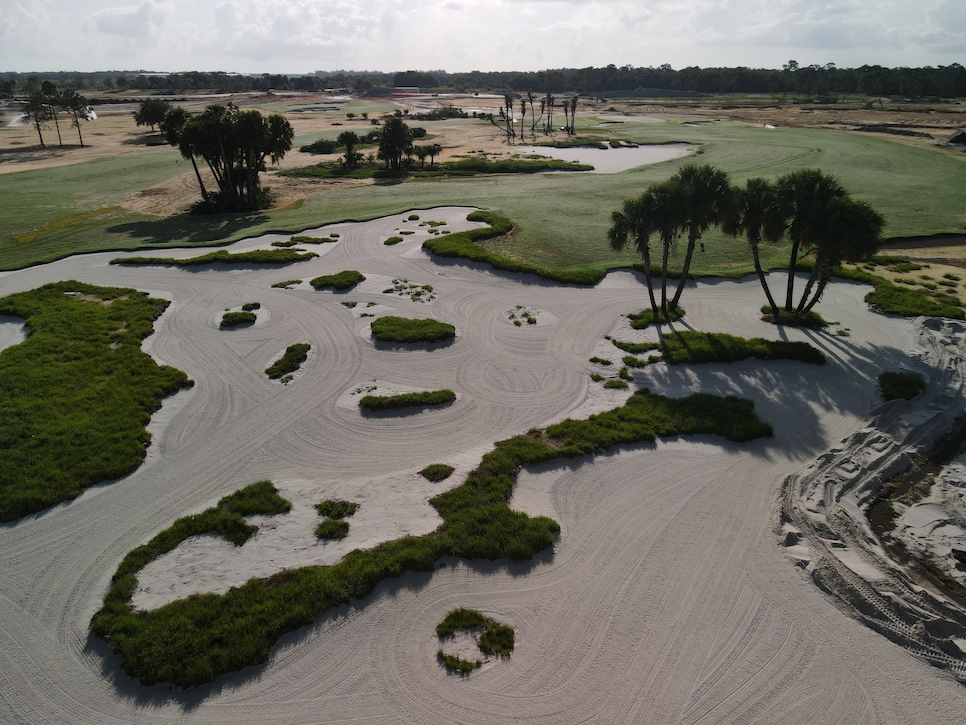 Taking inspiration from one of A.W. Tillinghast's favored hazards at courses like Baltusrol, Philadelphia Cricket Club and Brook Hollow, Hanse and Wagner added a Hell's Half Acre bunker at the par-5 6th.
Jensen Larsen
The ability to easily move sand enabled the architects to create minor elevation changes. A broad dune stretching across the sixth and seventh holes, for instance, creates just enough fairway movement to send errant shots into low hollows with awkward recoveries. A Hell's Half Acre bunker field (above), a type of historical hazard Hanse and Wagner have restored at Baltusrol Lower and elsewhere and used originally at Ohoopee, Streamsong Black and other designs, must also be challenged off the tee at six.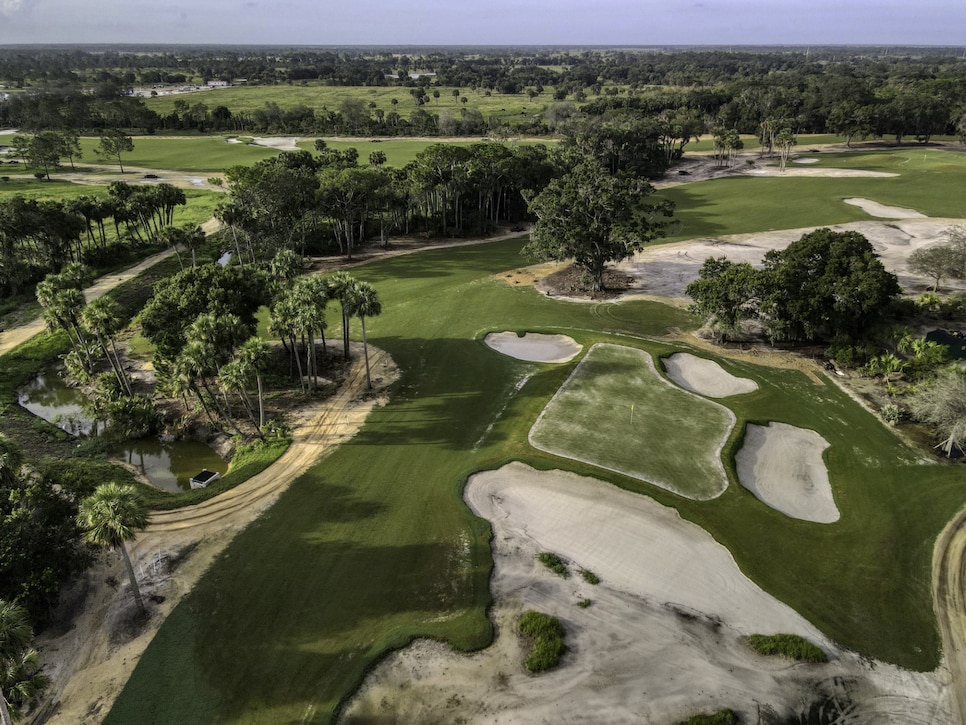 The green at the par-3 13th with some intriguing hole locations.
Jensen Larsen
All the construction is being handled in-house. The ownership group, including Pascucci, the founder of Sebonack, ranked 43rd on America's 100 Greatest Courses, and Ross, developer of Hudson Yards in Manhattan and owner of the Miami Dolphins (he's also currently erecting several towers in West Palm Beach), purchased the construction equipment that's being used to build the three courses, the 50-acre practice and performance center, and the short courses. It's possible the equipment has already paid for itself as it busily excavates several million cubic yards of soil to construct over 160 acres of lakes on the South and eventual Kyle Phillips-designed North Course (projected to open at the end of 2025). Fazio and Davis will use much of the fill to erect high, Calusa Pines-like dune features that will give the South Course radically different optics and playing characteristics than the West Course. That course should open next fall or winter.
Though dramatically different in obvious ways, each course will have playing similarities.
"My insistence with all three architects getting into this was, I want big fairways, good, clever strategy, and greens big enough to receive the shot that's supposed to be coming in," says Pascucci. "I want no water in play and no forced carries unless you're Rory McIlroy playing from the tips and I don't want to block the front of the greens, so you can run the ball up. You can put a bunker on one side and you can have Sunday pins, but I want everybody to be able to play it all the way up to the 4,000-yard tees, and I want to take double bogey out of play. And they all bought into it."
"If more architects followed those principles, golf would be much more fun for everybody."
Hanse and Wagner might have to start paying property taxes in Florida (Wagner already does—he now lives in the area) as Apogee West is their third build in Martin and Palm Beach Counties in the last four years, including The Park and The Match Course at Jonathan's Landing (2022). They're also at work at Kinsale Golf Club in Naples where they're constructing holes inspired by the designs of C.B. Macdonald and Seth Raynor. The Florida golf boom is real—expect more to come.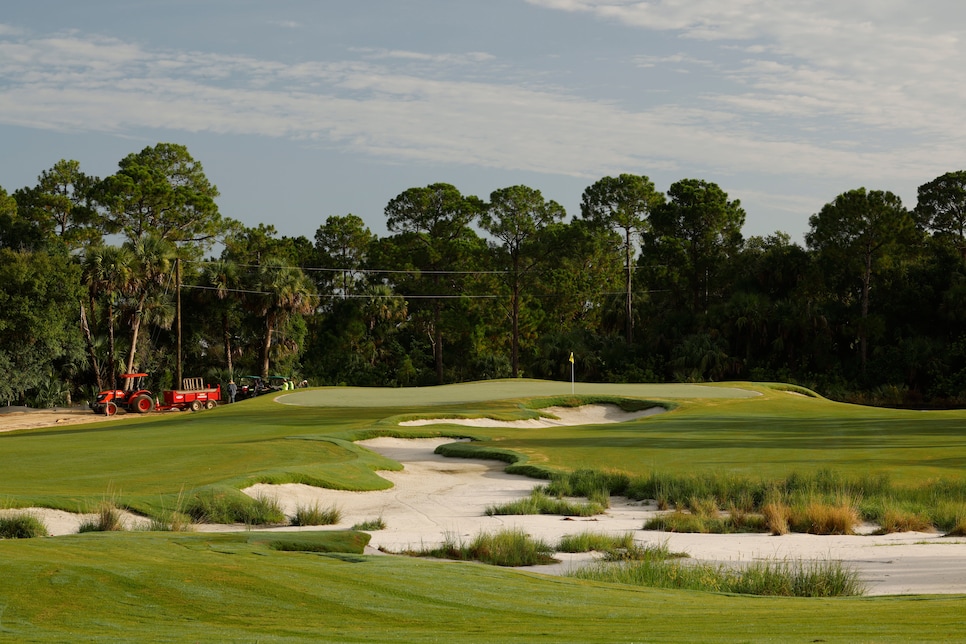 Players who miss the par-3 8th have a variety of short-game options.
Jensen Larsen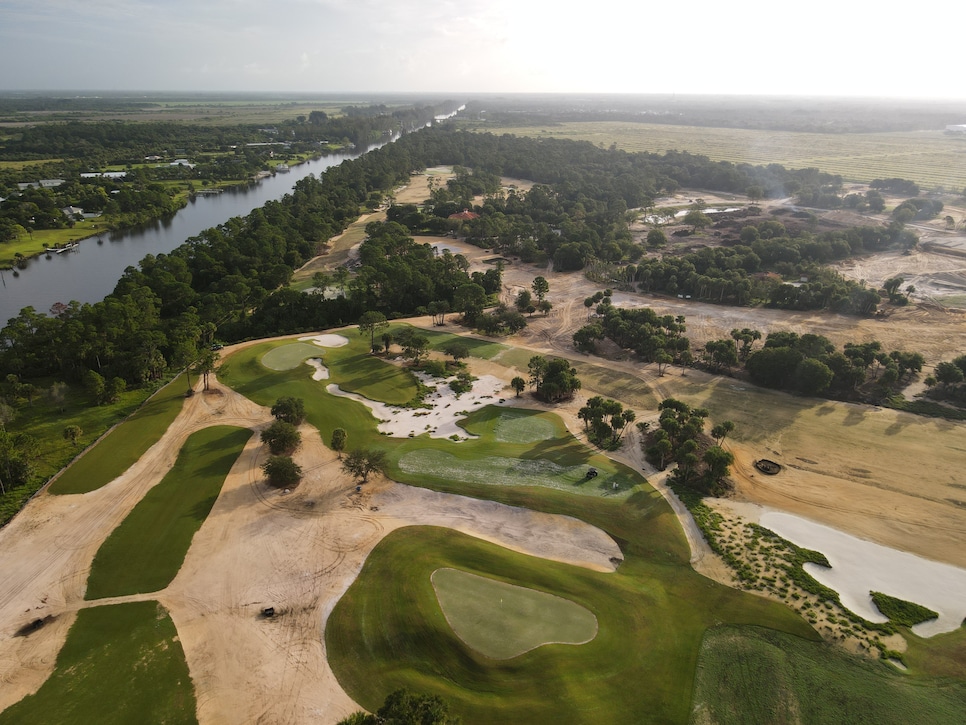 Martin County is rural and lightly developed compared to counties to the south, creating rare opportunities for golf.
Jensen Larsen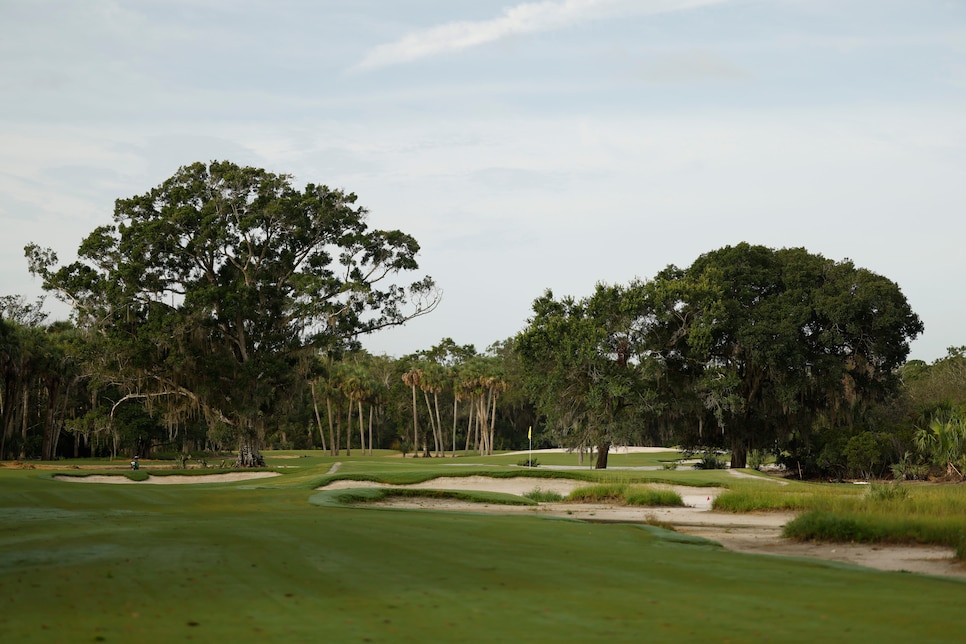 The mature treescape of oaks, pines and palms give the young West Course an aged feel.
Jensen Larsen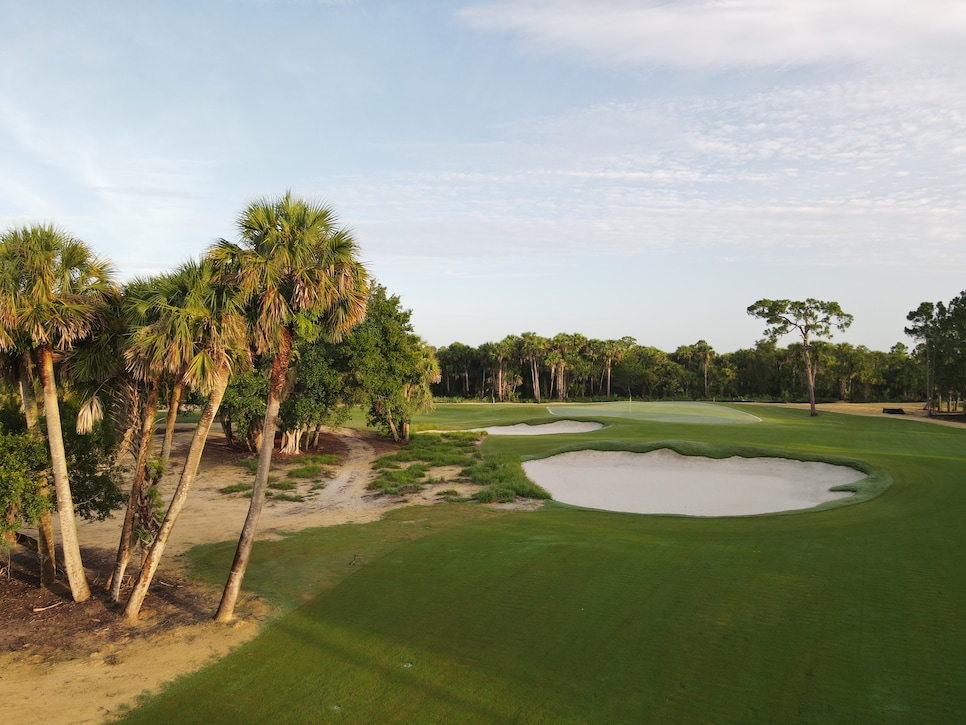 Apogee's West Course features broad fairways with numerous driving angles setting up precision approaches into relatively small, highly contoured greens.
Jensen Larsen
Below are some additional photos taken by Jensen Larsen photography for Golf Digest: