Aon Risk Reward Challenge Coming Down to Wire on PGA Tour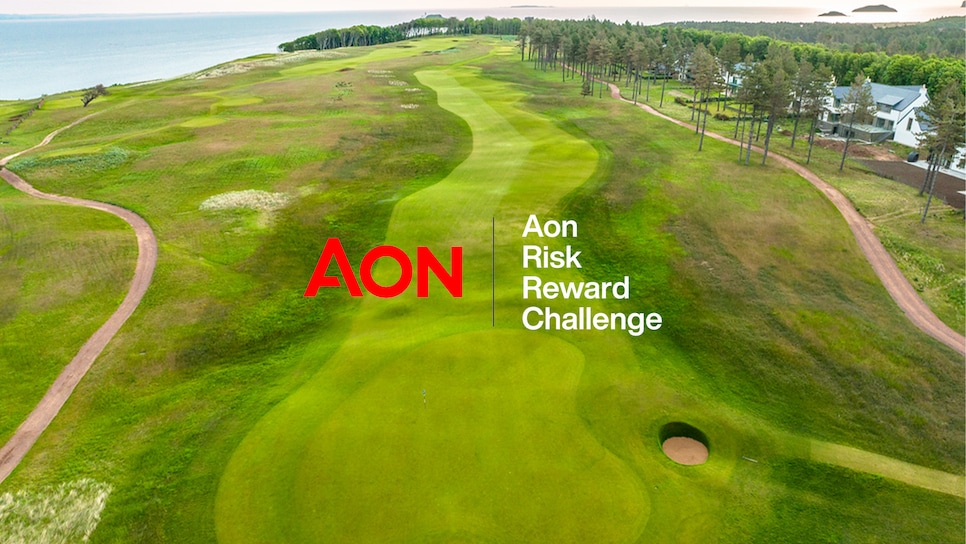 PGA TOUR players have a lot on the line at the Genesis Scottish Open — a co-sanctioned event with the DP World Tour — as they will be playing for the country's national title. Scottie Scheffler, Hideki Matsuyama, Cameron Smith, Tommy Fleetwood and Billy Horschel are competing for even bigger stakes at The Renaissance Club in North Berwick, Scotland. All are currently among the top players vying for the Aon Risk Reward Challenge title. With just three weeks remaining in this year's tight race, players in the Challenge accumulate their best two scores on one designated hole at every participating event — this week the 576-yard, par-5 16th hole. The player who best navigates these pivotal holes throughout the season wins the Aon Trophy and a $1 million prize – equal to what the LPGA Tour winner will take home in November.
The 16th was statistically the easiest hole on the course at the 2021 Scottish Open — players averaged 4.43 strokes on it, collectively carding 19 eagles, 247 birdies and only 13 bogeys there all week. However, the constant threat of right-to-left gusts off the Firth of Forth can wreak havoc, especially as four brutal pot bunkers adorning the left side come into play when the wind picks up. While many players can reach the green in two shots from the fairway, nobody did it from those pot bunkers last year. In fact, players who found a bunker off the tee lost nearly one stroke on the hole to those who landed in the fairway.
Aon ambassador Xander Schauffele, who is in the Challenge hunt as well, is quick to point out that the hole also confronts players with gnarly fescue that's reachable from the tee, fairway moguls, and tricky up-and-down approaches. "You have to hit a special shot to get close to the pin there," he says, adding that careful tee-to-green strategy is imperative on 16. "A good risk-reward hole like this challenges you the entire duration."
While the reward is often a birdie, the risk may result in a par that actually causes a slip down the leaderboard. With the $1 million prize up for grabs, watching the top players in the world navigate the risk on this hole will be riveting. Click here to learn more about the Aon Risk-Reward Challenge and to view the live PGA Tour leaderboard.