Branded Content
Embracing Equity: Aon Risk Reward Challenge Awards Equal Prize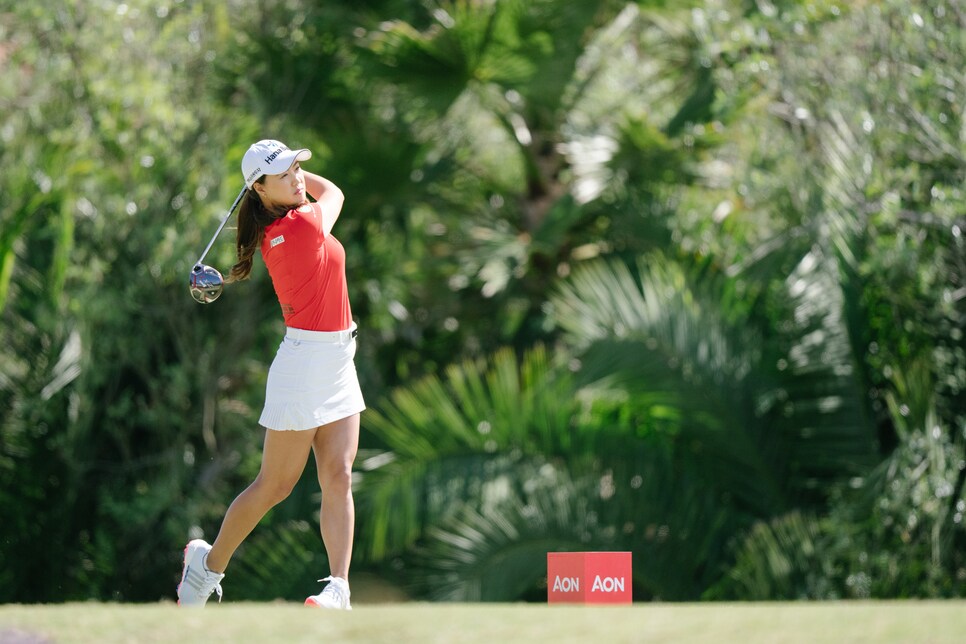 Today is International Women's Day, a global celebration of the social, economic, cultural and political achievements of women that embraces a call to action for accelerating equality. Perhaps no company in golf exemplifies this mindset as well as Aon, a global professional services company that launched the Aon Risk Reward Challenge across the PGA TOUR and LPGA Tour in 2019. The Challenge awards the LPGA Tour winner of its annual, season-long Challenge with the same $1-million grand prize as her counterpart on the PGA TOUR.
For Jennifer Bell, Aon's CEO of North America, the Challenge perfectly connects two of her passions, creating and leading inclusive and diverse workforces and the game of golf.
"We are in the business of better decisions for clients and our colleagues at Aon, and pay equity in sports is always the best decision," says Bell. "When we launched the Aon Risk Reward Challenge, we created a program that reflects what we do as a business. As co-lead of the Global Inclusive Leadership Council for Aon, the Challenge is one of the ways we live our inclusion and diversity value – it allows us to bring it to life."
The Aon Risk Reward Challenge has been a unique example of how companies can effectively build partnerships that deliver far more than just bottom-line impact. Since the Challenge launched in 2019, other companies have stepped up to help drive more parity across the men's and women's game.
"Equity has thankfully become a popular corporate topic, but it is important that actions match those words," says Bell. "When I have conversations with leaders of other organizations, I ask them plainly what they are doing to drive change. I'm proud that Aon has served as an example of how companies can effectively build equitable partnership programs, and I want us to continue pushing the boundaries in this way. I hope that the success of the Aon Risk Reward Challenge inspires and influences others to do the same."
Aon's Ambassador roster is yet another example of how the firm lives its values. The team is comprised of an international and elite lineup of golf professionals, including four LPGA Tour players, two PGA TOUR players and one PGA TOUR caddie.
"It's crucial that the future of golf represents diversity and inclusion, regardless of gender, which is why I'm proud to be an Aon Ambassador," says LPGA Tour pro Lizette Salas, who has been on the Aon team since the program's inception. "Aon puts such significance behind supporting the women's game, and this translates directly to its company culture and the way it does business. My hope is that young female golfers will be inspired by the push for change and equality in sport and will keep going. It's initiatives like these that make it possible."
PGA TOUR pro and Aon ambassador Tony Finau concurs, adding, "Partnering with a company that rewards the winners of the Aon Risk Reward Challenge on both the LPGA and PGA TOUR with equal prize money is incredibly meaningful to me. The women competing on the LPGA Tour are world-class athletes who have worked extremely hard to earn their success. Aon continues to demonstrate its commitment to promoting equality, and I hope the Challenge inspires more companies to follow the example that Aon has set."
A new season of the Aon Risk Reward Challenge is currently underway, with players across both tours competing for a chance at the Aon trophy and the coveted and equal $1-million prize.
To learn more about Aon visit aon.com