From the Magazine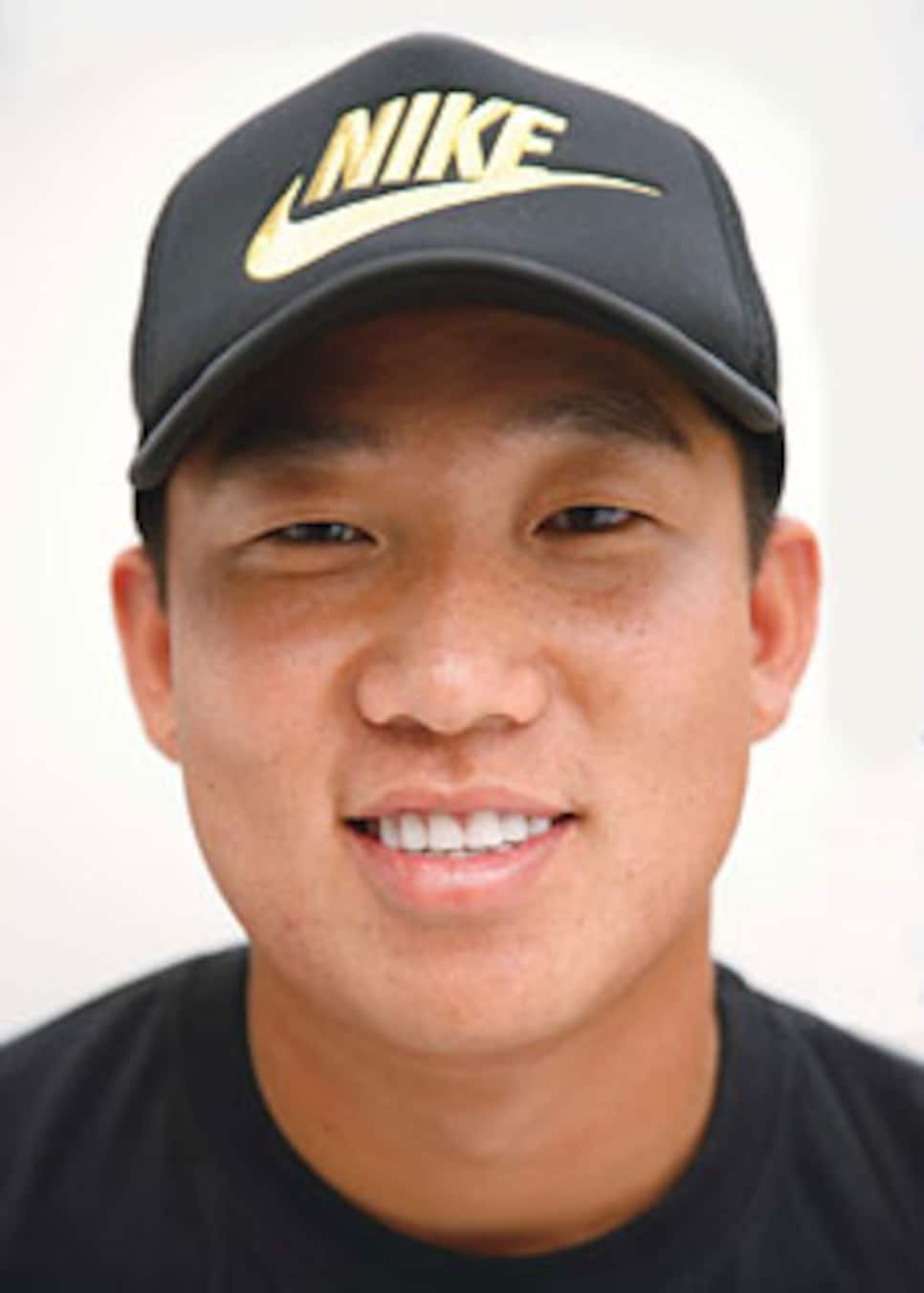 In 1996, when Tiger Woods declared "Hello World," and the commercial airwaves echoed with children proclaiming "I'm Tiger Woods" ... "I'm Tiger Woods" ... "I'm Tiger Woods," one of them could have been an 11-year-old Korean-American from Los Angeles named Anthony Kim. He was Tiger Woods and had the photograph at 2 with the diaper and the downswing to prove it.
He also had the Pygmalion father, the protective mother, the trophy-laden junior pedigree, the truncated collegiate career, and that distinctive bearing and brag that the other players seemed to recognize first. They always do.
"He's kind of fearless," says Ernie Els, who adds wistfully, "Weren't we all kind of fearless at 23?" Among Kim's fellow pros, fearless is the consensus description. "Funny" rings a lot of bells, too. "He's a character," Mike Weir says. "A funny, funny dude," says Phil Mickelson.
"What do I think of Anthony?" Jim Furyk mulls over the question. "I really like the guy, to start with. He's a lot of fun. He's got a real confident feel about him. Even as a rookie [2007], just the way he handled himself, walking around the locker room. He almost appears cocky, but when he talks to you, he -- I don't see that side of him when he talks to you. He's just very confident. He has a lot of belief in his ability."
What does Furyk see on the golf course?
"I just don't see a lot of weaknesses. I haven't seen him do anything poorly, and you don't see a lot of young guys like that get in contention on a tough course like Wachovia [Quail Hollow, 2008] and then just beat the hell out of everyone [by five strokes]. He gets up two, pretty soon it's three, pretty soon it's four. You have to have a lot of belief in yourself to do that out here. He's got a lot, a lot of game."
"Yeah," Kim says, "I've heard that word a few times. Some have said it to the media when I'm standing right next to them. I don't know what they're talking about, to be honest, and I mean that. I'm the same as everyone else. I'm as normal as it gets. Maybe it's just that golf isn't as big a deal to me as it is to most people. It's something I love to do. It's a talent I was blessed with, that I have confidence in. At the end of the day, I couldn't care less who I'm playing against. Because I know, if I play my best, I'm not worried about anyone else. My shot. My putt. What that guy over there is doing doesn't really affect what I do. Whether I win or lose -- and trust me, I'm going to kick and claw to try to win -- it's just competition to me. It's just golf."
Morningside Avenue, on the edge of downtown Dallas, about a 10-minute drive from the grassy knoll, is near enough to the freeway to be noisy. But it's quiet, almost silent. Settling in Dallas, Kim was influenced by the convenience of the airport and the presence of a few friends. He expects to miss the ocean. On the brink of real riches, Anthony has been imagining a house with a theater and an indoor basketball court, not to rule out a retractable roof and helipad. ("If I had Tiger's money, I'd start building it right now.") But for the moment he lives in a small, handsome, conservative home that doesn't say 23-year-old until you open the door.
Years ago in Rome, the young tennis player Boris Becker apologized for the state of his hotel suite, which appeared to have weathered a nor'easter only to be ransacked by thieves and tossed by detectives. "Pardon the mess," Becker said, "but I live like a player."
Anthony Kim lives like a player. The floors are awash in clothes and clutter, gimcracks, gewgaws and Ryder Cup mementos. The decorator could be the same guy who organizes claw machines on boardwalks. Sheathed in a worn, blue Club Glove, Kim's work tools have been strategically dropped just inside the doorway, so they can be tripped over most easily.
He shares the place with girlfriend Lisa Pruett, best friend Paull Veroulis and a couple of cherished dogs, one of them a buckskin-colored pit bull, Rocky, who doesn't seem to know he's a pit bull. Rocky is in love with everyone, including a cat who lives across the street.
In the PGA's infantry of wives and significant others, the uniform of the day is either phosphorescence or camouflage. Pruett is one of the ones who doesn't try to stand out in the gallery; she blends in with the trees. Veroulis is a salaried assistant, but more friend than employee. He and Anthony go back to high school. They have just returned from lunch at Fadi's, one of the trio's favorite haunts, a cafeteria-style restaurant where the fare runs to hummus, eggplant, stuffed cabbages and grape leaves, with enormous platters of chicken and beef. Kim's presence creates no stir. He is still on the doorstep of celebrity.
Sitting at his kitchen table, using a look to convey we might as well get one thing straight right now, he says, "I'm not going to call any other players out. I don't need to do that. But [unlike your average everyday image-conscious touring pro] I've never been a person who says something because it looks good in print. A lot of times, that's gotten me in trouble, too. Where I could smooth things over with just a few words, I don't. I choose maybe a little too much of the truth, without spinning it enough, if you know what I mean."
In that case, we might as well start at Oklahoma.
"In college," Kim hardly has to say, "kids drink every single day. That's what I did. When you're in college, you feel invincible. You don't have to make a tee time because you're on full scholarship at OU. Whether you go to class or not, it doesn't matter. I tried to go to class as little as possible."
"I majored in not picking a major," he says. "I just kept it undecided, biding my time until I turned pro."
He planned to spend just one golf season in Norman, mainly to please his mother. But she wheedled two more out of him. However, in Anthony's third and final year, he went a little haywire, which is to say backward. Not so much on the merits as on the demerits, Kim slipped from first-team All-America to second. How could I be second team? he thought at the time. "In one of the best fields we played all year, I won by eight shots. Before that -- another good field -- I won by seven." But he says now, "It's also true that I was benched for a few tournaments -- I don't know, probably five tournaments. And I said stupid things all the time. I still say stupid things. The bottom line -- and it's taken me a while to come to this -- is that it was mostly my fault. You can't screw up yourself and then expect the best from someone else."
Kim could have worked harder. He could have led more. He could have been less vocal about and disgusted by what he calls "the politics of college golf." Still, despite all of the headaches Kim brought him, Oklahoma coach Jim Ragan says, "That kid has a really good heart."
Speaking of headaches, Anthony wasn't finished with the vodka. In 2006, previewing the PGA Tour at two stops, Kim had either the good or bad fortune to succeed instantly. Debuting at the Valero Texas Open on a sponsor's exemption, he tied for second place and earned 300 grand. Until that moment, Anthony wasn't completely sure he could make a living with his golf clubs. "This may sound crazy," he says, "but at Valero, I kind of figured it out." After that, and for a long while, he was a little too sure.
In 2007, the youngest rookie on tour had finishes of third, fifth and ninth, was 60th on the money list and banked a million and a half dollars. Only by his own yardstick did Kim fail to measure up.
"That first year, I don't know what happened," he says. "It was a train wreck of a year. I did everything wrong that you could possibly do. I didn't deserve to keep my card. I don't know how many golf balls I hit in 2007, but it couldn't have been in the thousands. Sometimes I wouldn't hit 10 for the week. I'd just play the tournament. And that's not me -- that's Carlos Franco. I need to hit balls and loosen up and go through my routine. I didn't do that. I stayed out every night. Everybody saw it. I didn't respect the game. I didn't respect myself."
On "a hung-over day," he'd sit back and reflect, What are you doing? But he knew the answer. "You're screwing off instead of working, and then you're tired for the next three weeks. To try to take some of that tiredness away, you go out on the town again, looking for a rhythm. Now you're two months' tired. Exhausted. Ashamed. That's how my year went."
A number of people helped turn him around, including himself -- probably especially himself -- but Eric Larson, Mark Calcavecchia and Mark O'Meara deserve honorable mention. Kim says, "I didn't have the best -- I want to say -- influences around me, as far as somebody to kind of guide me, who talked to me like a man and not like a kid, even though I behaved like one. I think I needed that respect. I got it from Eric."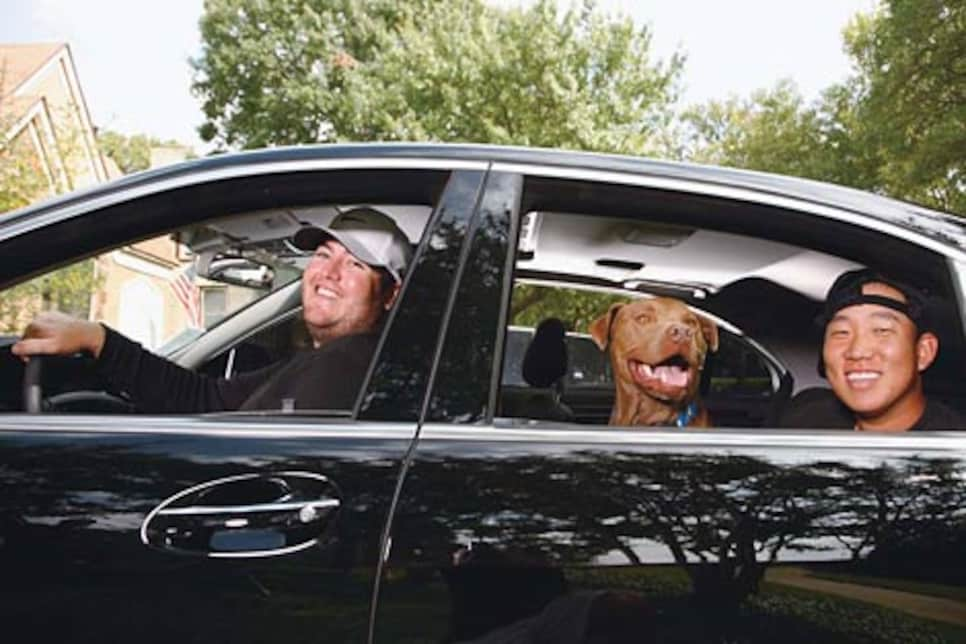 Caddie Larson is grateful to be measuring time by the week again, instead of by the month and year. In 1995, he was sentenced to 156 months in prison for his role in a cocaine-selling conspiracy. He served 11 years. At the Federal Correctional Institution in Butner, N.C., near the Research Triangle of Durham, Raleigh and Chapel Hill, he earned a Bachelor of Science degree in Business Administration. On a 4.0 scale, his grade-point average was 3.8.
Larson's old boss and friend, Calcavecchia, stood by him. He has always seemed like a tough guy, Calcavecchia. He's a gentle guy. "I was in four different institutions," Larson says, "and Calc was the only one who made it to all four. [The Grand Slammer.] We talked a lot on the phone, too. Through Calc, I was able to keep in touch with golf and the tour. I can't tell you what that meant to me. When I was released two years ago, he got me started again. Steve Marino and a few others helped, too, until I landed with the perfect young player. 'If it doesn't work out,' Calc said, 'you can always come back to me. But it's going to work out. It's going to be great.' "
To make sure he wasn't poaching, Kim contacted Calcavecchia, and they made a connection. "Calc has been nothing but supportive," Anthony says. "It's been my experience generally that, the better the player is, the nicer he is to the younger guys. It's the ones struggling to keep their cards who have the chips on their shoulders."
What does Larson provide him? "An attitude," Kim says, "that I needed in my life to play better golf. Nobody can see it. You could put a TV camera on us all day and not see it. It's an appreciation for being there. I don't like to say Eric works for me. I get more from him than he does from me."
Larson says, "Anthony has the game, obviously. A basic honesty, too. With himself. With you. That's pretty unexpected in someone his age. We've been good together, and we're getting better. Making better decisions. It's been fun. He's the kind of guy who makes it fun. If I give him a little added perspective, it's not like he needed me to tell him there are worse things in life than hitting a golf ball into the water.
"Anthony has humbled himself over the last year. I know something about that."
Humbly, Kim approached O'Meara at a banquet before Greg Norman's Shootout near the close of 2007. "He came up to me," O'Meara says, "and asked, 'Mark, can I talk to you?' 'Sure, Anthony, what's up?' 'I've made some mistakes this year,' he said, 'and I just want to talk to you about it.' "
O'Meara didn't need much briefing; he'd heard a few things. They talked into the night.
"Do you know what's great?" Mark told him when they were through. "You coming up to me and saying you want to get better. Wanting to get better, Anthony, is almost the whole deal."
In seeking out O'Meara, Kim showed a sense of history. Of course Mark was the first veteran to throw an arm around Tiger Woods. "Because of my relationship with Tiger," he says, "I'm constantly asked, 'Who's the next young player coming along?' I've been hard-pressed to come up with a name. You know, Bill Haas is a nice player. There are a number of good, talented kids out there. But, after I played three rounds with Anthony, I picked up the phone and called Tiger. 'This kid I've just finished playing golf with,' I said, 'is the second-best young player I've ever seen come along.' "
What was it that O'Meara saw in Kim?
"His technique was good. He could play different shots. He wasn't afraid to play them. His putting was good. He was focused. He was fiercely competitive. He wanted to win. I just don't see all of those things with other young players. I sat Anthony down and told him, 'If you get your act together, and work at this and really love it and want it, then there's no reason you can't do everything out here. It's up to you.' "
Woods says, "Mark was like -- and is still like -- a big brother to me. He's watched me grow up. I wouldn't have ever had the success I had early on in my career without his help. I'm glad AK reached out to him. It's just amazing how much talent this kid has, and if he worked at it, what he could be."
Even choking up on the club, Kim drives the ball more than 300 yards. "I know if I gripped it to the top, I could hit it farther," he says, "but I'm not really worried about that." Far from the technician that, say, Tiger is, Anthony acknowledges, "I don't have many swing thoughts. I'm not smart enough to have a lot of swing thoughts." But he's wise enough to prize what he has.
"There are definitely times when you feel like you need to improve," he says, "to do this better, or that better. But you only want to tighten up whatever it is that got you there. You never want to change it. Most of all, you don't want to become someone else. Jim Furyk trying to swing like Ernie Els wouldn't be the same person or golfer."
A quick description of Anthony on the golf course, besides 5-10, 160, is that he knows how to get the ball in the hole. "My dad gave me that," he says. "He'd put me in some bad places when we first started practicing and leave me there all day. Next to a tree, on top of a root, 50 yards straight up a hill, Kikuyu grass everywhere."
Out of those early pickles came a conviction and a code, not so different from the old coach Charley Eckman's immortal philosophy of basketball, that "there are only two great plays: Put the ball in the basket and 'South Pacific.' "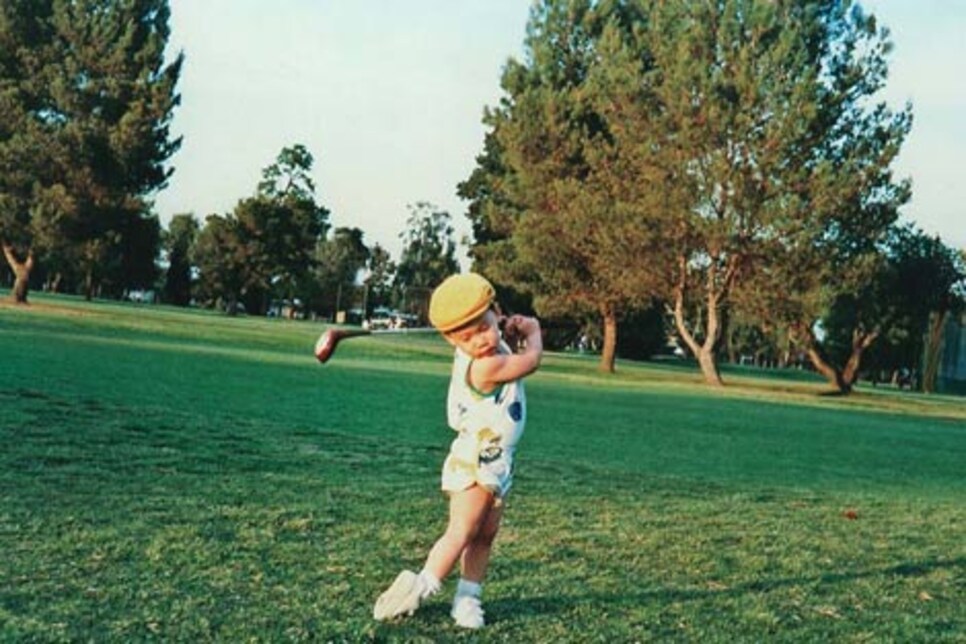 Courtesy of the Kim family
"Get the ball in the hole," Kim says. "Some way or other, just get it in the hole. The thing about golf is that your worst mistakes can be good, too. If I miss a green by 50 yards but manage to get it up and down, that's when the guy who hits it on the green and two-putts really knows I'm there."
In 2008, holding his pants up with an All-Around Rodeo Cowboy-size belt buckle just a pennyweight lighter than a manhole cover, Kim let everyone know he was there. "It was my best year," he deadpans, "as far as understanding myself, anyway." Not since Tiger had an American under 25 won twice on the PGA Tour. "Plus," Woods says, "he did it on two great golf courses [Quail Hollow and Congressional]. They're not exactly the easiest courses on tour, and he handled both of them. He's always had the talent. Now he has the experience of winning, and that breeds confidence."
Kim gathered eight top-10s, including a second place and three thirds. He climbed as high as sixth in the world and finished the year sixth on the money list ($4,656,265). At the Ryder Cup victory in Louisville, he cut himself out a choice piece of Sergio Garcia.
But the two best highlights were subtle.
"I was looking at Ryder Cup pictures online just yesterday," he says. "A friend sent me a couple of links. There was a shot of me with my parents on that balcony with the American flag. Just the expressions on their faces are what I'll remember most."
Paul Kim is a trim, gray, bespectacled man with a constant, nervous, likable laugh. His wife, Miryoung, is small and delicate, elegant. Their English is much better than they think. And, in a touching way, their proficiency in the language improves the more comfortable they grow with the listener. "I didn't show it," Paul says, recalling that moment on the balcony, "but I had a tear. I wish I could speak better English. I'd like to talk about this."
There was a time when Anthony thought his relationship with Paul was "based purely on golf." As his son's harsh judgment is quoted back to him, Paul winces. But he doesn't disagree.
"I pushed him very strongly, too strongly. I talked to him very cold. Practice, practice. Win, win. Second place is nothing. Once Anthony brought home a second-place trophy, and I pretended to throw it in the trash. He cry and cry and cry. From the time he was a baby, he watched me in the yard in the highchair with the bottle as I chipped balls into a bucket. He watched golf on television and got upset when I turned it off. So I turned it back on. Inside the house, he looked to find a ball, any ball. Basketball, football. He loved all balls. Rubber balls. Crazy about them. He understood ballgames. But he could put his hand around only the smallest one. Golf ball. So that was it. He'd hit the golf ball and hit it again, and he'd laugh and laugh."
Paul is a good player. Rather, he is a good scorer, a very good on-course gambler. "Anthony tells me, 'Dad, your swing is terrible,' but a couple of times I play under par. Only if I practice, though. If I don't practice for a few weeks, no chance. Anthony never practiced enough for me. I was so tough on him. I'm sorry for that. If I have a grandchild, I'll know better.
I had my son late, when I was 44 [Earl Woods was 43], so I always worried that I didn't have very much money to leave him if I died early. Golf seemed to be the answer. I told him the long game you can practice not very much and be OK. But if you don't practice the short game all the time, you never get to the top." Both of Anthony's parents emigrated from Korea to Los Angeles at the age of 28, Paul in 1970 and Miryoung in 1980. A friend introduced them in 1983, and they married the following year. In Korea, Miryoung's father was a policeman. "Very fine man," Paul says. "Never talked. Never smiled. Very strict. But he didn't like his police job because he was too honest to take under-the-table payoffs. So, he eventually got into the cigarette-filter business and went bankrupt."
Paul's father raised apples, pears and grapes. "Very athletic person," Miryoung says. But he discouraged Paul's love of sports. He encouraged work and sweat. Neither of the Kims came to America with very much in their pockets.
"I've read that I was homeless person," says Miryoung in a small voice that isn't angry, just bewildered. "I was never homeless person. I was very poor. My parents were very poor. But we never lived on the street."
When it came to raising Anthony, she committed her own excesses and has her own regrets. While Paul was pressing for golf, Miryoung was arguing for scholarship. On report-card days, sometimes she locked away Anthony's golf clubs. Other times she locked away Anthony, without supper.
"The Korean culture and the American culture are very different," she says. "For Korean parents, the focus of their own life is nothing. The focus is on their children. Growing up in Korea, schoolwork is very important. To be educated is most important thing."
Miryoung and Paul opened an Asian herbs store and prospered. Over a stretch of time, they did well enough first to send Anthony to a private North Hollywood high school, Campbell Hall, and later to buy him essentially his own golf-course townhouse in La Quinta near Palm Springs. One or both of his parents were often there with him -- Miryoung made the 2½-hour drive from Los Angeles every weekend -- but Anthony was alone enough to feel like it was his own place. Was he lonely?
"A little bit," he says. "But I usually had people around. I like having people around. You see me, you'll probably see at least a couple of my good friends. It was a great luxury just to walk outside and begin chipping and putting. It was perfect."
But not everything was perfect.
"Korean children don't talk back to their parents," Paul says. "It's always 'Yes, Mom. Yes, Dad.' But, to Anthony, it started to be 'Don't tell me what to do!' That had built up inside him for long time. 'You better practice your short game, Anthony.' 'Don't tell me what to do!' 'Why don't you try this shot from there?' 'DON'T TELL ME WHAT TO DO!' "
At their most combative moments, Anthony still must have known how much his father loved him. "In the middle of a tournament, when he and I were having difficulties," Paul says, "Anthony came home with tired and sore legs and went to bed. After he fell asleep, I went in and massaged his legs. " 'I'm OK, Dad,' he whispered."
When news of the Oklahoma happy hours came sweeping down the plain, Paul phoned his son to issue an order: "Stop making friends with people who go to bars." That conversation just started to wind down with "Don't tell me what to do!"
"It ended," Paul says, "with him shouting at me, 'I don't want to talk to you anymore!' I lost him maybe forever."
They didn't speak for two years.
"Then, he called his mother to say he was feeling pretty sick. I said to her, 'Let's go.' We packed up and drove to Norman, 16 hours straight, stopping only for hamburgers. I did all the driving. I was so worried. As I drove, I pictured in my mind all the times I pushed him, all the ways I over-thought golf, everything I did so wrong."
As Paul and Miryoung rushed into his room, Anthony looked at his father as if he had never looked away.
"He said to me, 'Hi, Dad.' "
Two events cemented their reconciliation. When Anthony tied for 13th at qualifying school to secure his PGA Tour card, the last six-round stage was played in La Quinta. "But I stayed very far away," Paul says. "Miryoung and I waited at home and watched TV all day, six days straight. He walked in the door finally and smiled. For many minutes, the three of us just hugged each other and cried."
It felt like Christmas morning. Come the real Christmas morning, Anthony asked Paul, "Dad, do you want to go practice?"
"We went out to the range, nice range, at La Quinta," Paul says. "Nobody else was there. Then we moved over to the practice putting green. 'Dad,' Anthony said, 'can you look at my stroke? Is my aim good?' He didn't need help with his stroke, you know. He was saying, 'Tell me what to do.' Oh, I was so happy. My son's back. On Christmas morning."
There's a fine young player on the PGA Tour who fell out with his stage father and did not reconcile. His name isn't important. He probably isn't the only one. But there's a singular sadness about him, a look of disappointment. A kind of suspiciousness, too. Distrust. When you burn certain bridges, you lose something of yourself. Something is taken away from you. It was taken away from Kim as well, but he got it back. He wouldn't be thriving now without it.
With Paul and Miryoung serving as guides, the first stop on the Anthony Kim boyhood caravan is L.A.'s Koreatown. On its streets and in its parks, Anthony played all of the games. Basketball, football. He understood ballgames. In his time, he both punched and was punched in Koreatown. But it wasn't Blackboard Jungle. "Every article," Miryoung says (still perplexed), "has him born in a slum in Koreatown. Our business was here, but our house was in Studio City." Nestled in the San Fernando Valley, Studio City is a bright community bordered by Mulholland Drive and the Santa Monica Mountains. The name comes from Mack Sennett's old movie studio, home of the Keystone Kops.
"We lived here 10 years," Miryoung says, fondly pointing out the pretty but not spectacular house. Anthony once complained that it could have fit in the garages at the homes of most of his classmates from Campbell Hall.
The last stop is a charming if peeling old rubber-mat range at Weddington Golf & Tennis, where signs say: "Keep Voice Levels Down. People Are Practicing," "Unsolicited Golf Lessons Are Prohibited," and "No Gambling." Adjoining the typical range is a nine-hole par-3 course.
This is where Kim resolved to choke up on every shot, not really because the shaft was too long, simply because that part of the grip felt good to him. "We're so proud of Anthony," says Nick D'Amico, who is about to turn 87 and is wearing a badge that identifies him as the marshal. "He had a little bit of a rep when he was 9 and 10. What a cocky little bastard he was. No, we all loved him. He'd look out at that 230-yard sign [hanging on the high back netting] and say, 'Some day, I'm going to drive a ball over that fence.' I told him, 'It's part of my job, Anthony, to make sure balls don't go over that fence. But it's OK with me if you want to try.' "
"You always knew when Anthony was here," says Ron del Barrio, a teaching pro in a Police Athletic League T-shirt sitting at a laptop computer behind one of the bays. Tony Alexander, a long-standing customer, finishes the sentence: "Because you could hear that unmistakable crack of the ball. Newcomers would turn around and ask, 'Who hit that?' He barely came up to the waist of the guys he challenged to two-hole matches, up No. 1 and back No. 9, for a buck. That's my memory of him here. Returning with a smile on his face, waving a dollar bill."
On the way back to the car, in a tender voice, Miryoung asks, "If Tony were your son, what would worry you now?"
It's a difficult question, but on one score at least, she has no cause for worry. Anthony is thoughtful and well-spoken. Despite himself, somewhere along the way, he was educated.
"Tony has a strong heart outside," Miryoung says, "but inside he have a very soft, good heart. It's nice he's doing well, but what I want for him most of all is happy life."
"I'm still Tony to my mom," Kim says, wrapping things up at the kitchen table. "She's the only one who calls me Tony, and that's how I want it, too. It's special, you know? It's stupid, but it's special."
Immediately after the Ryder Cup, Anthony took his parents on a sentimental journey to Seoul (where he tied for third in the Korean Open). "I'd been to Korea before," he says, "but not with them. I could see some of my parents' characteristics in the city. My mom took me to the street where she went to school and to the building where she worked 35, 40 years ago. There was actually a new building on top of the old building. You know Seoul. It gave me a new understanding of the things my parents say and feel. Just walking around. Just hanging out. It was eye-opening."
Fathers of Korean tots, male and female -- mostly female -- flocked to Paul, hoping to learn the secret. "How to make her great player," Paul says, "the next Se Ri Pak. I tell them, 'You love your daughter, right?' 'Of course.' 'Don't do it,' I said. 'Let them be children. Let them grow up to have happy life.' "
Proving he is his son's father, Paul leaves the bark on the money quote, when he says, "The girl golfers of Korea worry me especially. They don't marry." Of Kim, Ernie Els says correctly, not unkindly, "It's early." But it isn't too early to imagine a slot for Anthony in golf's hierarchy. Far behind Woods and his active standard of 14 pro major championships are Vijay Singh, Els, Phil Mickelson and Padraig Harrington, all tied at three.
Consider that Ernie was finished winning his three before Mickelson started, that Mickelson was finished winning his three before Harrington started, and that Harrington was finished winning his three before Sergio Garcia started, if indeed Garcia is the man on deck. Maybe he isn't.
"I don't mean any disrespect," Kim says, "because I know majors are so important to everyone else. But they aren't to me. It's important to me to win everything. Every week I play, I want to win."
He has his own notion of history: "Whether a player was immature, whether he made bad decisions, whether he partied too much, whether he did that stupid drinking at night, if he actually cared about other people, he is making history. My major goal is just to be the person my parents raised. I'm going to have a bigger house than most of the people in the gallery, but I'm going to try to let them inside the ropes."
Kim's a bottom-line man. Here's the bottom-line question: Will he be the one at long last to look Woods in the eye? Arnold Palmer was a decade older than Jack Nicklaus, who was a decade older than Tom Watson. Tiger is a decade older than Kim. "He's 12," Woods once said of the player to be named later. No one knew why Tiger said 12, but he said it unequivocally. "I have to give myself a reason to work so hard. He's out there somewhere. He's 12."
"You know what?" Kim says. "I would love to be that guy. I would enjoy being in that position. In the spotlight. That's fun to me. That's why I play golf."
Incidentally, he has not sworn off alcohol entirely. But his requirements are much less Homeric these days. In the flush of new dedication, he's in the market for a trainer. But a psychologist? No.
"Where I want to go in golf," he says, "I'm going to need a trainer. But I'm never going to be fanatical about it. As for psychologists, I know a couple of them. Nice guys. But there's this button I have inside whenever I want to tune someone out; and, seriously, he or she can keep talking and talking, and I won't hear a word. I can't hear psychologists.
I just don't think that way. That's work to me. I want this to be a game. I've won at every level. So, in my head, I know what to do. I just have to do it. At the same time, if the psychologists knew what I was thinking, they'd be flipping out. Actually, it might be fun for a day or two having some of them in my head, trying to find out who I am, just to see how hard I can make them laugh."
"A big kid," he says. "Everybody would say that about me."
At the grocery store, he still grabs a ball out of the bin and dribbles it up and down the aisles. "I don't kick it up and down the aisles anymore," he says. That's his main concession to adulthood.
But only one ball ever fit in his hand. He'd hit it, hit it, and hit it again.
And he'd laugh and laugh.