The Loop
Anthony Kim returns from brink of irrelevance
SANDWICH, England - Anthony Kim, once among the top-10 in the world and a former U.S. Ryder Cup player, has been flying so far under the radar this year that he could be mistaken for a submarine commander.
Thus, it might seem surprising to see the 26-year-old on the leaderboard at the 140th Open Championship through 54 holes. For Kim, however, it's long overdue, and not just because his last 10 starts have resulted in six missed cuts, with no finish higher than his T-54 at the U.S. Open.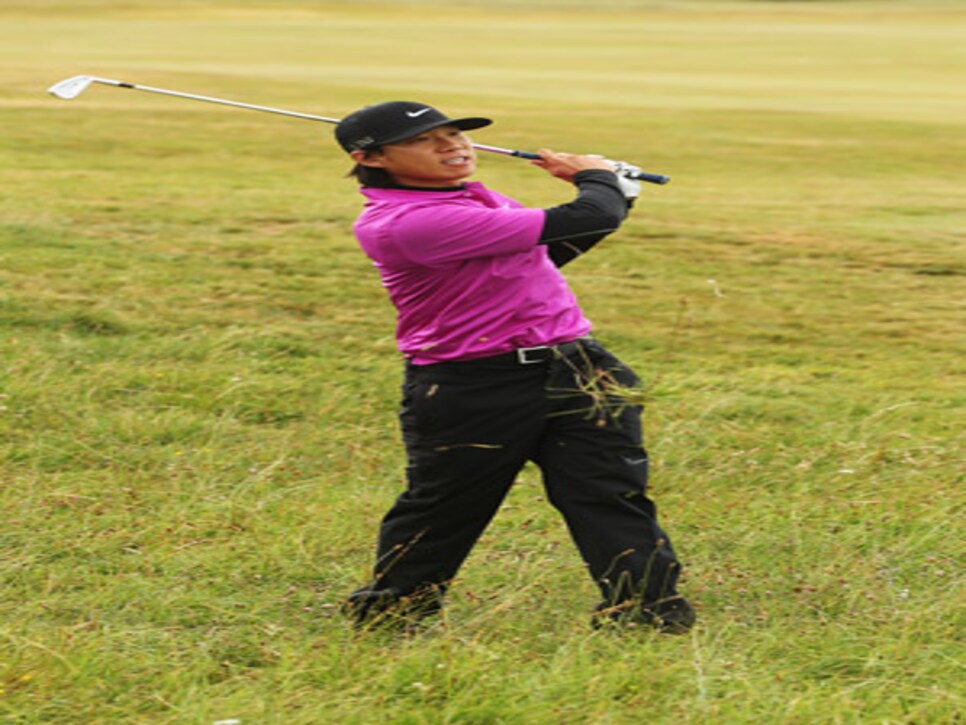 "I would just say [I was] extremely frustrated with how I was playing with the work I felt like I was putting in," Kim said Saturday after playing his final 10 holes in four under par to battle back to an even 70 at blustery Royal St. George's. "I felt like I wasn't getting anything out of it. So to put myself in contention on Saturday is a very nice feeling.
"I've found my game, it's just I haven't brought it to the tournaments," added Kim, who is T-7 at even-par 210 and five behind leader Darren Clarke. "I'm excited that this is the tournament I brought it to. Obviously other tournaments are very important, but to play well at major championships is what I work for. So to be able to put up some good rounds, probably my best rounds I've played all year, at the British, is pretty rewarding."
It was at the Shell Houston Open in April, prior to the Masters, that Kim went back to the drawing board with swing coach Adam Schreiber to realign his grip, posture and other fundamentals. His most glaring flaw, however, was his grip, which had gotten too strong after playing with an injured thumb that required surgery after the 2010 Masters.
"I think he (Adam) said my left hand looked like I was driving a Harley, and that's a snap hook if you don't know what that is," Kim said, grinning sheepishly. "So we got back to when my thumb was healthy and my normal swing."
Kim, who missed the cut in his last two starts, was an alternate into the Open field, replacing the injured Tim Clark. He arrived last weekend, but played only 11 holes during practice rounds, the first nine plus 17 and 18.
He has not paid attention, or given much credence, to recent criticism of American players and the fact that foreign-born players own the top four spots in the world rankings. A U.S. golfer has not won a major since Phil Mickelson at last year's Masters. The top American is No. 5 Steve Stricker, who is 44 years old.
"It doesn't bother me. The media is going to say what they want. Obviously when a golfer is hot they're going to jump on that guy's bandwagon, and that's just the way it goes. I think a lot of us understand that. I'm going to do all I can to represent America well, and hopefully I can make a final push tomorrow and see where that leads me."