The Loop
Another win for Russell Knox will make it difficult for Euro captain Darren Clarke to ignore him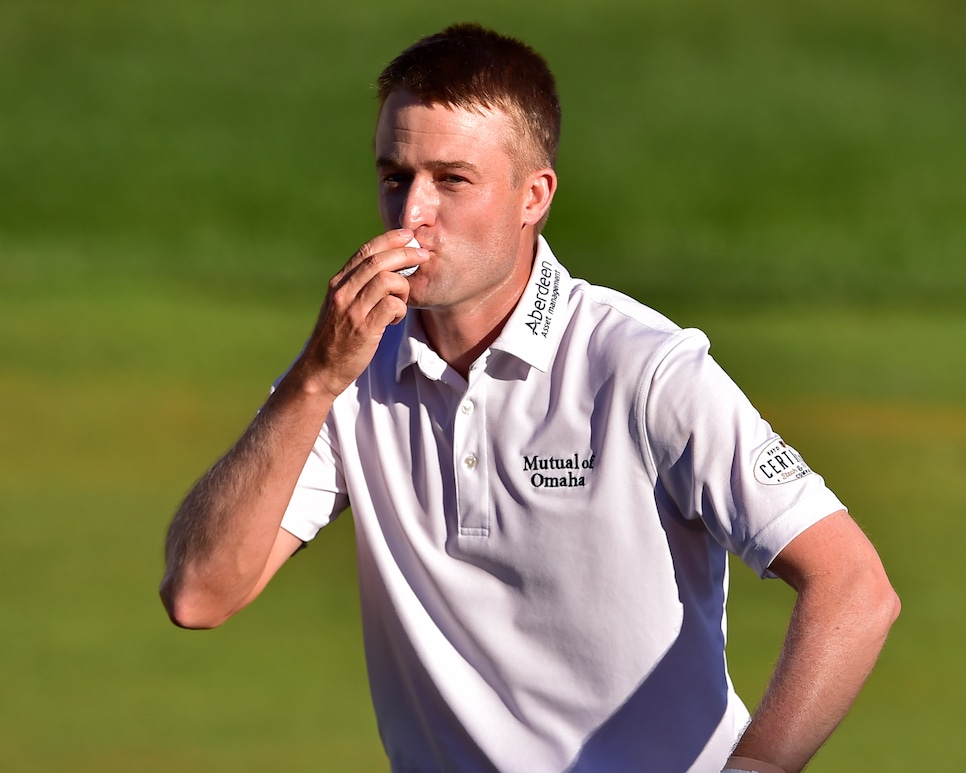 CROMWELL, Conn. -- Russell Knox was standing on the 18th tee nursing a one-shot lead in the final round of the Travelers Championship on Sunday at TPC River Highlands when something you might not expect, given the gravity of the moment, popped into his head.
"I knew by winning this tournament, it'd put [European Ryder Cup captain] Darren Clarke in a very difficult position not to pick me," Knox said.
Back in May, Knox made a bold statement on the eve of the European Tour's flagship event, the BMW PGA Championship, saying that he "expected" to make this year's team. Never mind that he was 17th on the world points list at the time, had never played in a Ryder Cup and had more experienced players like Graeme McDowell and Lee Westwood ahead of him in the pecking order.
On Sunday, the 31-year-old Scotsman who calls Jacksonville Beach, Fla., home made another statement, winning the Travelers Championship by a stroke over Jerry Kelly after getting up-and-down from a greenside bunker on the final hole for a two-under 68 that was capped by a testy 12-footer for par to secure his second victory in less than 12 months.
"I just kept telling myself, this is your chance to make a putt, to have a great celebration and hear the roars," he said. "I'm glad it went in."
It went in and off came Knox's hat with a toss that sailed nearly all the way across the green. He had reason to be excited.
The win all but guarantees him a spot in the season-ending Tour Championship later this fall, which was one of his goals at the start of the season. It also, as he said, makes it difficult for Clarke not to make him one of his three captain's picks.
The victory won't yet be enough to lock up a spot among Europe's top nine in the points list but that's only because of a technicality -- had Knox been a member of the European Tour when he won in Shanghai last November he would easily be in. Instead, he joined after and as a result he's on the outside looking in, at least for now.
"If I don't make the team, I can't think I'm worthy of a pick," Knox said. "It's his decision. He can pick whoever he wants, and that's the luxury of it. If I make the top nine, then I deserve to be on the team. If I'm No. 10, he can quite happily pass on me, and that's just the way it is."
It's certainly possible he could get looked over. There are a few players on Clarke's radar, including veterans Martin Kaymer and Lee Westwood, both of whom have had resurgent years. Soren Kjeldsen and Terrell Hatton are also in the mix, while Shane Lowry and Graeme McDowell also figure to be part of the conversation -- though McDowell has been up-and-down much of the year and Lowry has struggled of late with four straight missed cuts.
Knox, meanwhile, has three runner-up finishes this season in addition to his two victories.
However, there are also four Ryder Cup rookies currently inside Europe's top nine, something that figures to work against Knox. Picking him would mean adding another player without experience to an away game when the matches take place Sept. 30-Oct. 2 at Hazeltine in Minnesota.
The cutoff to make the European team is Aug. 28, while the three captain's picks will be made during the following week. Until then, Clarke will have plenty to think about.
"I hope I'm on the team," Knox said. "I would love to be there. It would be a huge honor.
"Maybe holing nice putts like that helps."