News
Another week, another first-time winner on the European Tour as Andrea Pavan wins in Prague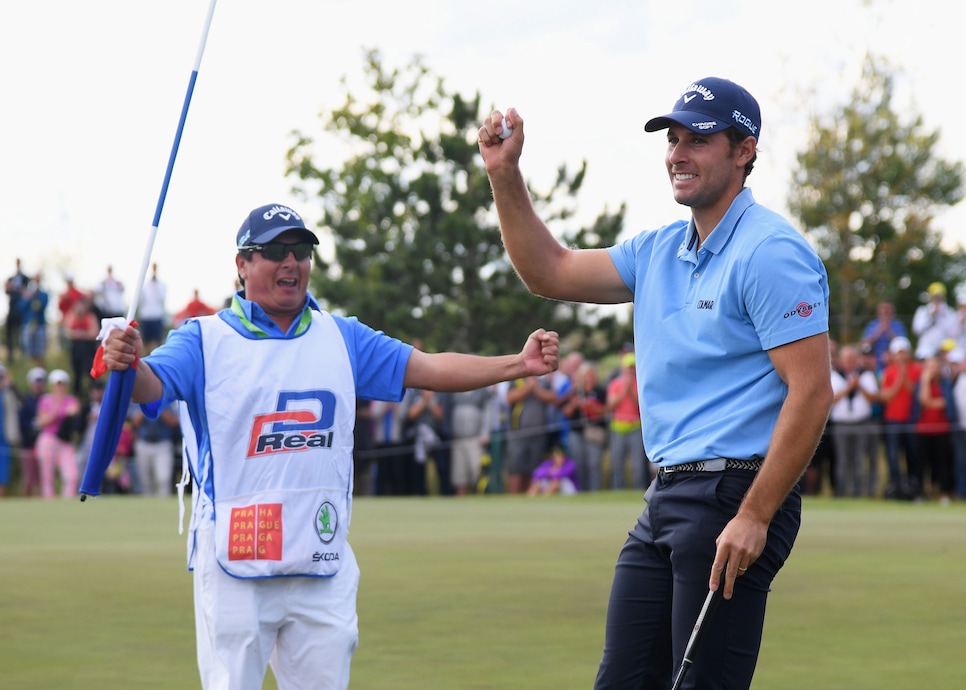 Ross Kinnaird/Getty Images
Before becoming a two-time dad, Andrea Pavan took down a three-time major champion to change his status on the European Tour to first-time winner. And by Pavan's own admission, it was probably about time.
The 29-year-old Italian shot a five-under 67 on Sunday at Albatross Golf Resort in Prague, closing with a five-under 30 on the back nine, to outlast Padraig Harrington and grab the title at the D + D Real Czech Masters. His 22-under 266 total gave Pavan a two-stroke victory over Harrington.
"It's amazing, it's massive," said Pavan, who was playing in his 112th career European Tour event. "I'll enjoy this one because it's really hard to get, and I'll just keep working on the stuff that seems to be working and enjoy the success."
Pavan and Harrington started the day tied for the lead at 17 under. It looked early like Harrington's experience might prove invaluable when Pavan made a bogey on the second hole, just his third of the week. Meanwhile, Harrington made three birdies over the opening nine holes to take a three-stroke lead after a Pavan birdie on the sixth.
But Pavan, a four-time winner on the Challenge Tour with his last coming in 2013, became more aggressive on the back nine, carding birdies on the 10th, 12th and 14th holes. Pavan tied again for the lead when Harrington bogeyed the 15th hole, and then picked up two more shots when he rolled in a 25-foot birdie putt on the 16th and a 15-footer on the 17th.
"Padraig has got so much experience, such a great player and he played lovely," said Pavan, who became the 12th first-time winner on the European Tour in 36 starts. "The putt on 16 was massive. It could have easily gone both ways, he was ahead of me most of the day, but after I got ahead I stayed aggressive."
With the victory, Pavan moved up to 39th on the Race to Dubai standings, easily inside the top 60 needed to compete in the year-end Final series. It was a comforting thought as he prepared to take some time off the tour in the next few weeks with his wife due to give birth to their second child, a girl, on Wednesday.