The Loop
Another Phil Mickelson gambling story: 'If you thought celebration at Ryder Cup was bad'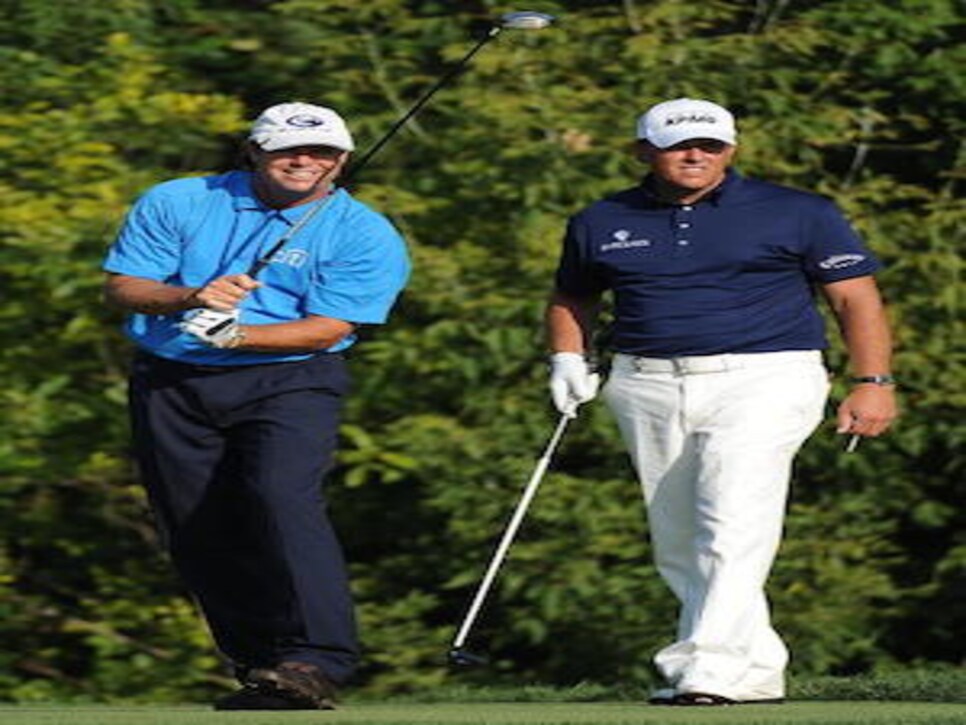 They were playing a game of $25 Hammers in which each hole was worth $25, but anytime a player issues a hammer (say, after your opponent hits a bad shot), the bet doubles on that hole.
Mickelson was $400 ahead going into the 18th hole. After their respective tee shots and a couple of hammers, $100 was at stake on the 18th hole alone. Mickelson, meanwhile, was amping up the trash talk.
"I was really on him, giving him a hard time, roughing him up pretty good," Mickelson said.
Mickelson's second shot stopped 10 feet below the hole, giving him an opportunity at birdie. Azinger's second came up short of the green and settled into deep rough.
"Well, obviously I'm going to hammer you," Mickelson said.
"I'm not going to take it," Azinger replied, figuring he might lose an additional $200, running his debt to $600.
"That's just what I thought you'd do," Mickelson said, continuing his verbal jabbing.
Azinger, while addressing the ball, finally succumbed to Mickelson's taunting. "You're on," he said, accepting the challenge. He then proceeded to hole the difficult chip for birdie.
Did Azinger return the trash talk?
"You think?" Mickelson said. "If you thought the celebration at the Ryder Cup was bad you should have seen this celebration. It was about two minutes later before I finally putted."
"You know what's coming now, don't you?" Azinger said. "I'm hammering you."
This doubled the bet again, making the 18th hole worth $400. Mickelson carefully lined up his putt, hit it firmly and saw it slide by the hole, resulting in no money exchanging hands but giving Azinger a moral victory.
Mickelson was still talking about Azinger's end-zone dance nearly a decade later.