News
Another day, another weather delay wreaks more havoc on the NCAA Women's Championship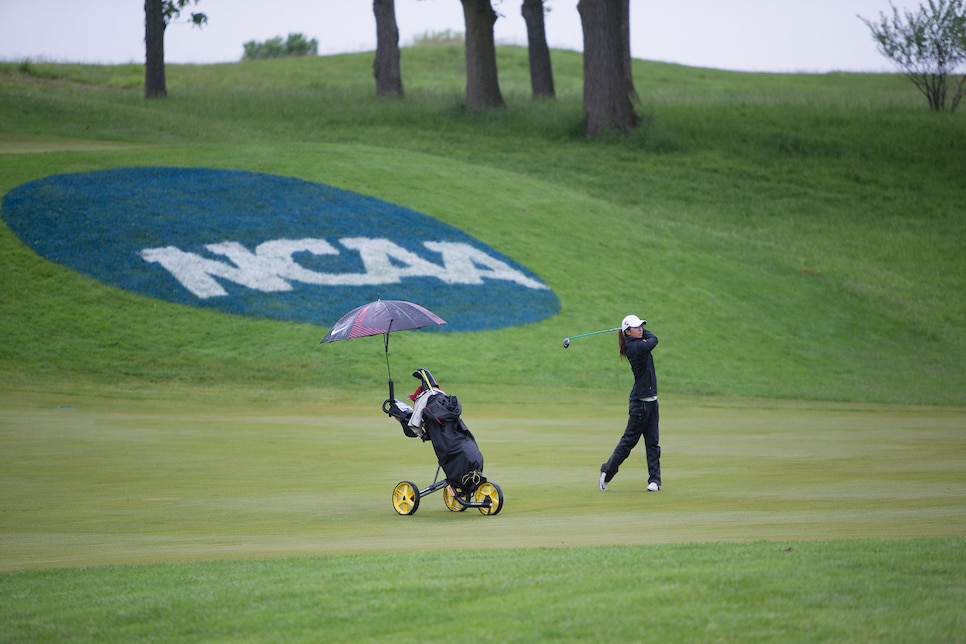 Courtesy of Northern Illinois Athletics
Once again, players and officials at the NCAA Women's Championship couldn't catch a break. Another day of rough weather on Tuesday at Rich Harvest Farms forced more delays in play, preventing the semifinal matches from finishing before darkness fell outside Chicago.
Play will resume at 9 a.m. local time on Wednesday with Stanford leading 2-1 over Arizona State, the Cardinal needing one point from the remaining two matches to move on to the NCAA finals for a third straight year.
Senior Casey Danielson and junior Shannon Aubert won their respective individual matches for the Cardinal, while Olivia Mehaffey earned ASU's point.
Meanwhile, Stanford freshman Albane Valenzuela has a 1-up lead on Monica Vaughn with both players in the fairway off the tee on the par-5 18th hole. Valenzuela had won three of the previous five holes after being 2 down to Vaughn, winner of the NCAA individual title on Monday, through 12 holes. Sensing the momentum was on Valenzuela's side, Vaughn chose not to finish the 18th when given the option after officials suspended play for darkness, deciding to wait until Wednesday to finish what may be the deciding match.
"I had a couple rough holes down the stretch, and I knew I had to birdie or eagle 18 to keep the match going," Vaughn said. "There's just too much at stake for me to end it right now. It's dark. I would have had to take a drop out of casual water. There are a lot of elements to it that would have added a lot of time. I feel better just getting some rest, coming back with a clear head tomorrow."
For ASU to advance, the team would need Vaughn to win the 18th and then knock off Valenzuela in extra holes as well as win the final match, in which Linnea Strom is all square through 16 holes against Stanford's Madeline Chou.
"It is pretty obvious," said Stanford women's coach Anne Walker, who saw her team win the NCAA title in 2015 and finish runner-up in 2016. "Albane had the momentum going into this hole, and I think that was an opportunity for them to stop that momentum and take some time to regroup and come out tomorrow morning. At the end of the day, we'll come out here, they are both sitting pretty so it will be like a par 4 off of the fairway and we'll see what happens."
Far less had been decided in the other semifinal clash between USC and Northwestern. The Trojans have the lead in four of the five matches against Northwestern, but the advantage is just 1 up in three of those, and 2 up in the fourth, none of the matches having completed the 15th hole. The Wildcats hold a similarly slim 1-up lead in the fifth match with three holes still to play.
"The fire is lit in their minds already," said USC women's coach Andrea Gaston of her squad and its motivation after reaching match play the two previous years but failing to get to the championship match. "They're excited to get it done. That's what they came here for. They seem motivated. I think at this point, there's nothing more we can do. They're as prepared as they can be. You just go back out there, be patient and hope you can get it done."
Rain in the morning was an annoyance for the quarterfinal matches, but at least it didn't stop play as Stanford knocked off Baylor, 3-2; Arizona State swept Florida, 5-0; Northwestern defeated Kent State, 3-2; and USC beat Ohio State, 3-1-1.
In the afternoon, however, thunder and lightning in the area forced a two-hour, 20-minute rain delay that meant it was unlikely the semifinal matches would be competed in time. The long delay, and a short warm up afterward notably recharged Stanford as well as derailed ASU.
Nowhere was it more noticeable than the Valenzuela-Vaughn match. When play resumed, Valenzuela was 2 down but watched Vaughn pull her tee shot on the par-3 13th, eventually losing the hole. Valenzuela then won the 15th and 16th holes to grab the lead.
Come Wednesday morning, we'll see if the time out that Vaughn was able to call might change her and her team's fate.