The Loop
Another country heard from--UPDATED
It is relatively unusual for a golf equipment company to advertise its product in a non-golf-specific publication. It is even more unusual for a golf equipment company to advertise its product in a national newspaper. But it is relatively unexplored territory for a golf equipment company to place an ad that specifically calls out its main rival on the day of a new product launch.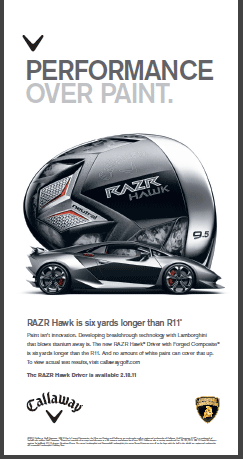 Today, the official launch date for TaylorMade's family of white drivers (the 3-way adjustable R11 and the long- and light-shafted Burner SuperFast 2.0), Callaway fired a salvo at its crosstown nemesis by placing a full-page ad in USA Today extolling the technological virtues of its new RAZR Hawk with a clear-as-day dig at TaylorMade's white line. It's taken the Sesame Street-like tone of TaylorMade's R11 ad campaign ("One of these things is not like the other") and turned the landscape into something right out of a political attack ad.
The Callaway ad, which appears in the Sports section, is headlined "Performance over paint" and makes reference to the use of a new proprietary carbon composite matrix material that is found in the RAZR Hawk drivers. The material, which the company calls "forged composite," was developed in collaboration with luxury sports car maker Lamborghini. The ad makes specific reference to a test that Callaway says shows the RAZR Hawk is six yards longer than the R11. On its website, the test is described as a player test involving an unspecified number of golfers and 12 hits per player, conducted at Callaway Golf test facility outdoors in Carlsbad, Calif. The RAZR Hawk goes on sale in two weeks.
According to Jeff Colton, senior vice president U.S. for Callaway, the aggressive advertisement was an attempt to redirect the conversation away from color.
"As somebody who has worked in golf a long time, the category is not to the point yet where color is innovation," Colton said. "There are lots of great things out there--in other clubs, too, not just our own, although certainly we think we're leading in a performance category. But fanfare around color is not going to help golfers play better."
The tone of the ad is rarely seen in golf circles these days, but Colton thinks it should help the industry.
"It all is a stimulus to an interest level and conversation, where maybe the two leaders in the category go head to head and maybe that generates a little more interest," he said. "It's aggressive, but we don't think it's risky aggressive because the product stands for itself."
UPDATE: Colton's "stimulus" has been met with an equally bold response from his competitors down the street. Here are the thoughts of Bob Maggiore, vice president of global marketing for TaylorMade-adidas Golf:
"Comparing the R11's superior combination of adjustability technologies against their forged composite construction isn't a fair fight-for Callaway. It's odd that a once-proud company is resorting to tactics like this. It feels desperate. The R11 is the most technologically advanced driver we've ever created, with three adjustability technologies to optimize launch conditions and maximize your distance, none of which Callaway utilized in their comparison. In addition, there is innovation in white, including a contrast between the white crown and black clubface that makes it easier to see and align the club at address. The proof is in the high performance the player gets from an R11 that's been optimally adjusted to fit his swing. Already more than 100 white TaylorMade drivers have been put in play on the US PGA Tour--nearly 10 times more than their RAZR. The performance of the R11 is also why Golf Digest picked R11 as the only driver to receive 'Editor's Choice' in this year's Hot List."