10 Rules For Seeking a New Challenge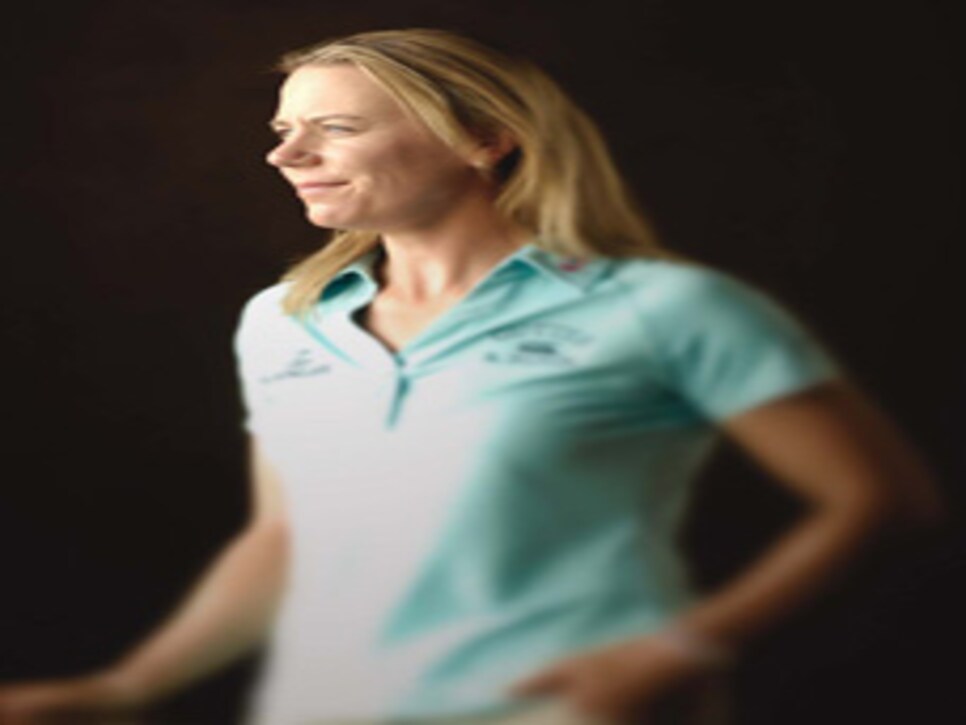 'When the outline of your job is more interesting than its details, your passion has shifted.'
Nobody knows you better than you do, so when you start to doubt what you're doing it's time to re-evaluate the situation. I always played to be the best, so when I knew in my heart I no longer had the time or desire to put in the work needed to be No. 1, I realized it was time to embrace another challenge. At the 2007 Nabisco -- the last tournament I played before I was diagnosed with a ruptured disk in my neck -- I struggled with distance control with my irons, which has always been one of my strengths. A 6-iron would go 172 yards one time and 145 the next. I knew something was wrong. The injury gave me time to re-evaluate my life. When you realize you have achieved all your goals in one area, seek challenges elsewhere.
That's the tagline for one of my corporate partners, but it really applies to my life. I have a lot I want to achieve in areas beyond com-petitive golf. I want to give back through my foundation, succeed as a businesswoman and even get on some corporate boards. I'm getting married to Mike McGee, the son of former PGA Tour player Jerry McGee and the managing director of my company, and would like to start a family. To be a great golfer you have to be totally committed to the task at hand. I've always been a very competitive person with an overwhelming passion to be the best at whatever I do. In recent years, that passion shifted from competitive golf and toward my various business ventures. Now I want to share my passion to help inspire others. I'm stepping away from competitive golf, but not the game of golf. When your passion shifts, follow it.
My neck injury was a major wake-up call. It made me realize how hard I had worked my body over the last 20 years. I don't think most fans understand that, in addition to the hours I practiced every day, I also put in hours in the gym. Beginning in 2001, when I started working with my trainer, Kai Fusser, I was totally committed to a workout program that included pull-ups while wearing 10-pound ankle weights and push-ups with a 45-pound weight on my back. From 2001 until my neck injury in April 2007, I never missed a scheduled workout. Kai says I'm the only athlete he has ever worked with who can say that. But you can go too far. When the doctor diagnosed my ruptured disk, I asked what I needed to do to play the next day. At first my mind would not accept that I had to stop for a while. For those truly ready to retire, your body probably knows it's time before your mind does.
4. Recognize when play becomes work
When you've reached a point when the joy of the job is surpassed by the work of the job, it's time to move on. I wasn't playing as well as I thought I should, and that frustrated me. Then I would win and think, Well, I should have won. That's a tough situation, and even winning was not as satisfying as it once was, except for proving I could come back from my injury. When you feel you have nothing left to prove, it's time to direct your energy elsewhere. It was hard to get excited about practicing and even playing in the early rounds of tournaments. Don't get me wrong, I love golf and always will. But be aware of when it's time to find a new way to express your passion for what you really love.
5. Recognize when work becomes play
I used to not really enjoy pro-ams or attending dinner functions related to tournaments because I wanted to rest or focus on my game. Now I see them as a chance to network, meet executives in other industries and get to know the sponsors who support us. I became aware that the part of my job I used to dread was becoming the more interesting part for me. Be aware of when your worldview changes. For me, the tipping point came when I played the Colonial on the PGA Tour in 2003. There was a four-month build-up to Colonial, during which I was asked constant questions about why I was taking such a risk. The media attention the week of the tournament was bigger than a major championship. I came away from Colonial being comfortable for the first time with my place in the game. I think that's when I started to become the one-word athlete -- Annika. Sometimes things happen in your life that redefine you. Look for those signs.
6. Beware when time off isn't
As I moved deeper into my competitive golf career, I added many top-notch business partners. I take these commitments seriously, and each one involves anywhere from two to six days of my time each year. Frequently, a week off from golf is not a week off from work. Fans might notice I'm not playing the LPGA tournament on a given week and think I'm kicking back by my swimming pool at Lake Nona. But an "off" week usually includes meetings for my company, working on my new wine label or fragrance, shooting a commercial or magazine articles, appearing at a corporate outing, and working at my academy. And that doesn't include the daily phone interviews, e-mails and other business functions. When you find your life has become a convergence of demands, it's time to prioritize those demands and re-order them in a way that most satisfies the complete you.
7. Note when the focus factor fades
I used to practice for eight hours and not realize it was past dinnertime. Now I get out there for an hour and start thinking about other things I need to be doing. That's when you know you're not fully focused on competing. One of my neighbors is David Leadbetter, and two years ago I was washing my car in the driveway on Christmas Eve day when I saw Michelle Wie, who works with David, driving by in a cart with her golf clubs. I remember thinking I didn't know which was stranger: that she was practicing on Christmas Eve, or that I was washing my car. When that voice inside you starts to question your life, listen to it, have a conversation with it.
8. Take notice when your passion changes
When I'm playing a course and find I'm more intrigued by the design of the hole than by the shot I've played, then I know I'm thinking about myself as an architect more than as a player. As I got further engrossed in my design work, I found I was paying greater attention to the detail of the course than I was my shot execution. In one tournament, I was standing on the tee box and my caddie, Terry McNamara, said: "Are you here?" I was marveling at the piece of land surrounding us and thinking what a great course I could lay out there. This can happen to anyone in any line of work. When the outline of your job is more interesting than its details, your passion has shifted. Act on that.
9. Check when life extends beyond golf
My fiancé, Mike, and I share a lot of joy away from the golf course, whether it's working together on business projects, cooking, skiing, or sharing some nice wine while hanging out with friends at home. Eventually, we'll start a family. As my happiness away from the course increased, it became easier to make the decision to walk away from the competitive game. It's simplistic to say, "Follow your happiness," but it is not unrealistic to use your happiness as a guidepost for your activities. Develop a plan, commit to it and pursue it.
Some are fortunate enough to have lived their dreams. I am one of those. I won a lot of golf tournaments and earned a lot of money. And although it was very gratifying that my sponsors stuck with me when I stepped away from competition, for me golf was never about the money. It was always about achieving excellence and succeeding. If you have a new dream and begin the transition into the next challenges of your life, find a great support team to help you determine the right path. I have new dreams to chase and a great team supporting my efforts. One thing I've found is that the formula for success in business is the same as it is in golf or anything else: Never try to find a shortcut to success!
Rolex Player of the Year awards (most in LPGA history)
1995, 1996, 2006: U.S. Women's Open
2001, 2002, 2005: Kraft Nabisco Championship
2003, 2004, 2005: LPGA Championship
2003: Women's British Open
LPGA tournaments won in 2002
Age when she started playing golf
Points total in Solheim Cup (all-time leader)
Score in second round of 2001 Standard Register Ping
Scoring average in 2002, lowest in LPGA history
Scores at Colonial in 2003, when she became the first woman since 1945 to play in a PGA Tour event