News
Annika's Take: A rollercoaster U.S. Women's Open
By Golf Digest playing editor Annika Sorenstam
The 66th U.S. Women's Open, which I think is the greatest championship in women's golf, turned out to be a strange week. It was very special for me to be on the grounds at the Broadmoor East Golf Course in Colorado Springs for a couple of days last week, since this was where I won my first LPGA event -- and my first major, and first U.S. Open -- back in 1995. The Broadmoor is a great venue and the course was in perfect condition for this year's event. It was set up to be a difficult test; the longest in tournament history at over 7,000 yards, and with a tough layout and fast, undulating greens that were extremely difficult to read. Like most other people, I thought it set up perfectly for a long hitter, and in my mind, world No. 1 Yani Tseng had a great chance to become the youngest player to earn a career Grand Slam with a win. That was before all the weather delays started.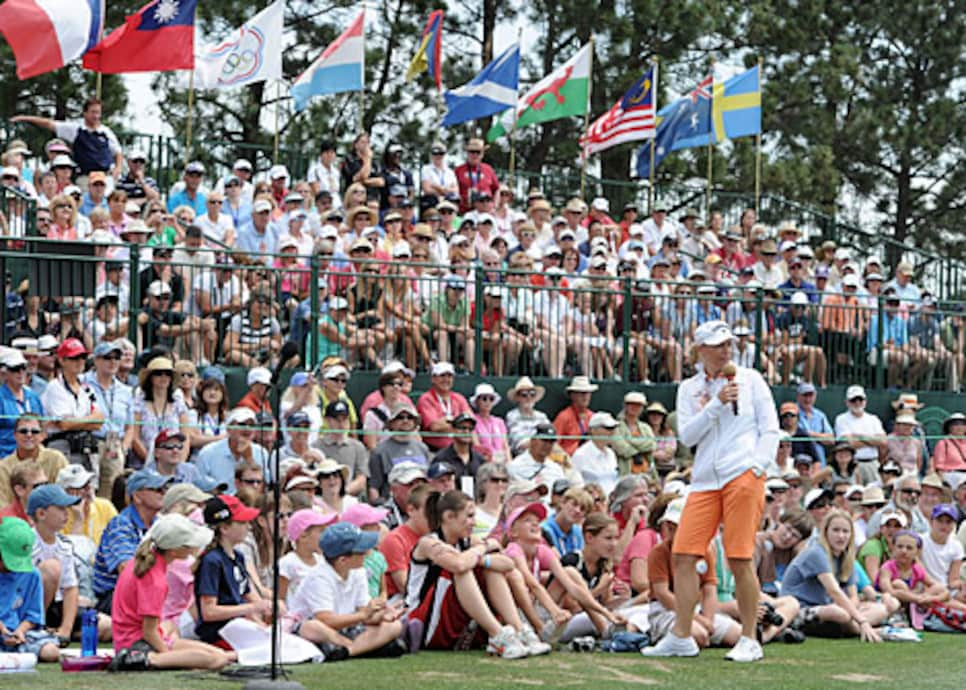 Annika Sorenstam speaks at a pre-tournament clinic at the Broadmoor.
In all, I think play was stopped for thunder and lightning five times and twice for darkness. All that stopping and starting and stopping and starting becomes very, very difficult not just physically but also mentally for the contestants. The toughest part, as a player, is not knowing--not knowing when you're going to get to play, how many holes you're going to get to play, how the course is going to play differently since the last time you were told to stop, and so on. That wears on your psyche. The players who do well under those circumstances are the ones who have tons of patience and don't get stuck in their decision-making but just allow themselves to go with the flow. In Yani's case, I think she just wanted it too badly. There was a lot of pressure on her for a young lady. With all the interruptions, I don't think she was ever able to really get it going, especially on the greens.
The two players who ended up fighting it out in the playoff on Monday, Korea's So Yeon Ryu and Hee Kyung Seo, weren't very long hitters but they both played solid, steady golf and putted really well. They looked confident on the greens and made the putting look simple, which says a lot about the way they were playing. So distance turned out to be a smaller factor in this tournament than I predicted it would; in the end, it was all about the short game.