Gainbridge LPGA
An incorrect ruling cost Annika Sorenstam a stroke in her LPGA return, but she makes the cut anyway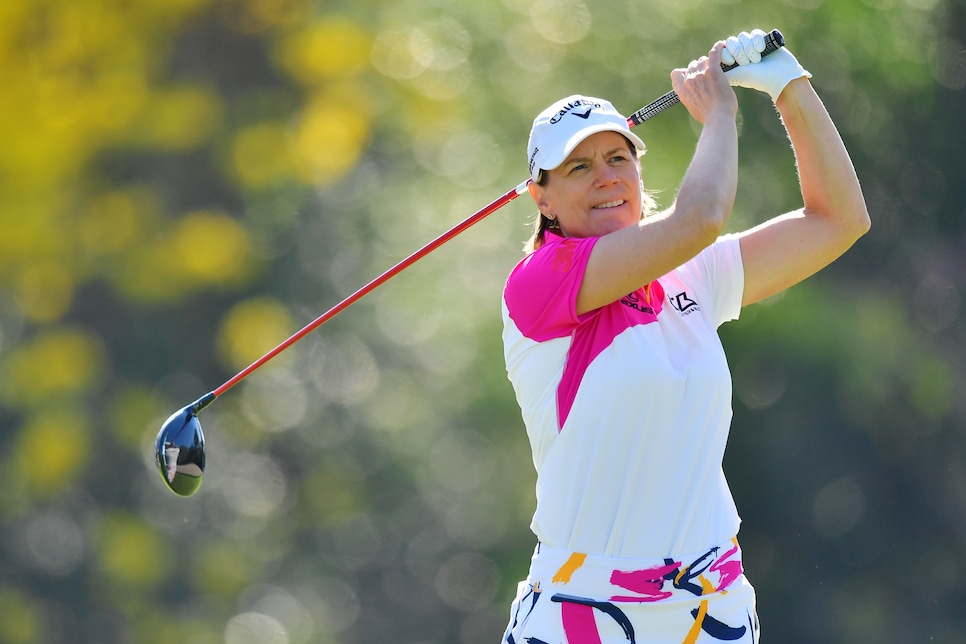 The fifth hole on Thursday was the only real hiccup during Annika Sorenstam's first LPGA Tour round event since retiring in 2008. She made triple bogey there, en route to shooting a three-over 75 at her home course, Lake Nona, in the first round of the Gainbridge LPGA. But on Friday, news first reported by Golfweek came out that a ruling at No. 5 was incorrect, and though it cost Sorenstam a shot, the 50-year-old still rallied to shoot one-under 71 on Friday to make the cut on the number.
At two over par after 36 holes, Sorenstam trails leader Lydia Ko (69) by 12 shots.
On Thursday, the Hall of Famer hit her drive on the fifth hole left, and it came to rest near a fence. Rules official Dan Maselli determined the ball was in bounds. Sorenstam wasn't able to hit it, however, because the fence was in the way. There was a gate there that if she opened, she'd be able to hit the ball. But the Maselli said she couldn't open the gate. (The gate itself is not the out of bounds line; fence posts on either side of the gate were used to determine whether the ball was in bounds or not.) Sorenstam took an unplayable (which includes a one-shot penalty), played out the hole and made triple.
On Friday, however, an error with that ruling came to light. It turns out, Sorenstam could've actually opened that gate to hit her ball, which would've saved her from having to take the drop and add the penalty stroke.
The LPGA Tour released the following statement explaining the situation:
"Per the 2021 LPGA Rules of Play Card, gates attached to objects defining out of bounds are integral objects. The official on scene misinterpreted the definition of integral object. While it is correct that there is no free relief provided from the gate, it could be moved to a different position under the Rules. The definition of integral object says in part, if part of the integral object meets the definition of a moveable obstruction, that part is treated as a moveable obstruction.
"The option to rescind the penalty is not available under the Rules of Golf. The official met the player immediately following her second round to explain the mistake and apologize."
Recounting that apology, Sorenstam said that she told Maselli not to feel bad about it.
"He said, I won't make that mistake again. I said, Well, I won't hit there anymore," Sorenstam said. "You know, those things happen. The rules have changed. That's the way it goes."
Sorenstam shot a one-under 71 in the second round, which included three birdies on the front nine (her second nine).
"I did what I could," Sorenstam said. "The goal was to shoot under par and I did, and so that's all I can do. Whatever happens, happens from here. It's been great. Two wonderful days."