News
Annika Sorenstam is in the celebrity field at the Diamond Resorts Tournament of Champions, but isn't calling it a comeback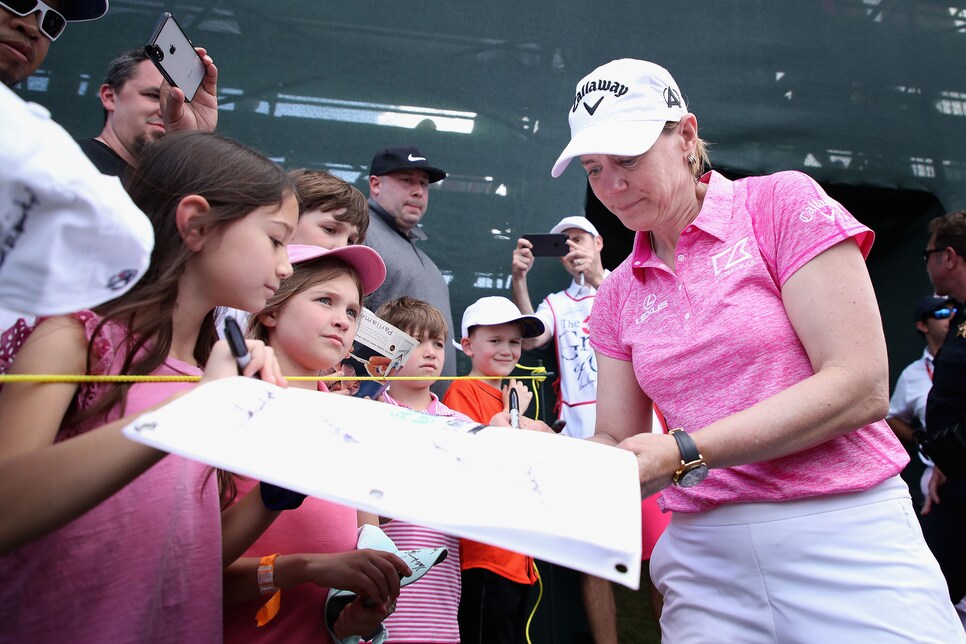 Annika Sorenstam signs autographs for fans after playing in the '3M Greats of Golf' at the Insperity Invitational in 2019.
Christian Petersen
We've seen Annika Sorenstam play a bit since her retirement in 2008—most recently she teamed with her father in last month's PNC Championship—but never in a competition that put her alongside current LPGA Tour players. Her appearance, then, at this week's Diamond Resorts Tournament of Champions will be her first, although it's not what you might be thinking. The 50-year-old World Golf Hall of Famer is participating in the celebrity field at Four Seasons Golf & Sports Club in Lake Buena Vista, Fla., where competitors play their own ball in modified Stableford format. Each is paired with LPGA pros playing in their own 72-hole stroke-play event. So Sorenstam isn't officially making an LPGA start, but she will be paired with current LPGA champions, which will be pretty fun to watch.
Though this is the most competitive event Sorenstam has played since her retirement, she insists it's not the first step in a bigger comeback plan. Part of her partnership with Diamond Resorts is that in future years her foundation's tournament, The Annika Invitational, will be played at a nearby course, around the same time as the TOC. The junior girls playing in that event will be involved in the LPGA tournament, getting invitations to post-round concerts and getting to meet players.
"I've had enough space from my competitive years that I'm OK with where I'm at right now," Sorenstam told Golf Digest during an interview last month. "This isn't a second career or second wind or anything like that. It's more to create awareness of this tournament, women's golf and continue my passion through the foundation. It's just another way of doing it."
This week, Sorenstam reiterated the importance of finding ways to grow the women's game when explaining why she went ahead and accepted the Presidential Medal of Freedom from President Donald Trump earlier this month. Sorenstam received the award, along with Gary Player and, posthumously, Babe Didrikson Zaharias, in a private White House ceremony Jan. 7, one day after supporters of Trump stormed the United States Capitol during a joint session of Congress to formalize President-elect Joe Biden's election victory. The assault left five people dead, including Capitol Police officer Brian D. Sicknick.
"Well, I'm not one to second-guess. It was supposed to be in March 2020, and looking back at it, it's just really about the people who have received it through history," Sorenstam said in an interview with Golf Channel, calling Jan. 6 a "dark day in America's history." "I don't want to spend any energy looking back, I like to spend energy looking forward, continue to open doors, create opportunities for the young girls around the world."
This is the third time the Diamond Resorts TOC is the kick off event for the LPGA season. In the celebrity field, baseball Hall of Fame pitcher John Smoltz has won the two previous editions. Players like Smoltz who are regulars on the celebrity golf circuit play a lot more competitive golf than Sorenstam has lately. But as Mike Flaskey, CEO of Diamond Resorts, says, it's a champions event. Who better to join the field than Sorenstam with her 72 LPGA Tour wins?
"It brings a really cool dimension to the tournament," Flaskey said. "There are a lot of great players in the celebrity division, many of them big, strong males that hit the ball over 300 yards off the tee. How does Annika, the 50 year old, [one of the] winningest all-time golfers, compete against the John Smoltz's and Mardy Fish's of the world? The public and the viewership is going to enjoy just watching her surgically take those guys down."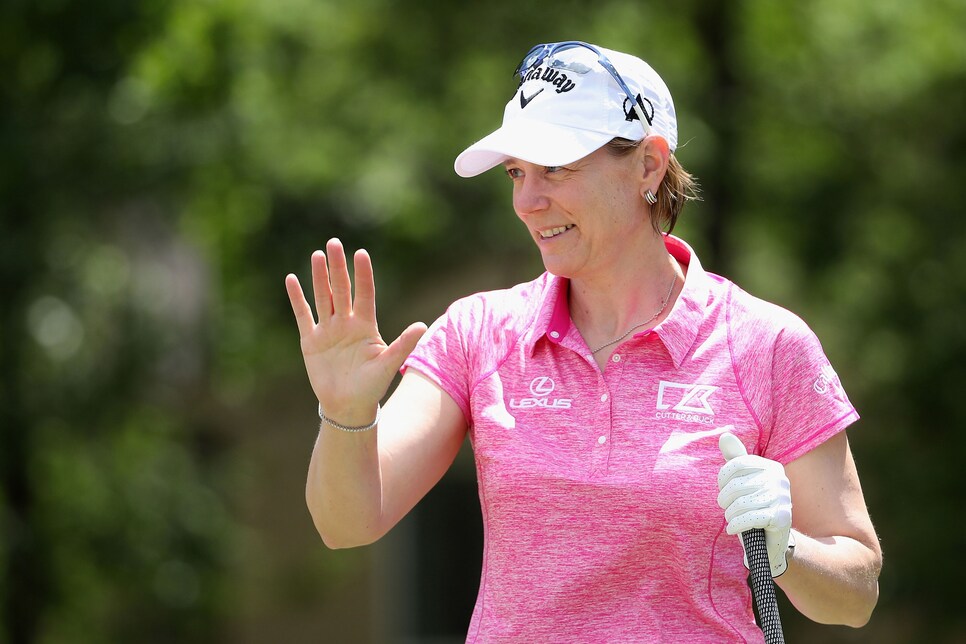 Sorenstam insists she's not looking to make a "comeback" but is contemplating playing in the U.S. Senior Women's Open and Senior LPGA Championship after turning 50 in October.
Christian Petersen
Sorenstam is humble when talking about her preparation. It's not like when she was playing on tour as her game isn't her priority anymore; being a mom is. She gets in practice time between school drop off an pickups, and her son, Will, joins her on the range and course.
"I'm not really impressed by my game. But you do your best," Sorenstam said. "When you're 12 years older, you don't hit it as far, you're less accurate. You just have to make sure your mind is on the same page as your body. That's the hardest part. Your mind is still 35, and your body's not."
Though Sorenstam is adamant that playing in the Diamond Resorts event isn't the beginning of a bigger comeback, she said she is looking at some of the majors on the Legends Tour schedule after turning 50 last October. This July, she'll be eligible for the U.S. Senior Women's Open for the first time, the USGA's newest championship being held at Brooklawn Country Club in Farifield, Conn. Meanwhile, the Senior LPGA Championship is the last weekend of August in French Lick, Ind.
"I haven't committed to them, but I'm looking at them, seeing how they fit in the schedule with the things we do with kids' summer break," Sorenstam said. "I'm not going to go out on the tour and be gone. I want my family to be with me. I want this to be an experience for everybody. If that doesn't work, then I'm not playing. It needs to be part of a family thing."