LPGA
Angela Stanford, already a rare breed as a fortysomething veteran, says she plans to reduce her schedule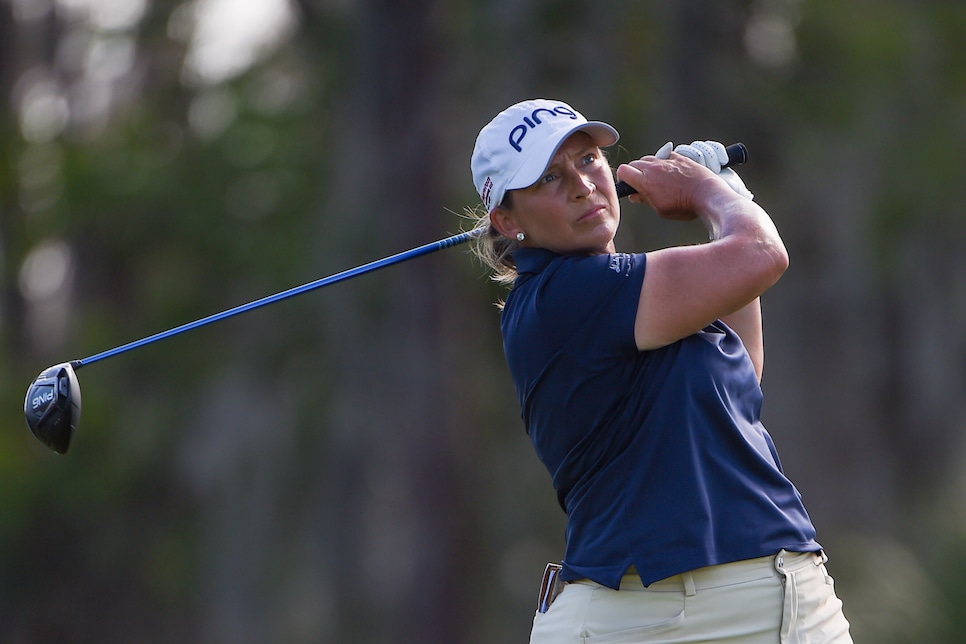 Angela Stanford returns to defend her Volunteers of America Classic title as a bit of a lone veteran ranger. Over the last decade on the LPGA Tour, only four victories came from players over 40 years old. Stanford, now 43, is responsible for two of those—at Old American Golf Club last year and the 2018 Evian Championship. The veteran presence on the LPGA will shrink even further after Stanford announced at her press conference Wednesday that she will scale her schedule back going forward. Stanford will spend time with her Mom, Nan, as she continues her battle against cancer that started in 2009 and recurred in 2018.
"[I'm] honestly only going to play a handful more this year," Stanford explained. "I think it's probably time to be at home a little bit more with my Mom. So I'll play here, Evian, British, Arkansas, and we'll see what happens. But I think it's probably just time for me to be more available."
Stanford has made 12 starts so far in 2021. She turned to the veterans who impacted her at the start of her 21-year career, particularly Beth Daniel, Meg Mallon, Pat Hurst, and Juli Inkster, who've gone through this before, to process how she felt about reducing her schedule.
"Nobody can tell you when it's time to ease back on your schedule and go home," Stanford said. "But they said, 'You'll know, and they were right.'"
Stanford did not put retirement on the table when asked, as her Mom wants Stanford to work as long as she is working. However, retirement is a trending topic of late on the LPGA. The 31-year-old Shanshan Feng announced 2021 is her final season at the KPMG Women's PGA Championship, and Lizette Salas, the same age as Feng, explained she nearly walked away last offseason. With players contemplating retirement or retiring at a younger age, it diminishes their opportunity to leave an imprint on the generation that follows them in the way Daniel, Mallon, Hurst, and Inkster did with Stanford.
The seven-time winner capitalized on an opportunity to impact an aspiring LPGA player in 2010 when she took an interest in then 13-year-old Cheyenne Knight. Stanford met Knight as they both practiced at Shady Oaks Golf Club in Westworth Village, Texas. Knight awkwardly interacted with one of her idols growing up, unsure of what to say when chatting with Stanford. The next time Knight went to the pro shop, Stanford left her shoes from the 2009 Solheim Cup for her.
It only added to Stanford's impact when she approached Knight on the driving range nearly a decade later ahead of the final round of the 2019 Volunteers of America Classic, when Knight sat a shot off the lead.
"I was really nervous," Knight said. "And she goes, 'You know, God already knows what's going to happen today so just go out there and have fun.'" Knight then shot a 66 to win her first LPGA tournament by two.
Over the Texan's 21-year career, victories by veterans have shrunk dramatically. Over her first decade on tour, 23 players over 40 won. In Stanford's opinion, the change is due to players wanting to have families, as well as the heavier travel grind players face in the U.S. and internationally.
"When I went to the British in 2002 I had to find my passport," Stanford said. "I had no idea where it was. Now the kids show up passport in hand, they're ready to go. So I think the travel kind of beats you up more than you think. Just the longevity of it. So I think that's been for me tough."
The diminishing veteran presence also impacts the opportunities to model behavior for the upcoming generation. At a group U.S. Solheim Cup practice Monday, 13-year LPGA veteran Stacy Lewis noticed the assistant captain picking up water bottles that other players left behind and throwing them in a garbage can. "It's little stuff like that of setting a good example for the younger players," Lewis explained. "At some point we're going to hand the tour over to them and they need to know how to do it like the older players taught us."
As Stanford starts to slow down her appearances on the LPGA, she appreciates where the game is and believes it is in good hands.
"I do love that people are hitting it farther," Stanford said. "You know, I'm not hitting it as far but I love watching it, and I know the fans do, too. I think it's great for our tour. No, I think you need stars from all over. You have to represent this entire globe, and we do. I think that's what makes us great."