News
Andrew (Beef) Johnston WDs from British Masters, cites unease with the 'bubble' environment, being away from family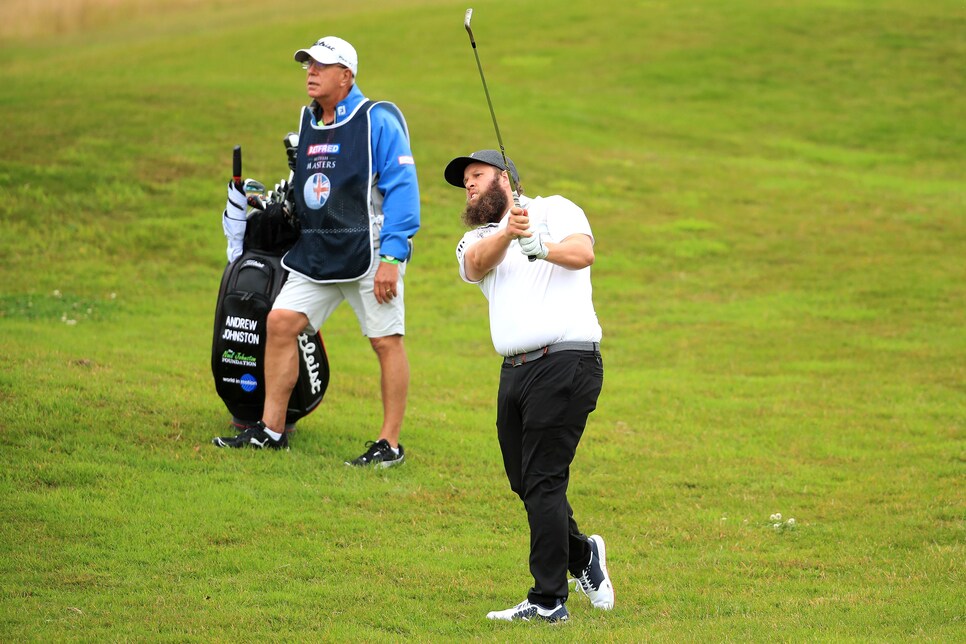 Andrew (Beef) Johnston plays his second shot on the eight hole during the first round of the 2020 British Masters.
Andrew Redington
At first, no official reason was given for Andrew (Beef) Johnston's abrupt withdrawal on Wednesday after nine holes of his opening round at the British Masters. A day later, however, it has emerged that the 31-year-old Englishman's decision to stop playing was due to his on-going unease with the closed "bubble" environment—no one is allowed to venture outside the course or the designated hotel—the European Tour has created to try and move forward with competition during the on-going COVID-19 pandemic.
"I'm struggling to get my head around it all," said Johnston, who was four over par when he stopped playing. "One minute I'm coming out of lockdown, going out for dinner, and then the next I'm back in lockdown in a hotel room."
After pulling out, Johnston spoke to a European Tour representative and explained his reasons for heading back to his London home. Indeed, his participation had been in doubt right up until the last minute.
"I've been on-off saying I'm going to play, I'm not going to play, for months," Johnston said. "I kept changing my mind. But being here and being confined to the hotel, confined to the course and not being able to bring my family is ultimately not what I want and not how I want to live my life. We like to travel as a family, and it's just been very difficult to get my head around being stuck in those two places and then coming out and trying to compete. It just doesn't feel right. I tried to come up here, but I was leaving it later and later. I came up Tuesday morning to try to be away as small a time as possible, but it's not good prep for a tournament and it shows I don't really want to be here."
That the bearded Johnston, an enormously popular figure on the European Tour, should express such feeling is perhaps not too surprising. Back in 2018, he spoke of mental health issues that came to a head at the Nedbank Challenge in South Africa. Arriving back at his hotel after finishing T-27, he broke down crying in his room.
"I've learned to be honest about it, whereas in the past I might have just swallowed it up," Johnston said. "I'm not going to do that anymore. If I'm not happy, I'm not going to be here. That's the golden rule for me now. If I'm not in a good place, or I haven't got the right set up around me, then it's not right for me."
While the tour are understandably not commenting on an individual case such as this, it is understood that its chief medical officer, Dr. Andrew Murray, has offered Johnston assistance. In a statement the tour said:
"We offer all of our players a comprehensive program to support their mental health and wellbeing. This includes a mental health support hotline, which operates 24 hours a day, 365 days of the year. We are also aware that everyone has their own unique circumstances at the moment, which is why the 2020 season is an optional one for our players."