The Loop
And then there were four at the U.S. Amateur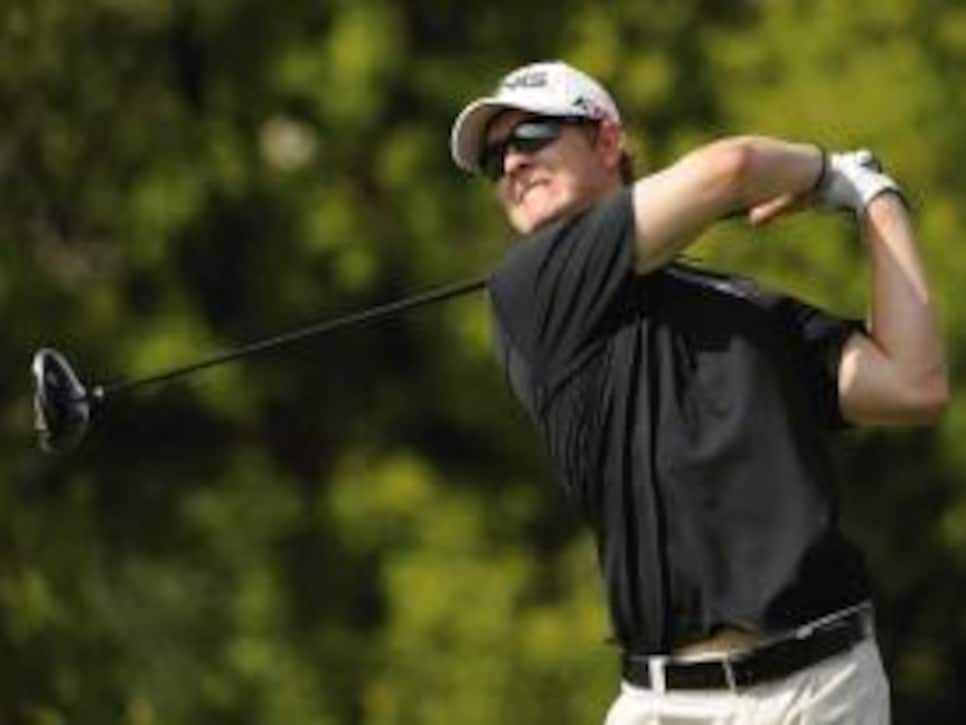 __ERIN, Wis.—__Saturday's U.S. Amateur semifinals potentially could have had the country's two best college golfers facing off in one match and the two best graduating high school seniors squaring off in the other. Yet Friday afternoon's quarterfinal matches at Erin Hills GC didn't go by the script, a testament to the fact that pedigree alone doesn't get you a victory in match play.
So it is that__Jordan Russell__ (above), a Texas A&M senior who had to all but beg to be allowed to walk on the team three years ago, knocked off defending champion Peter Uihlein, 2 and 1.
And Jack Senior, a member of the Great Britain & Ireland Walker Cup team who had never previously played in the U.S., beat Texas freshman-to-be Jordan Spieth, 1 up.
And__Kelly Kraft__, a graduating senior at SMU who played one of the craziest summer schedules you could imagine in hopes of possibly turning the head of the USGA Walker Cup selection committee, took down__Patrick Rodgers__, 6 and 4.
Only__Patrick Cantlay__, the country's top-ranked amateur, managed to hold form—barely. As was the case in the second round against Russell Henley, Cantlay was 2 down with two holes to play in the quarterfinals against__Max Buckley__, an SMU sophomore who spent the summer interning on the equity trading desk for Oppenheimer & Co., on Wall Street. But a three-putt bogey by Buckley on the 17th hole and a birdie by Cantlay on 18 sent the match to extra holes, where a par by the UCLA sophomore closed out the match and let him return to the semifinals for the second straight year.
"It's nice to know that I was there before, and I definitely know what it's like to play in that situation," Cantlay said of being among the last four standing. "It's going to be a lot of fun."
Uihlein scrapped it around Erin Hills, a course that's becoming firmer and more challenging by the day, when he beat Scott Langley in the third round on Friday morning and again didn't appear to be on his game in the afternoon match with Russell. Conversely, Russell seemed poised in the underdog roll, taking an early lead and making just one bogey for the entire match.
That came on the par-4 12th, when Russell couldn't get up and down from a bunker to save par, and watched the match return to all square. Yet he bounced back on the 13th, holing a 20-foot birdie try to retake the lead, extending it to a 2-up advantage when he made a birdie from eight feet on the par-4 14.
"I think he's the most underrated player in college golf," said Uihlein, who confirmed that this would be his last time playing the U.S. Amateur as he'll turn professional before next year's championship at Cherry Hills CC.
"That's pretty cool, I guess, that he thinks that," said Russell of Uihlein's comments. "I feel like maybe [I'm] a little underrated, but I mean I kind of like it that way. sometimes."
Senior, a 23-year-old from Lancaster, England, was the less heralded of two GB&I Walker Cuppers to make match play at Erin Hills (the other being British Open low amateur Tom Lewis). By his own admission, he wasn't playing well entering the championship, but managed to weave his way through the match-play bracket.
"This week's just swung up on me," Senior said. "I've found a bit of form. That's the way it goes sometimes. This game is all about confidence, and if you're confident out on the golf course, then you reap the rewards."
The confidence was tested, though, against Spieth as Senior found himself 2 down after 12 holes. But a par on the 14th and 15th holes allowed Senior to square the match and gain the momentum, which grew even more with a birdie on the 16th from four feet, giving his first lead of the match.
Senior then quickly gave it away with a poor tee shot on the 17th, resulting in a bogey. All square on 18, Senior hit he tee shot in the fairway after Spieth found a bunker off the tee. Spieth's second shot also found a bunker, as did his third, while Senior hit a 4-iron second shot to just right of the green, chipped on and two-putted for a par and the victory as he tries to become only the second Englishman to win the U.S. Amateur title, the other being 1911 winner Harold Hilton.
Kraft's lopsided win over Rodgers, a 19-year-old from Avon, Ind., who'll start school at Stanford next month, was perhaps the most unexpected. That's because Kraft needed 23 holes to beat__Blake Biddle__ in his Friday morning third round match, then had roughly 30 minutes to turn around and play Rodgers, who had been done for nearly two hours after closing out his morning opponent early.
"Let's just say I didn't need to warm up," joked Kraft, who won four of his first six holes against Rodgers and never looked back.
"I just putted great," Kraft continues. "I hit good shots and then made putts when I needed to. I didn't miss very many putts out there, especially makable ones."
Given the impressive results Cantlay has turned in this summer—the college player of the year had four top-25 finishes in four PGA Tour starts, shooting a 60 at the Travelers Championship and posting a T-8 showing at the RBC Canadian Open, as well as a runner-up finish at the Western Amateur—it's hard not to think that the 19-year-old from Los Alamitos, Calif., isn't the favorite to claim the title this weekend.
Of course, as Friday's play would suggest, there's no guarantees in match play.