...and just like that, the chase is over
PITTSFORD, N.Y. -- Maybe it's time to start tweeting. Within five minutes of hitting "publish" on my last post, there's been a three-shot swing at the top of the leaderboard. Kerr rolled in a 12-footer for birdie on 12 and followed that up with a solid 10-footer for the same on 13 to drop to -13. Miyazato, meanwhile, found the rough left of the green on the par-4 13 and couldn't get up and down, falling back to -7. All of a sudden, Kerr's lead is six.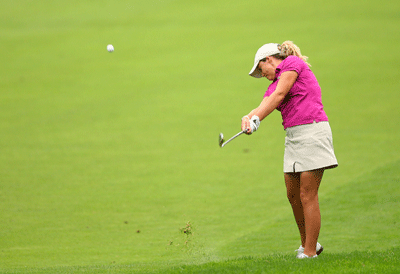 *John Wawrow from AP proudly announces to the press room that he's found the stat for biggest 54-hole lead in LPGA Championship history: seven strokes, held by Micket Wright in 1961. That's a long time ago. Can Kerr match it or beat it? She's looking very confident.