The Loop
Anchoring ban? 'The belly and broom-handle brigades have already all but disbanded'
Stories of interest you might have missed…
"The anchoring ban does not come into effect until next January, but if the WGC-Cadillac Championship here has proved anything, it is the belly and broom-handle brigades have already all but disbanded," according to this story in the Vancouver Sun. "None from the 73-man field is employing what will soon be the illegal method of putting. The four players who between them used the long implements to collect all four majors in the space of 18 months from 2011 have converted to the regulation blade."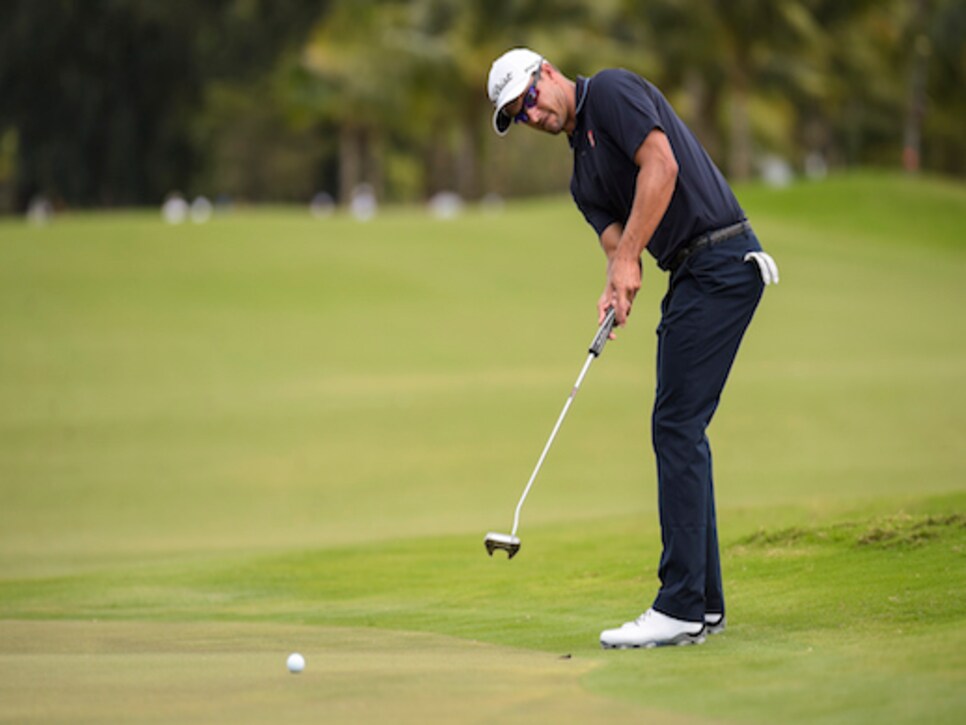 Adam Scott with a standard-length putter (Getty Images)
Now that the Royal & Ancient Golf Club and Royal St. George's are admitting women members, and the likelihood of Troon and Muirfield following suit, problem solved, right? Wrong, James Corrigan of the Telegraph argues. "[T]o believe that a few female millionaires joining up with several more male millionaires in these ultra exclusive establishments will change much at all is based in the land of absurd fantasy," he writes. "British golf's problem of female participation remains a problem for golfing unions and golf clubs the land over, where yes, women members have always been welcomed.'"
"The season's first major championship is five weeks away, but the focus of the world's best players is squarely on Augusta — even as they've tried to tame the Blue Monster," the New York Post's Mark Cannizzaro writes. "No one is more dialed into Masters preparation right now than Rory McIlroy, who will be seeking to join the five players in golf history who have achieved a Grand Slam. A Masters green jacket is the only bauble missing from McIlroy's major championship resume."
A future without Tiger Woods might not be imminent, but it is eventual. What then? "[PGA Tour Commissioner Tim] Finchem is at least well-versed in the debate. It's the same thing we had in 2012,' said Finchem of Woods. We had it for a period of time in 2009 and 2010. It's good news, bad news. I mean, it's more bad news than good news because it's like Michael Jordan stepping away to play baseball that year.'" Ewan Murray of the Guardian has the story.