The Loop
Anchored putters: No decision right now
Twitter's second definition should be "overstatement." Latest case in point was the recent back and forth yesterday over rumors that the Royal & Ancient Golf Club of St. Andrews was about to make an announcement of a rule change regarding anchored or belly putters.
Well, there's journalism, and then there's "not exactly."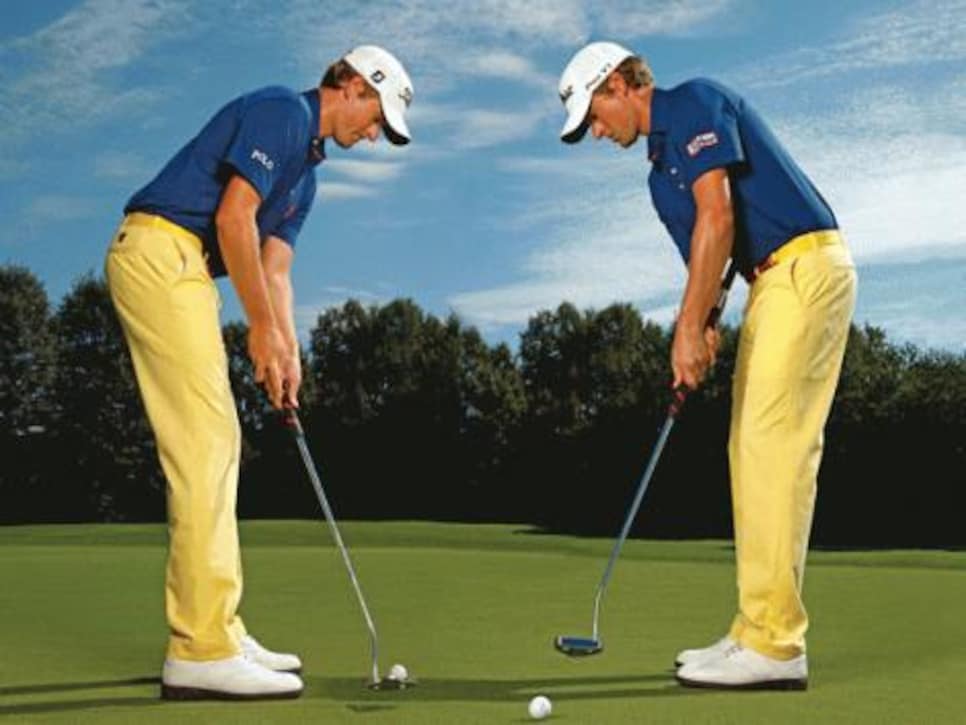 *Webb Simpson's win in the U.S. Open has triggered inevitable speculation about the future of anchored putters. Photo by Walter Iooss, Jr. *
In an e-mail this morning, David Rickman, Executive Director - Rules and Equipment Standards at the R&A, said, "I don't know what reports are circulating, but the final decision rests with the Rules committees of The R&A and USGA and, therefore, I wouldn't believe any reports from elsewhere. No decision has yet been made on this matter." Rickman noted that the R&A released a statement in April in which Chief Executive Peter Dawson said, "We appreciate that this is a complex and emotive issue that divides opinion. Any decision will be made with the best interests of the game in mind and introduced only after a lengthy period of notice."
In a phone conversation this morning, USGA Executive Director Mike Davis explained the way the R&A and USGA are looking at this issue, noting that Webb Simpson's use of a belly putter to win the U.S. Open last week would have "zero effect" on any decision by the ruling bodies.
"The reason we're taking our time on this is because we want to do our homework," he said. "In the history of the game, this is a new type of stroke, especially since so much has changed in the last 18 months in terms of what we're seeing at all levels of the game, including what junior golfers are doing and how some teachers are suggesting this might be a better way to putt.
"It really boils down to whether we believe this is the right thing for the future of the game."
Davis did offer a timeline, however. "I think we do owe the golf world some kind of answer before year's end," he said. "At this moment, though, there is no decision and no votes have been taken. Nothing's been decided."
Davis was clear that were there to be a decision on belly or long putting, it would not be an equipment rule but a rule looking at the stroke itself. As such, he said, it would not go into effect until the next formal revision of the Rules of Golf, which go into effect in 2016. It is believed that such a change would likely be preceded by a lengthy period alerting players of the change. In other words, it seems certainly possible that golf's ruling bodies could make an announcement two or even three years before a rule would go into effect.
Davis said golf's ruling bodies were gathering information from various sources, but that this decision will not be one driven by data from putting statistics on the PGA Tour.
"We do feel it's our responsibility to take another look at this because of the changes recently," he said. "We'd be shirking our responsibility if we didn't."
But it will be a philosophical decision more than anything, Davis said: "You certainly want input, but in the end, you have to do what you think is the right thing to do."
The hubbub apparently grew out of comments on the Teed Off show on PGA Tour Sirius XM Radio yesterday. This led to several tweets suggesting the R&A shortly would "issue a rule saying putter can be no longer than shortest club in a player's bag." That idea mirrors comments made by Tiger Woods in February in which he referenced conversations he had with the R&A's Dawson.
Of course, speculating on rules decisions is easy, even in 140 characters. Doing what's right for the future of the game? That's hard.
Mike Stachura**Follow me on Twitter @MikeStachura