News
Anatomy of a Masters collapse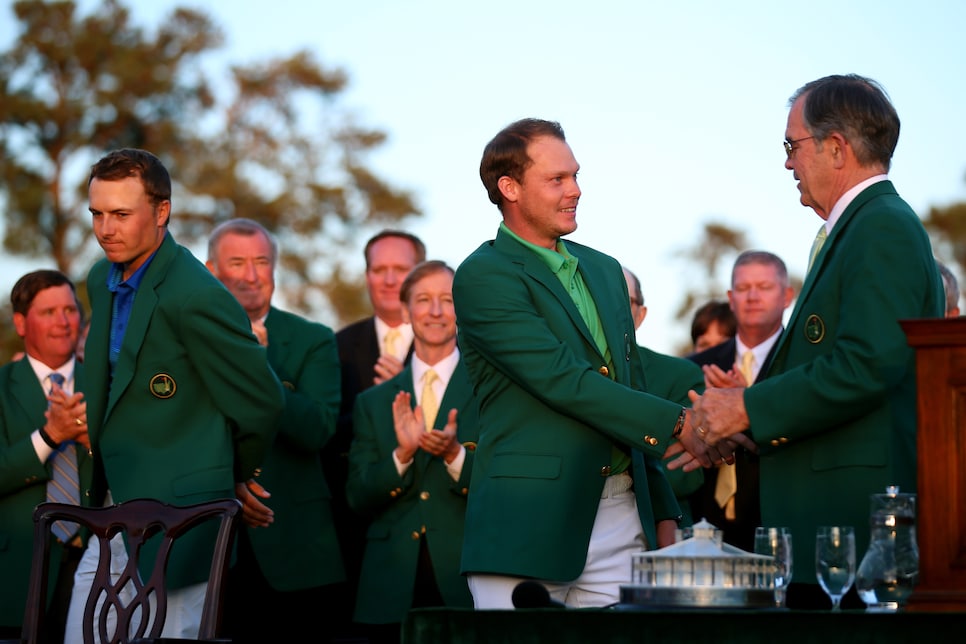 AUGUSTA, Ga. -- Before Sunday, Jordan Spieth would have been the player voted least likely to blow a major, especially the way the defending champion blew the 80th Masters.
Although only 22, Spieth had earned the aura—through his run at the Grand Slam in 2015 and the 7 2/3 consecutive rounds he held a lead at Augusta National over the past two years—of possessing the clutch gene, of being a closer, a mental master, an ingenious self-corrector. In sum, all the intangibles that in the biggest moments make him better at handling big moments than contemporaries Rory McIlroy or Jason Day.
And yet, what Spieth did on the temptress that is the short 12th hole Sunday, making a quadruple-bogey 7 that took him from two strokes ahead to three stroke behind, is as big a one-hole collapse at the wrong moment as the Masters has ever seen. For a disaster hole from a final-round leader in a major championship, it ranks up there with Jean Van de Velde's closing triple bogey at Carnoustie to fall into a playoff (which he lost) at the 1999 British Open.
It was difficult to watch, in part because it was so unexpected, but more because it was a moment in which the seemingly bulletproof Spieth was forced to confront, in the kind of publically humiliating circumstances that make up the scariest side of big-time sports, the stark reality of human fragility.
After birdieing four straight holes to end a front-nine 32 and take a five-stroke lead, Spieth began playing for pars. It wasn't a bad strategy. But instead of picking conservative targets and making aggressive swings, Spieth started making such tentative swings that it didn't matter what the target was. After a good drive on the par-4 10th, he pushed a mis-hit 6-iron into a greenside bunker and didn't get up and down. On the 11th, he made the same push swing with his driver that has bedeviled him in the past several weeks—and which had led to a troubling bogey/double-bogey finish on Saturday. It forced him to pitch out from the trees, and a missed eight-footer led to another bogey.
Still, on 12, Spieth was in the kind of spot in which he routinely bounces back, or at the very least regroups. Instead, he shockingly did everything wrong.
"I didn't take that extra deep breath and really focus on my line on 12," Spieth said. "Instead I went up and I just put a quick swing on it."
The rushed 9-iron went right and short, the one place where he could not miss in that situation. Spieth is renowned for being the best at managing his misses so they do minimal damage. But when pressure again brought out the push swing—caused because he was failing to turn his body aggressively enough toward the target—it produced a flared shot that, after disappearing into the drink, did maximum damage.
Now Spieth, no longer Mr. Clutch, went into shock. One of the best short-game artists in the game hit the worst shot of his career, a badly chunked lob wedge that barely made it to Rae's Creek. That was followed by an overcorrected but also poorly struck fifth shot, which flew into a back bunker. Up and down from there added up to a 7 that will go down as one of the most infamous in Masters history.
What really happened? Spieth, as he so admirably does, took the time afterward to explain, even though it was with red eyes, flushed cheeks and a thick voice. He gave a window into the mental blur that competitive golf can become under the greatest pressure. And in the end, for all the talk of technique, ultimately the bad swing was a mental error.
"I remember getting over the ball and thinking I'm going to go ahead and hit a little cut to the hole," said Spieth, who then added that he actually repeated the same mistake he had made when he finished second to Bubba Watson in his first Masters, which he led on the front nine on Sunday in 2014. "And it cost me the tournament then, too.
"That was the right club, just the wrong shot," Spieth continued, getting into the specifics of eschewing a safer right-to-left shot that, had it missed, would have more likely been to the safer (and drier) left side of the hole. "I was more comfortable hitting a draw with my iron. I knew every time I played a fade this week, [the flared push] came out."
Here Spieth provided insight into how a player can fall prey to the crucial distinction between acting confident and actually being confident. "At the time you're going to throw all bad swings away and you're just going to focus on how confident you can step into that shot, and that's what I did," he said. "But the swing just wasn't quite there to produce the right ball flight. So, ultimately, I should have just played a draw on that hole."
Spieth also revealed that he asked for help from caddie Michael Greller after the debacle on the 12th, saying, "Buddy, it seems like we're collapsing."
"I wanted to be brutally honest with the way I felt toward him, so that he could respond with what was necessary to get us to rebound." And after a brief consultation, Spieth hit his best drive and reached the par-5 13th with a 7-iron, leading to birdie that gave him hope.
He fought back with another birdie at 15, but in the end, the player who prides himself on getting it done simply couldn't. The experience was traumatic for Spieth, whose self-identity seems as tied to his competitiveness and need to win as inextricably as it was with the young Tiger Woods.
"We still have the confidence that we're a closing team, we can close," said Spieth, making sure to quell any doubts that his most valued attribute remains intact.
But Spieth has now learned, surely sooner than he would have wanted to, that even he is susceptible to losing control in the cauldron of a major championship.
"Big picture, this one will hurt," he said in his closing comment. "It will take a while."
Spieth has plenty of time. And wounded or not, he hasn't lost the head to make the most of it.