The Loop
'Opportunity to cross-pollinate': Fila Korea/Mirae Asset on Acushnet
Those wondering about the logo on Brittany Lincicome's hat when she won this weekend's LPGA ShopRite Classic might remember that it's not just another financial company, but the company that provided the primary funding for Fila's recent acquisition of Acushnet.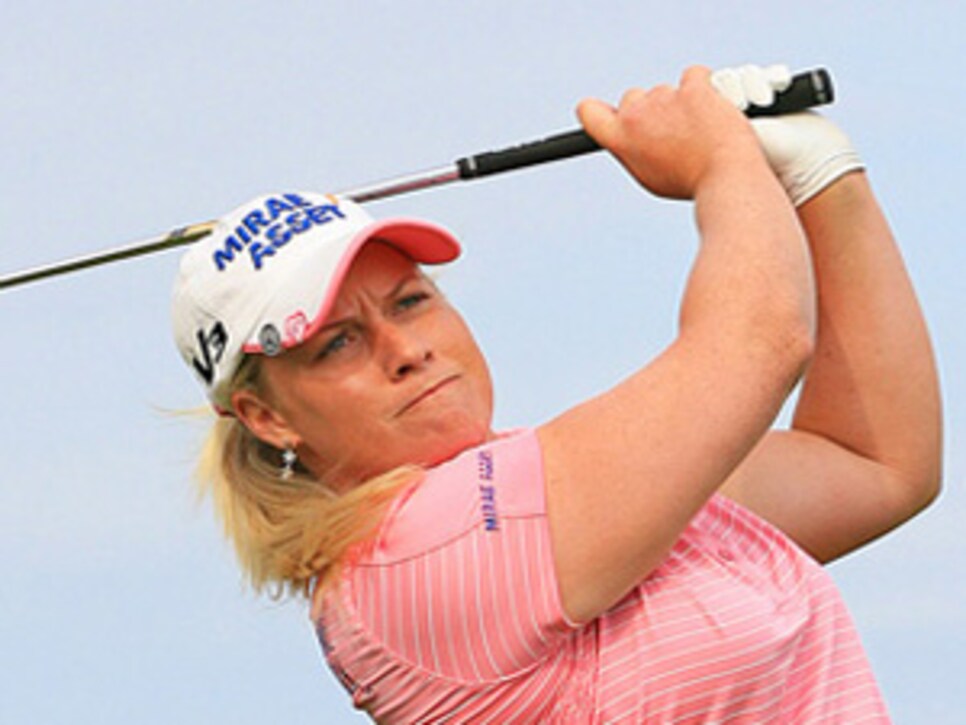 The word from a spokeswoman at Fila Korea, reiterating similar statements from Acushnet CEO Wally Uihlein, is that not much will change, although the belief is that Fila Korea will make the Titleist and FootJoy brands stronger in Asia.
"To summarize, it will be business as usual," a spokeswoman at Fila Korea told Golf Digest in an e-mail. The spokeswoman, who requested anonymity, relayed the message after presenting Fila Korea's CEO Gene Yoon a list of questions e-mailed by Golf Digest. "Fila Korea recognizes that Acushnet has done a great job with the current marketing strategy and there are no plans to change that strategy.  Fila Korea & Mirae will continue to support Acushnet's great innovation, which has become the cornerstone of Titleist and FootJoy and the products they make. The company is exceptional because of their innovation and focus on research and development. Innovation is the cornerstone of any brand."
The influence of Fila Korea and Mirae Asset on Acushnet will be seen in Asia, the spokeswoman said.
"Fila Korea plans to work with Acushnet to develop business in the major markets of Japan, Korea and China. Fila Korea and Mirae has greater reach in those countries and can help Acushnet facilitate growth at a rapid rate.
"Acushnet will be run as a stand-alone business. Fila Korea is a strategic company and if there are areas where each business has expertise, there may be an opportunity to cross-pollinate."
The spokeswoman also said the Titleist brand resonates with the Asian consumer. __
__"Acushnet is already a global leader in the industry and we see the opportunity to extend Titleist and FootJoy's growth around the world, including in the fast-growing Asian markets where we see significant potential upside.  We want Acushnet to continue doing the things that have made them the most successful company in golf. Fila Korea sees great value in world class brands and in the opportunity for growth in emerging markets where consumers place high value on aspirational brands. The Fila Korea/Mirae group also has a great appreciation for global brands with strong expertise in innovation. Titleist and FootJoy are iconic brands that are considered a 'jewel' in the Asian region."
Mirae Asset partnered on the purchase with Yoon, the 65-year-old who helped build the Fila brand to one of the leading sportswear brands in Korea with more than 300 franchise stores. He helped orchestrate a $450 million buyout of the Fila brand in 2007, and has plans to return the 100-year-old Italian sportswear label to a premier position among global sports brands. Hence, the acquisition of Acushnet, one of golf's leading companies. Yoon also is a golfer, who plays Titleist golf balls.
According to the Fila Korea spokeswoman who spoke with Yoon, there are no plans to uproot Acushnet's current U.S. ball making operation.
"It will continue to be 'business as usual' moving forward. The Fila Korea/Mirae group is very impressed with what Acushnet management and its associates have accomplished. Fila Korea and Mirae Asset are fully supportive of the company as it remains focused on its core golf expertise and strategy to drive continued growth around the world."
And, oh by the way, yes, Lincicome was using a Titleist ball in her win on Sunday.