The Loop
An older (maybe even wiser) Daly resurfaces
KIAWAH ISLAND, S.C.  -- Ye gods, he's an old man now, 46 in ordinary years, and who knows the number in John Daly years. And he's teased us before. So the 68 he put up in the first round of the PGA Championship may be just the usual prelude to meltdown. Here's the thing, though. This one felt different. Every drive big and dead in the middle. Every 3-wood, a missile flying where he looked. Made every makeable putt. Did nothing goofy, unless you count those screaming orange pants.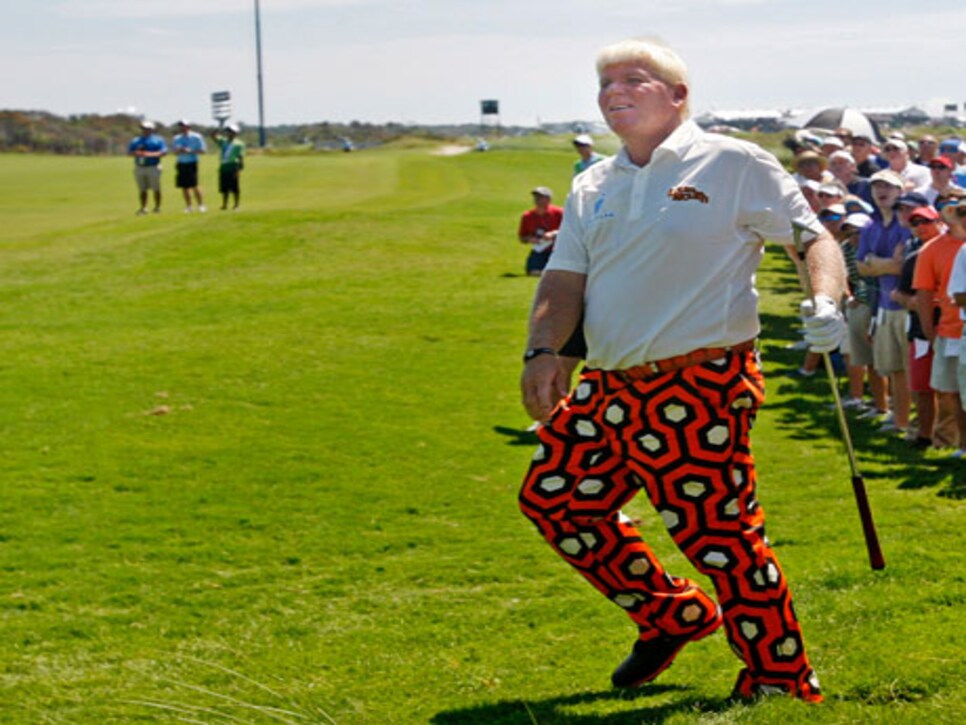 John Daly hits his shot out of the rough on the 12th hole. (Photo by Getty Images)
He said later that his most important shot of the day was his first. Killed that drive 300-something, leaving a lob wedge to the 396-yard hole. Set the tone for the long morning's work in the sun and steam of the Lowcountry by the Atlantic. "Grip It 'n Rip It." Those words are on his bag, right under "1991 PGA Champion" and "1995 Open Champion." Vestigial reminders of the artist once known as John Daly.
He liked that first tee shot. I liked the drive at the 11th, the par 5 listed at 593 yards Wednesday. There, the man marking driving distance walked past the 280 and the 290 painted in blue in the rough, and past the 300 and past the 310 and stopped alongside Daly's ball.
"From the tee? Or to the hole?" he said.
"Three-eleven. Two fifty-three."
While his playing partners, David Toms and Shaun Micheel, laid up with their seconds, Daly waited for the green to clear, as he had waited on both earlier par 5s and would wait later on the last of the long ones. Daly has plush-toy head covers, a lion's head, a cartoon in sunglasses. He chose the lion's head, the 3-wood. And flat nailed it. To 20 feet. And made the putt for an eagle. He was four-under par, his name on the leader board, and for all the clown signs -- screaming pants, comic head covers, his surfer-boy bleached blond hair -- here was an earnest, skilled workman doing good stuff.
Even more than the eagle at the 11th, I liked the birdie at the 13th. At the 12th, he'd made a bogey after leaving a wedge shot short and three-putting from off the front. With Daly, there's always that question: is this the mistake that lights the fuse to the implosion? At the 13th, he answered with a wedge at the stick, 10 feet short. That shot caused me to advise Tweeters around the universe, "If he makes putt, I say he's playing his best in forever."
Best in a while. His T-5 in the PGA Tour's alternate event last week -- the Reno-Tahoe Open opposite the WGC at Firestone -- was only his second top-10 finish on the tour in the last five years. However good the day's work was, Daly said it was only a continuation of what he'd been doing without being much noticed.
"It's kind of been building up for the last five or six weeks," he said.  Only one bad hole in Canada a couple weeks ago, he said. Best ball-striking all year at the British the week before, he said. Before that, finished fourth in Qatar, on the European Tour. "So I'm getting a lot of confidence," he said. "I'm just hitting the ball solid."
A bogey at the impossible 14th -- a 238-yard par-3 with ocean breezes and a table-top green -- and a birdie at the 581-yard 16th -- driver, 3-wood to the edge -- brought Daly in at 68 and gave reporters another opportunity to ask the old man the resurrection questions, though in words such as, "How far are you, John . . ." And leaving it for him to figure out the end of the sentence.
"I don't think I'm that far," he said. "I don't think any of us are that are fighting to get our cards or fighting to win or whatever." He thinks of himself as a journeyman, not a star. He has lost his right to play on the PGA Tour and now depends on the kindnesses of strangers offering exemptions into their tournaments. "You sit by the phone," he said, and he said it without melancholy, without bitterness. A fact. He last mattered in a big way in another century. Now he plays in Qatar.
"We're never ever that far," he said. "I just believe if I keep telling myself, I'll get where I want to be instead of being negative about it."
He defined where he wants to be. "I want to be here, playing our tour. I want to be like everybody else, in the top 50 and getting that free money in the World Golf Championships, and be in all the majors and getting sponsors, big, big sponsors, and stuff like that." He did not say, perhaps because it hurt too much, perhaps because he knows he's 46 and on the wrong side of time -- he did not say, "I want what I used to have."
What Daly has, even if it exists in some diminished measure, is a gift of hand-eye coordination that astonishes us all. Anyone else who took the driver around so far as to brush the clubhead against his left-hand pants pocket might wind up with a rash of orthopedic calamities. But Daly does it so smoothly, so swiftly, and with such power as to bring the breath in a gasp from any eyewitness. "Get IN THE HOLE!" a fan shouted in the wake of Daly's drive on the 16th.  At that moment, it seemed possible, though the hole was 581 yards away.
On this day, he heard such encouragements around the course. For all that he has lost, he somehow has not lost the galleries. His has been a train wreck of a life, talent squandered in addictions to alcohol, gambling, and bad marriages. He says it's all better now. A real home life. A son he's home-schooling. Daughters living with him.  A "special lady," whose name is Anna, who walked with him yesterday, her shorts a short-short version of his orange pants. "I just feel like my whole family is a lot closer and I don't have to worry about them as much as I used to," he said. "When you've got everybody together, it just makes you feel more comfortable and more at ease in your own life."
"I just don't want to get too up or too down," he said. "It's just the first round. But I like where I'm at, and I like the way I'm playing, and I like the way I'm feeling. So just go out and just play and have fun."