News
An infamous love triangle still haunts Shinnecock's clubhouse
From the archive (June 1995)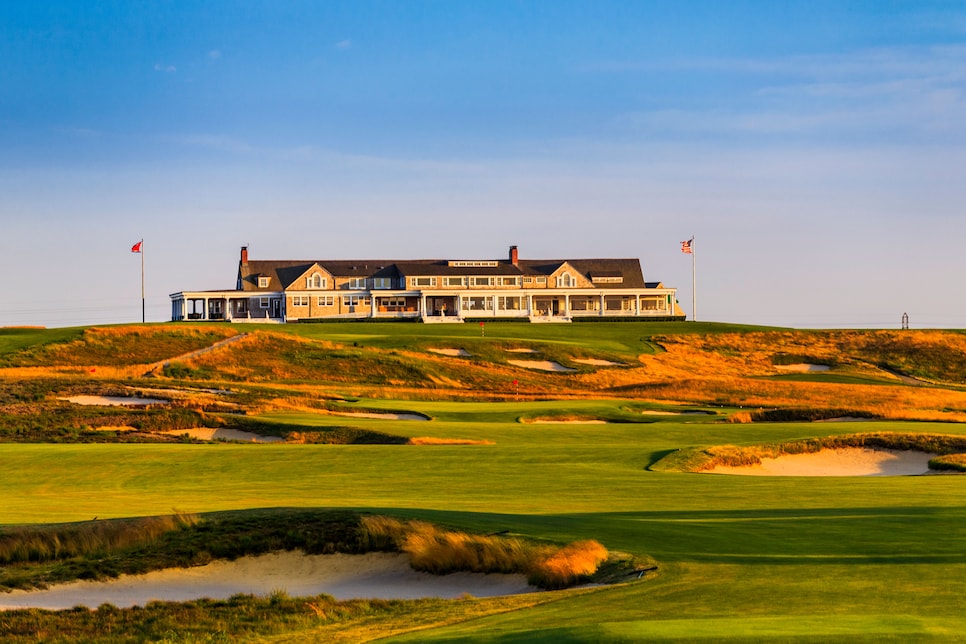 Copyright USGA/John Mummert
Editor's note: In celebration of Golf Digest's 70th anniversary, we're revisiting the best literature and journalism we've ever published. Catch up on earlier installments.
Former USGA president Sandy Tatum and I were exchanging Alistair Cooke stories in the old days of letter writing. We agreed that Cooke—a close friend of Sandy and a relatively new friend of mine—had been both a wonderful companion and a keen observer, meaning he played Dr. Watson to many Sherlocks over the years. Tatum topped my best with this story involving Alistair and the legendary British golf writer Pat Ward-Thomas.
"Alistair told me that he and Pat were on the course at the Masters when Pat had to phone in his coverage of yet another desultory [Tony] Jacklin 75 to a U.K. newspaper," Tatum wrote. "He was doing so in a telephone booth outside of the clubhouse, when Alistair, waiting outside the booth, noticed that the scoreboard was putting up a series of red numbers for Hogan on the back nine. When Alistair knocked on the door of the booth and directed Pat's attention to the scoreboard, Pat dropped the phone in mid-sentence, and leaving it dangling, took off running to the back nine. Following behind him, Alistair shouted, 'Pat, Pat, what about Jacklin?' Pat's response, as he disappeared over the crest of the hill, was a shout that must have rattled the windows in the Butler Cabin: 'F--- Jacklin!'"
It was classic Cooke—slightly salty, a bit gossipy, marked by being in the right place at the right time, and told with joie de vivre. The same can be said of this longer, more complicated story that Alistair contributed to Golf Digest in June 1995 on the eve of the U.S. Open at Shinnecock. We all knew about the historicity of the Shinnecock Hills Golf Club, the Open course and its clubhouse, the oldest in America. But it was only Alastair who could regale us with the lascivious tale of a chorus girl, the son of a railroad baron, and the murdered architect Stanford White in a love triangle that still haunts the stately Shinnecock clubhouse. Besides his dalliances in playing and writing golf, Alistair was better known for his half-century of authoring "Letter from America" on the BBC and hosting "Masterpiece Theatre" on PBS. He died in 2004 at age 95. —Jerry Tarde
Every great golf course has its heroes and its legends, which, however noteworthy, appeal exclusively to that tiny segment of society that is interested in golf. (According to a national statistical survey, only 6.5 percent of the American people have ever played, or watched, or read about golf.) But Shinnecock owns a legend quite apart from the world of golf, and the shocking truth that spawned the legend at one time engrossed the populations of New York and Pittsburgh, of London and Paris. The link between this society sex scandal and the comparatively chaste world of golf is Shinnecock's clubhouse. And whenever I pass that white country house planted up there on the hill directly off the through road, I think not of any golfer but of a ghostly threesome that still haunts the place: a middle-age man about town with a bristling mustache and a blazing eye; a young, highly neurotic, Pittsburgh playboy, and the beautiful, dumb girl who was the nemesis of both of them.
On pretty solid authority, Shinnecock's clubhouse is down in the books as the first country clubhouse in America. Considering the high-toned social status that golf claimed here at the start—what with the Vanderbilts, and such, fetching golf clubs from Scotland to amuse themselves on their new playground on the South Shore of Long Island—we should not be surprised that they picked not a builder but an architect to design the novelty of a clubhouse, and that he should have been the most fashionable practitioner of his time.
Stanford White was the man, an architect (not a golf architect, stupid!) of astonishing versatility. Looking back over his work in New York alone, you could make a convincing case that no American of this time, and very likely no European, could design and reproduce to perfection all the famous orders of architecture. The early bigwigs of Shinnecock Hills did not, of course, expect White to ornament their hillside with a miniature Taj Mahal. They were society burghers, and Stanford White was a social lion, able to accommodate all tastes. "The best people," as they used to say, commissioned from him breathtakingly grand churches, houses, memorials, and were not disappointed.
White has been a precocious teenage apprentice to H.H. Richardson, and when he was only 26, he polished up his professional escutcheon by joining the eminent firm of Mead and McKim. He was to become society's first choice to design a Gothic church, an Italian Renaissance mansion for the Villards, a Greek-revival mansion grander than the White House for the Ogden Millses, a Gramercy Park clubhouse for actors, a monumental arch for the George Washington centennial, a Roman campus for New York University, a jeweled Byzantine cross for Eleanora Duse. He even designed a vast, exact copy of the Baths of Caracalla and called it Pennsylvania Station. (One of the more recent civic crimes was its destruction and replacement with a nondescript bus station masquerading as a railroad station.)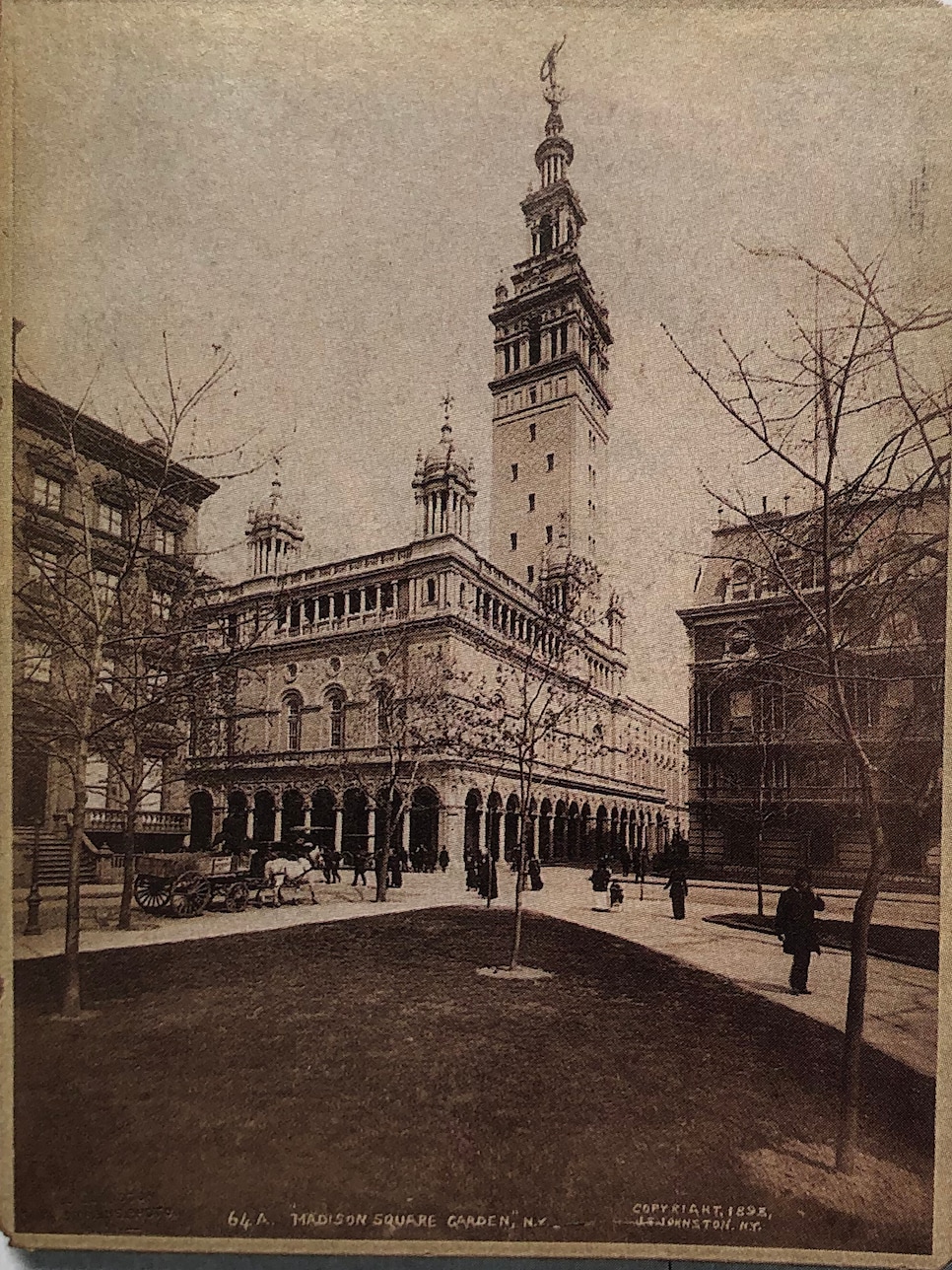 The Shinnecock clubhouse was a comparatively modest effort with peculiar requirements (the Doges of Venice were not known to have demanded lockers and a golf shop), but White regarded it as one of several experiments he made to give substance and dignity to a native American form: the shingled country house. In the 1880s, he had rented a characterless farmhouse on Long Island's North Shore, which he soon rebuilt and transformed into a three-gable, arcaded, graceful country house, a style that served as a prototype for the clubhouse at Shinnecock Hills. It was, anyway, a relaxing change of pace from his most recently and dazzling project: a pleasure palace designed to replace the noxious, abandoned train sheds used by Barnum for the circuses and by evangelists for conversion. Only the name would remain the same: Madison Square Garden.
White's Garden comprised an amphitheater to seat 10,000, a grand staircase, two restaurants, an assembly hall and theater modeled after the Wagner Theater in Bayreuth, and a roof-garden theater restaurant. It was probably the most elegant of all White's buildings, a three-story Italianate pavilion in white stone and terra cotta, colonnaded at the street level, surmounted by a more than 300-foot Moorish tower. White topped it off with a tower studio designed for his occupancy, and for the occupancy of various transients, usually the pick of New York's—how shall we say—available young beauties. When the new Garden opened in June 1890, White had been married for six years to a woman to whom he remained genuinely devoted for the remaining 16 years of his life. A well-established domestic routine had him regularly taking his wife to Europe and joining her, in their Long Island retreat, on summer weekends. But he was free the rest of the time for his city devices. And while he might not, as the Pittsburgh playboy was later to testify, have "ravished 378 girls," he did have lots of devices.
The swing in the 'snuggery'
White called his Garden studio his "snuggery." It was the more conspicuous counterpart of another one he maintained on West 24th Street in a dingier part of town, a walk-up apartment, an unlikely location for a rich man's love nest but also a place he would be unlikely to be spied on. Every first-time visitor surprised by the shabby exterior was immediately amazed by the opulence of the apartment at the top of the stairs: Italian antique furniture against scarlet flock walls, red-velvet curtains that shut out the daylight, tapestries, paintings, everything glowing from invisible lights. Beyond that, a tiny "meditation room," a cubicle of glass—walls, ceiling, floor—just managing to contain one large moss-green velvet couch. And up the last flight of stairs a splendid studio with busts, drawings, etched nudes, and hanging from the ceiling a red-velvet swing, for the preliminary exercises of Mr. White's young ladies.
Into this delectable aerie, one day in the summer of 1901, came two young women. One was a voluptuous brunette, the other a 16-year-old Dresden doll. Both were in the chorus of the town's favorite musical, "Florodora." The younger one defied every stereotype of a chorus girl. She was the baby of the show, one Evelyn Nesbit, an exquisite innocent with copper-colored curls who had spent the past three years modeling for artists who recognized her on sight as the ideal representation of an angel (in a stained-glass window), as "Dawn," or "Innocence," as a water nymph, a shepherdess. When she first met White, she was also a virgin. (In the Hollywood version of the tale, produced—it ought to be said—40 years ago, she was played by Joan Collins.) Before the summer was over, Evelyn Nesbit was picked up alone at the theater one night by White's regular cab driver and taken to West 24th Street. To put it crisply, she swung through the air on the red-velvet swing. Stanford White broke out the champagne, and next morning, Evelyn Nesbit woke up "a woman." Did Mr. White, she wondered, suppose that the girls in the "Florodora" Sextette "do these things"? Mr. White, she later testified, "sat down and laughed and laughed and laughed." For the next two or three years, Evelyn Nesbit was White's favorite performer on and off the red-velvet swing.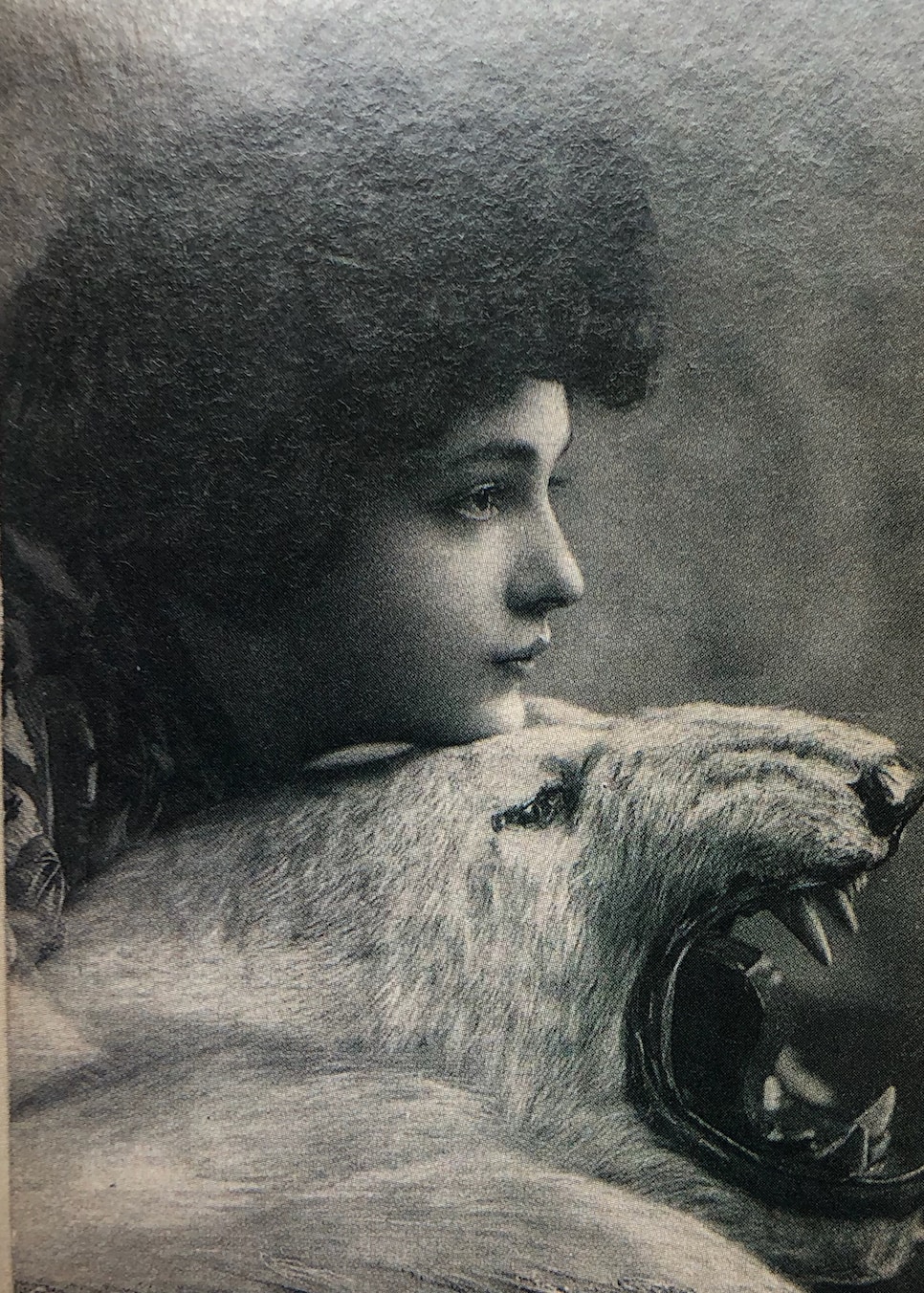 With tactful rapidity, we now dissolve not to a flashback but to a flash-forward. It is 11 o'clock in the evening of June 25, 1906. It is the opening night of Madison Square Garden's summer musical, a rather listless piece called "Mamzelle Champagne." The show is about to end with a fencing routine—the girls in tights—and a certain round of applause for the creator of this glittering roof garden, White himself, who is sitting alone at his regular table close by the stage.
Stanford White was now 52 years old, a handsome, dark-haired, dark-eyed man, with furry eyebrows, a bristling mustache: a clubman's clubman well set up in the Edwardian manner, a man of boundless energy with a piercing gaze that had flashed many an early warning signal to many a guileless girl. He was nodding in his benevolent way to nearby friends and admirers and could not have noticed a much younger man sitting at a table for two on the far side of the room. This rather unprepossessing 35-year-old, a bespectacled bullfrog, was sitting with his wife of barely a year. Her name was Evelyn Nesbit Thaw. The man got up, threaded his way between the other diners and stopped at White's table. He put his hand in his breast pocket, took out a revolver and fired three times at the forehead of the astonished White, who fell dead on the instant. The young man walked slowly back to his table with his right arm high above his head, holding the revolver barrel down: a Florentine avenger signifying to the petrified audience that vengeance was his, he had repaid, and he would shoot no more. A fireman disarmed him, a policeman was sent for, and the man was taken off, unresisting, to the nearest station house.
A protracted process begins
It would be hard to imagine a more clear-cut case of premeditated murder. But several unmentioned factors combined to make the trial—the many trials—the most tortuous and avidly reported in American history, and the murderer's subsequent jousts with the law more interminable than any lawyer of the day could remember. (Of course, after the O.J. Simpson trial we now have a new standard by which to measure these things.)
To begin with, the man who shot Stanford White was no anonymous, off-the-street psychopath. He was a very rich psychopath. Harry Kendall Thaw was the heir to railroad and coke fortunes at a time when the earlier depredations of the robber barons had usually been expiated by a generation devoted to public service. William Thaw, the father, the majority stockholder in the Pennsylvania and other railroads, was famous not so much for his fortune as for the admirable ways in which he had spent it, endowing science fellowships at Harvard and Princeton and bestowing lavish gifts on art and education. The son, however, was a genetic throwback to the lusty originals, and attendance at the University of Pittsburgh and at Harvard had done nothing to tame him. He was known to the newspapers, and the courts, for a whole routine of brassy escapades—ending private parties with wrecked cafes, riding a horse up the steps of the Union League Club, staging vast and rowdy entertainments for scores of chorus girls, lighting cigars with the customary five-dollar bills.
Long before the shooting, he had become a public nuisance, and a nuisance spoiled rotten by a doting mother. She procured for him fine defense counsel, including a florid San Francisco attorney famous for his passionate and effective way with juries. He bore the euphonious name of Delphin Delmas. From the start he chopped no logic, made no bones, about the guilt of his client. But Delmas immediately scorned the indictment for murder in the first degree. Harry Thaw, he proclaimed to a startled courtroom, was sane both before and after the shooting but suffered in that one moment from a "creditable" aberration, henceforth to be called "Dementia Americana."
Thaw was, indeed, a new type of American hero, acting on an impulse, which in the wiser Latin countries had the full sanction of the law. He was simply asserting the unwritten law by gunning down the man who had betrayed his wife's honor. In short, Thaw was acting in the knowledge—which was true—that Stanford White had seduced Evelyn Nesbit before she was married, and had come to be horrified that his bride was—in the shameful language of the day—"damaged goods."
It is easy, almost automatic, for us to deride this turn-of-the-century rhetoric as so much period cant. But it did express a vengeful moral code of the time, which the victims believed in as solemnly as anybody. In fact, down the perspective of nearly 90 years, the main interest of the case to us is Evelyn Nesbit's almost evangelical view of herself as—what she testified in court—"a ruined woman." As such, she felt throughout two years of Thaw's beseeching that she could not possibly marry him, though she lived with him on a long European trip. When she finally gave in, Thaw began to beg her for repeated confessions of her association with Stanford White. Night after night, month after month, of their short marriage, she went through these ritual recitals, exploring—at Thaw's urging—more and more clinical details of her seduction. On the June night in 1906, he snapped.
The first trial ended with a hung jury. The second jury was bothered and bewildered by the expert testimony of five doctors, who found Thaw suffering from "subacute mania," or "melancholia," or "Romberg symptoms," or "Argile-Robertson's disease" and/or several other afflictions long relegated to the psychiatric ash can. The second jury found him not guilty but insane, and he was committed to the state hospital for the criminally insane. It had been almost two years since White was shot, and most people assumed it was the end of the affair.
They reckoned without Thaw's mother, a woman of obsessive affection for her son and endless financial resources with which to search out hitherto undiscovered cracks in the iron body of the criminal code. She and her lawyers now secured a writ of habeas corpus. The demand for a third trial was met, throughout one year, by a series of dismissals, ending with one handed down by the United States Supreme Court. Throughout the next 13 years, court reporters grew gray covering nothing but the legal campaigns of Harry K. Thaw: the bribing by Thaw of a lawyer, who was convicted and jailed; Thaw's escape from the hospital and his flight to Canada; his extradition and re-arrest and return to the asylum; the fleeting morale-booster of a music-hall song, "Why Don't They Set Him Free?" ("Just because he's a millionaire, everybody's willing to treat him unfair.") On the uncontested evidence of his wife's several infidelities, Thaw eventually divorced her. Finally, in 1916, and at the end of yet another jury trial, he was declared sane and released to the bosom of his indomitable mother.
But even she, who had willingly testified in the later courts to her son's lifelong paranoia, had not guessed at the limits of his ingenious amusements. Only nine months out of custody, he was indicted for abducting and whipping a schoolboy, and adjudged insane once more and committed to an asylum in Pennsylvania. Seven years later, his mother "settled" the abduction case out of court, and another sanity trial set him free.
On the 20th of May, 1924, he was, you might say, a free man, with no more obligations to the law after the payment of a $75,000 bill from the Pennsylvania State Hospital for superior "board and lodging." Throughout 18 years, Mrs. Thaw had proved, if proof were needed, that in the land of equal justice for all, a mother with sufficient tenacity and money can arrange to procure justice a little more equal than most. Thaw saw Evelyn on and off and, for some years, gave her driblets of money, which he frequently demanded to have repaid. He went off during the Depression on long safaris through the tourist capitals of Europe, and cut up in much the old way, though staying on the safe side of the law. He wound up renting a house in Miami and died there, on Feb. 21, 1947, of a heart attack. He was 76.
The fading ingénue's fate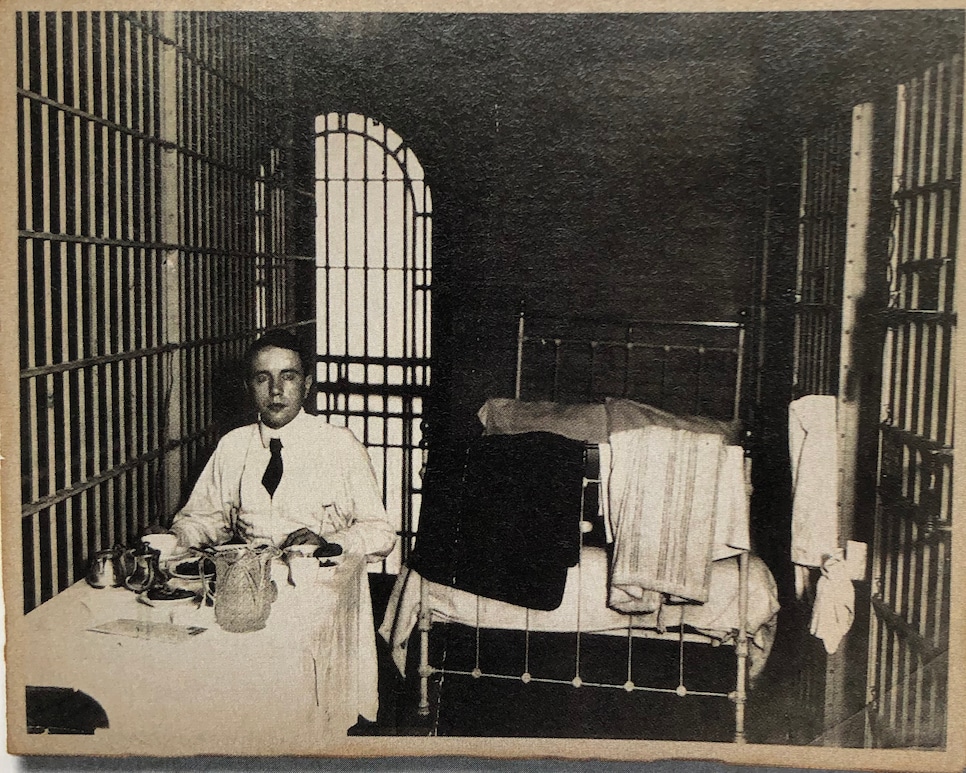 As for the lovely Evelyn Nesbit, for a few years she earned big money under the guidance of a flashy impresario, one Willie Hammerstein, who made the most of Thaw's escape into Canada by spreading gaudy stories that Evelyn went in fear of her life. He bullied New York City into providing her with a police escort, signed her to appear in his music hall and pocketed, at the end of a two-month run, an $80,000 profit. Evelyn made the European circuit, with a dancing partner (briefly her husband), demonstrating—as the poor man's Vernon Castle—the latest dances. As the years went by, first in cabarets and then in increasingly seedy theaters, she drew audiences bent on little more than fantasizing her erotic history from the days of the red-velvet swing on down to the fatal June night in Madison Square Garden. She made a few inconsequential movies. Her looks faded with the fading of her story. She ran nightclubs here and there and saw them raided and closed as mobster properties. She became for a while a heroin addict. She went to Panama to perform in a ritzy bordello and was arrested for gambling. About the last that was heard of her was her employment, in 1955, on the movie, "The Girl in the Red Velvet Swing." For this depressing chore she carried, or endured, the title of "technical adviser." Finally, from a Hollywood rooming house, a reporter who had contrived what was surely her last interview, came away with the quote, "Stanny was lucky: He died, I lived." She died there, at 81, in 1966.
What was unknown to all but a few admirers and habitués of Stanford White's Madison Square Garden was the unsettling fact that even before the building appeared complete in all its elegance, the overrun costs were ruinous, and that through the next 25 years, it would lose money all the time. It must have been a great satisfaction to Harry Thaw in 1925, the year after he was set free, to watch the demolition of White's Garden by the wrecking ball. Its replacements, the Gardens *we* have known, have been—architecturally speaking—powerful contenders for the Warehouse of the Year Award.
But the Shinnecock Hills clubhouse still stands. A crusty old Long Islander, one of the original society golfers, maintained in his failing, and imaginative, old age that when the winter nor'easters whip across Peconic Bay, the wind that soughs through the gorse and the cedars is not the wind but the moans of the troubled spirit of Evelyn Nesbit. The rattling windows and creaking beams of the clubhouse are, of course, due to the postmortem outbursts of Harry K. Thaw.