The Loop
An Indiana native's guide to the 2018 Indy 500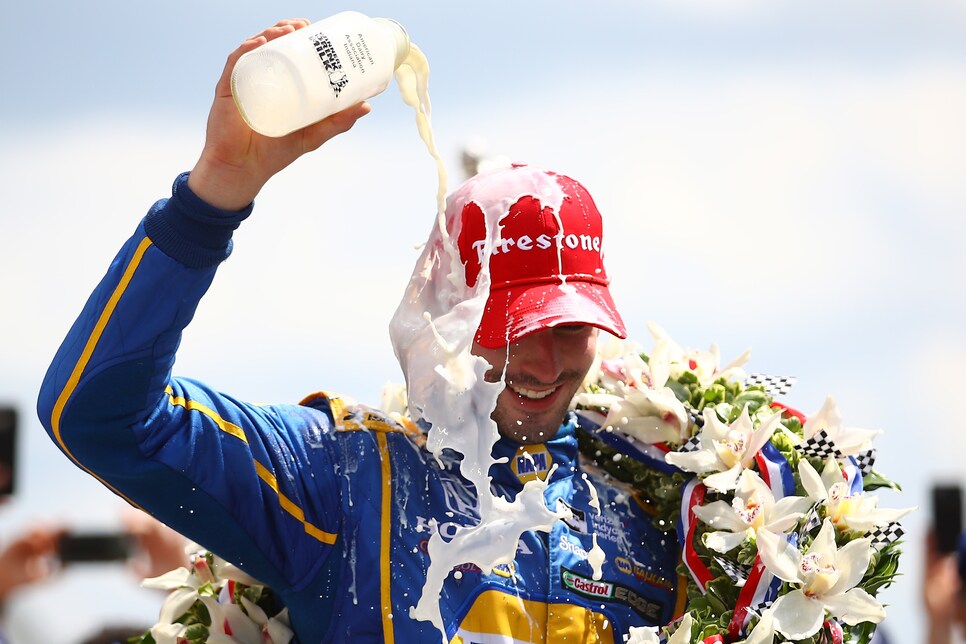 The Indianapolis 500 goes green this Memorial Day weekend, as it has (just about) every Memorial Day weekend since 1911. To pay tribute, join Indiana native Jeff Vrabel for a quick refresher lap around two-and-a-half miles of pure, unbridled America.
The 102nd running of the Indianapolis 500, still the Largest Single-Day Sporting Event in the World, no matter what those jerks from Wrestlemania try to tell you. The race remains the sports pride of the state, although the Pacers basically coming one blown goaltending call away from toppling LeBron is a real good second.
Is this still a big deal?
WE IN INDIANA WILL HAVE YOU KNOW that the 500 remains the biggest event in our state AND yours: More than 300,000 cooler-toting jorts-rocking sunstroke-developing exhaust-sniffing Race Fans will begin streaming into the Indianapolis Motor Speedway at 6 a.m. on Sunday, when an actual cannon is fired to signal the opening of the gates and wake up every last dog in Speedway (the town containing the Speedway is actually called Speedway, because we are proud literal folk.)
At that time, people will begin showing up with chairs, grilled meats, fully legal bringable coolers (the Super Bowl barely lets you bring your phone, we're like YOUR WARM HAMM'S CASE IS WELCOME HERE) and nowhere to be on Monday. And this is good, since after the race ends they'll all sit motionless in the horrific parking lot inhaling RV fumes for 14 solid hours. It's faster to just park at Andrew Luck's rehab facility and walk.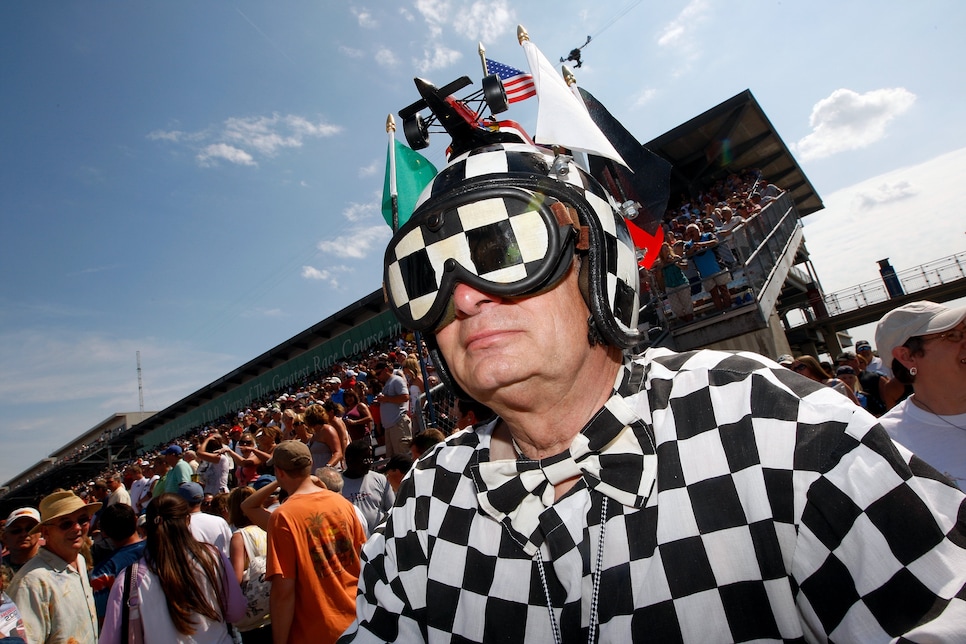 Do famous people come to Indiana for this?
More every year! This year's green flag will be waved by the appallingly attractive Chris Hemsworth, who is both the race's first Avenger and the reason my wife is suddenly interested in attending.
The best news that is Victor Oladipo will drive the pace car. 95% of Twitter made fun of him after the Paul George trade, and 105% of those idiots now feel very stupid about it. Kelly Clarkson will sing the national anthem and team owner David Letterman and his two-foot-long Moses beard is a regular presence, with last year's winner, Takuma Sato, now on his Rahal Letterman Lanigan Racing team.
When will you be most likely to tear up during pregame festivities?
That would be during the performance of "Back Home Again in Indiana," which for decades was handled by national treasure Jim Nabors, who passed away in 2017. For the second year in a row, the song will be performed by Chicago voice-titan Jim Cornelison, whom you've seen/wept to if you've ever been to a Blackhawks game.
HEARTLAND TRIVIA: "Back Home Again" isn't the Indiana state song for some reason. The actual Indiana state song is something called "On the Banks of the Wabash, Far Away," which nobody here knows. For a state that produced Michael Jackson, Janet Jackson, John Mellencamp, John Hiatt, Hoagy Carmichael, Cole Porter, David Lee Roth, Axl Rose (AND Izzy, respect), Babyface and Wes Montgomery, this seems criminal. And yes, those are all ours, thanks much, so you increasingly sad middle-aged hipsters are free to continue making Cougar jokes.
Who are the biggest names in the race?
Erm, well, the current main story is how one of the sport's marquee stars sorta kinda failed to qualify. You may remember James Hinchcliffe from being a Dancing With the Stars runner-up, appearing in a national Honda commercial or surviving a horrific 2015 practice-lap crash that fired a large chunk of his car's suspension into his leg and resulted in him losing most of the blood in his body (race medics and local hospitals put it back.) Hinchcliffe shockingly failed to qualify for the field of 33, which is the equivalent of Gronk not making the Patriots' roster. It's not great news for the sport, or for Honda, whose marquee driver will be chilling in the stands for the biggest race of the year.
Can they do something about that?
Yesssss? (voice raises an octave) Team owners at Schmidt Peterson Motorsports can drop Hinchcliffe into one of their other cars, bumping out a driver with lower name recognition. But this isn't a great solution because it knocks out a driver who, ya know, actually qualified. And doing so essentially negates the entire qualifying format. (Imagine if baseball said, "We know the Yankees didn't make the playoffs, but look at how rich they are.") So either they greasily sneak around the rules, or they run without their marquee star. Not a lot of good options.
Pole position is held by Ed Carpenter, a born-and-bred Indianapolis favorite who turned in a first-lap qualifying speed of 230.088 mph, the fastest on the oval this year and a speed you can usually only achieve by dark magic. First row is rounded out by French favorite Simon Pagenaud and Will Power, who is actually named that. In what will likely be her last 500, Danica Patrick will start in an unusually high seventh spot. Scott Dixon, last year's pole-sitter and upcoming American Ninja Warrior, starts in ninth. Last year's winner, Sato, will start in 16th.
Do other things happen around that weekend?
You are talking about Carb Day, which takes place the Friday before and is essentially an Indiana drinking holiday (well, one of them.) The name Carb Day refers both to engine parts and all the warm beer that is consumed, because we are nothing if not fans of delicious linguistics. The highlight of Carb Day is a concert, which is headlined this year by Train and Blues Traveler and takes place exactly one day after a Jimmy Buffett show at the outdoor amphitheater across town. To recap: Buffett, Train and Blues Traveler in the SAME 24 HOURS. This is a very big deal if you're as old as I am.
Are they doing the strange mid-race EDM concert this year?
Of course! It sold out months ago! To recap: For most of the '70s and '80s, the "Snake Pit" inside Turn 3 was basically where you drank if your destiny was to produce offspring who believed Kid Rock's Senate candidacy was real. A few years ago, IMS rebranded it as—of all things—an EDM festival that's been a shocking success story and caused me, last year, to enjoy the sight of Mario Andretti having a lively conversation with a grown man named Zedd. (The fest's other headliner, Marshmello, was not involved, because Mario Andretti need not be bothered with nonsense.) Also I totally got a selfie with fest MC Ric Flair. This year's headliners are Axwell Λ Ingrosso, Deadmau5 and Diplo. At least I think they are. Frankly I just copy-and-pasted those, because EDM names are ridiculous.
So this isn't a sport, though, right?
HA we in Indiana like when people say this. As it happens, yes, concentrating for three-plus hours, having exactly no power steering, keeping your neck and head straight, whizzing around a track at 220 mph around 32 other cars who are doing the exact same thing and somehow not running into any of the concrete is exceedingly difficult! So when people say this, we make fun of them. Also you're reading a golf website. Just saying.