News
Retired black military officers who are golf fanatics make a timely visit to Renee Powell's historic course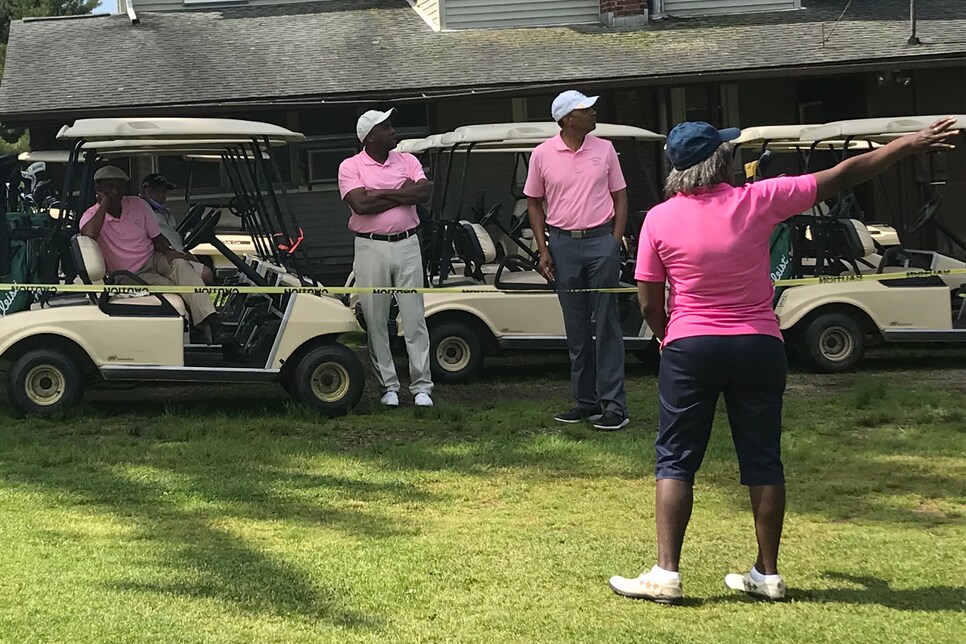 EAST CANTON, Ohio – The members of the Duck Golf Association number more than 20, and they come from all corners of the United States. All of them are retired from the military. So, clearly, they all learned how to, well, duck. All of them are black. So, yeah, your mind can't help but dart in a parallel direction.
Gallows humor, to which we all are inclined during grave, ugly and noxious times, washes you towards strange tides. It's a coping mechanism. It's a buffer for the psyche. Who could understand that better than a military man? Who could understand that better than a black military man, especially these past few weeks?
Richard Hightower, a retired colonel from Oklahoma City – a place that 25 years ago looked like a war zone after the deadliest incident of domestic terrorism in U.S. history – smiles warmly under the shade of a large pine tree just outside one of the most historically important golf courses in the world. He gets the free-association conjecture regarding the group's identity. Fittingly, he does not run for cover.
"Nah, that isn't it," he says with a slight chuckle. He knows the question isn't serious. But he also knows from his experience as a black man and not an Army man that it can be taken as gravely serious. So after a few seconds, he says, wistfully, "imagine having to live pretty much your whole life that way, always wondering."
Hightower goes on to explain that they named their group after a deceased friend, Robert Duck, who loved golf and brought the men together to enjoy the game. They have traveled across the nation to play well-known courses or layouts on military bases, wearing their trademark pink shirts emblazoned with their DGA logo.
On a clear and balmy Saturday morning, seven of them showed up unannounced at Clearview Golf Club. More would have convened just outside this small northeast town in the Buckeye State were it not for the ongoing coronavirus pandemic. Those who made the trip, hailing from Georgia, Virginia, Kansas, Oklahoma and Arizona, all rose to the rank of major or colonel. And they all are major golf junkies.
Until last November, when Hightower caught a CBS Sunday Morning feature segment on Clearview and its proprietor and head professional, Renee Powell, the men had never heard of the public facility or the man who built it, William Powell, Renee's late father. Upon returning home after World War II, Powell was denied access to golf because of his race, so in response he built Clearview on a former dairy farm. Opened in 1948 and listed on the National Register of Historic Places, Clearview is the first golf course in the world designed, built, owned and operated by a person of African-American descent.
The timing of their visit could not have been better. Or more poignant.
The course has been open only a few weeks, and it has lost significant business due to the state's shutdown to combat the COVID-19 virus. Golf leagues in Ohio weren't permitted until May 1, too late to save the leagues Clearview had scheduled. An annual pro-am and accompanying dinner hosted by former Pittsburgh Steelers great Franco Harris was to have been held this weekend at Clearview, but it was canceled. Cheyenne Woods, niece of Tiger Woods, was expected to participate for the first time, Renee Powell says.
"It's been a very frustrating time, really difficult," she says flatly.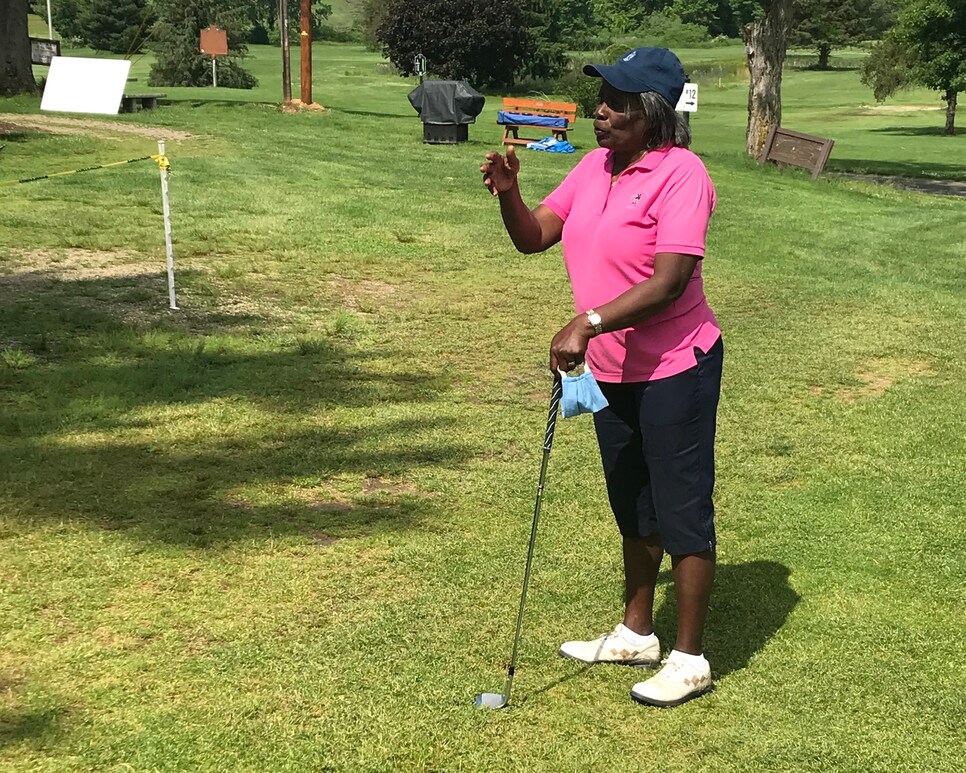 Powell was grateful for the men's patronage. And there was a natural bonding with them, given her father's service to his country. The day before, Powell welcomed a visit from ardent golfer Todd Allen, a professor at Messiah College in Mechanicsburg, Pa., whose annual Civil Rights Bus Tour culminates in a stop at Clearview.
Holding onto a wedge and brushing the grass or leaning on it like a crutch, Renee spent a good portion of her morning Saturday regaling the veterans with stories about her father and his defiance in the face of overt racism. William Powell called Clearview a labor of love, but peering through the prism of her own experiences both at home and on the road as the second black player on the LPGA, she tells the men it was definitely that, "because he loved golf and he loved people." But it also was, she says, "a labor of necessity. He refused to accept that he couldn't pursue something he loved."
The stories would have hit home at any time and with any audience, but for this audience at this time, they seemed more impactful, and yet, sadly, underscored a gnawing futility.
Anti-racism protests along with senseless acts of violence and looting continue to engulf numerous cities in America after a white Minneapolis police officer was videotaped wantonly snuffing out the life of a black man while three other policemen stood by. The officer, Derek Chauvin, knelt on the neck of George Floyd for nearly nine minutes despite repeated pleas from Floyd that he could not breathe. The video of the May 25 incident went viral, sparking protests not only in the United States, but also in several other countries, including France, England, Germany and Australia.
Having lived through the turbulent 1960s and witnessing other periods of racial unrest, Powell, 74, says she couldn't believe that for all the progress in America, there are still acts of blatant racism the likes of which her father encountered more than 70 years ago.
"I remember the '60s, and we have come so far since then because it was really only blacks marching back then, and today we're seeing so much diversity of support, more white people coming out and saying enough is enough," Powell says, talking haltingly to choose her words carefully. "In some ways though, it feels worse than the '60s. Not because there's more of it. But it feels more callous. There's maybe more inhumanity to man, even if it's just a small minority of people acting badly.
"You know how people feel about animals, especially dogs," she continues. "If there was a person that had his knee on a dog's neck for that long, killing that dog, people probably would have attacked him and saved the dog. But nobody saved George Floyd, and that clearly struck a nerve with a lot of people from all walks."
It certainly struck a nerve with James Jarrett, a retired colonel from Quantico, Va., who still was processing the fact that no one came to George Floyd's aid. He is equally troubled by a segment of the protest movement bent on destruction rather than dialogue.
"It's sad to see because it's obscuring the message, and, frankly, I think some of it is done by people who want to obscure the message," Jarrett says. "You want to see people protesting and getting things changed, but violence doesn't solve anything. That has to stop."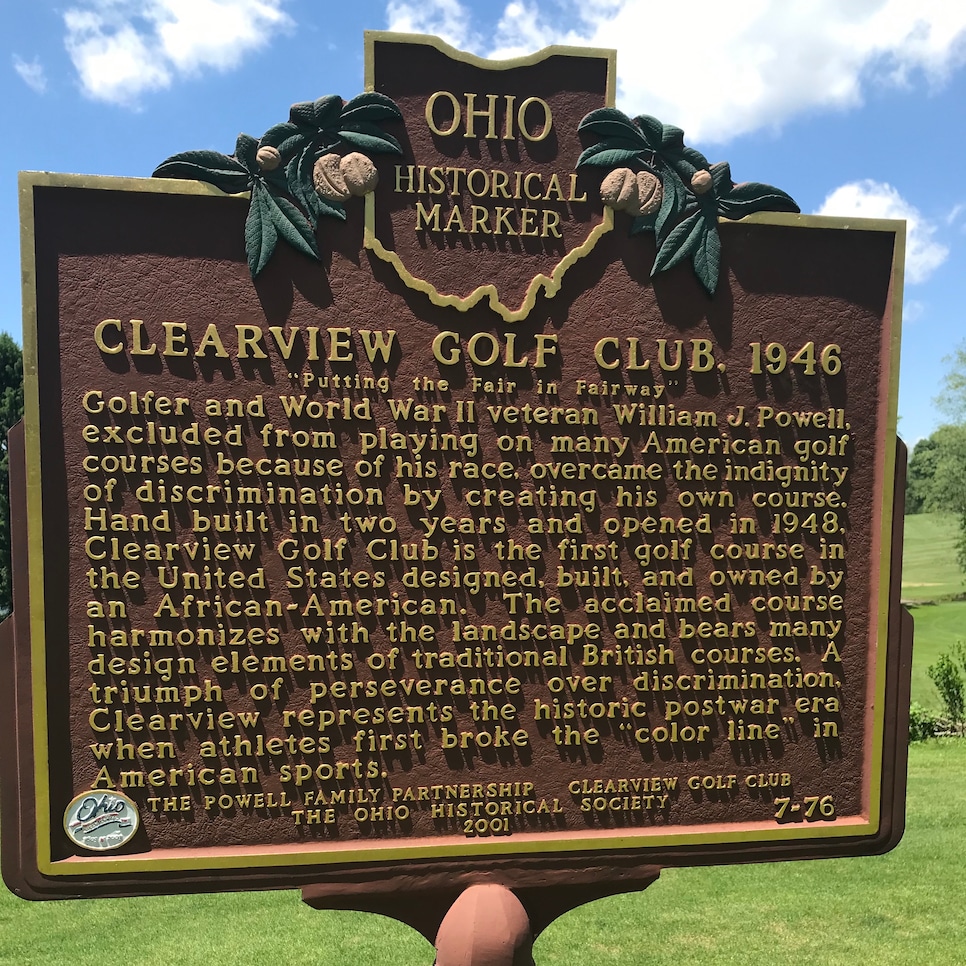 Larry Magarey, from Phoenix, agreed, but says that a lack of leadership from President Donald Trump is exacerbating the issue. "I have to say this: He's not bringing the country together."
Powell, who began playing golf at the age of three and went on to play for Ohio University and Ohio State before turning professional, says her father, a grandson of Alabama slaves, would have been "surprised" by the incident that led to Floyd's death and by other recent racially charged cases, such as the February shooting death of Ahmaud Arbery near Brunswick, Ga.
"I think he would be surprised, because even as he was building the golf course, he thought things were changing," Powell says, clipping at a weed with her wedge. "He came out of a segregated army into a racist society and built a golf course for everyone. He wanted everyone to have the opportunity to have access to the game and enjoy it, and he wanted to improve society in the process.
"My dad was an optimist. He was an eternal optimist," she adds. "He never stopped trying to see the good in people. He would be amazed that there is a part of our culture, for whatever reason, still stuck in the past, that hasn't learned right from wrong. Until the day he died he never stopped believing things would keep getting better. And if he were around now, he'd keep trying to move people forward, but in a positive way."
To a man, the veterans who came to play William Powell's course on Saturday felt optimistic, too. Before them lay a golf course that a man created by himself with his own two hands, who persevered and overcame and made a contribution to the world. Hope and possibilities are embodied and embedded in the rolling landscape.
"We came here because we all love golf, but also because this place is history," Hightower says. "Golf is good for the soul. Golf at this place … man, what an inspiration. And maybe it shows us a way forward, too. Right now, though, we just want to enjoy the day."
William Powell probably would have nodded his approval. Enjoy the day. Enjoy the golf. Then move forward.