The Loop
An ailing Woods doesn't reveal much, but his game says plenty
ARDMORE, Pa. -- The stinger in Tiger's elbow might be a bit of bother for Woods as we swing onto the weekend at the U.S. Open  -- although he's not telling -- but the rest of the field needs to be concerned about his putter. When Woods was the full Tiger, he made more 12-foot par saves than any great golfer that every played this game. The putter was the ultimate eraser for Woods, the mistake eliminator that allowed him to attack pins. In Friday's bear of a second round, when Merion GC slapped down the field, Woods made a bunch of those saves that enabled him to shoot an even-par 70, several strokes under the course average, and put him at three over par, very much in contention going to the weekend. "Yeah, I played well," Woods said in an interview that fell well short of being expansive or insightful, especially when it regarded his physical condition. "I just made a couple of mistakes out there today, but I really played well. Maybe I could have gotten one or two more out of it, but it was a pretty good day."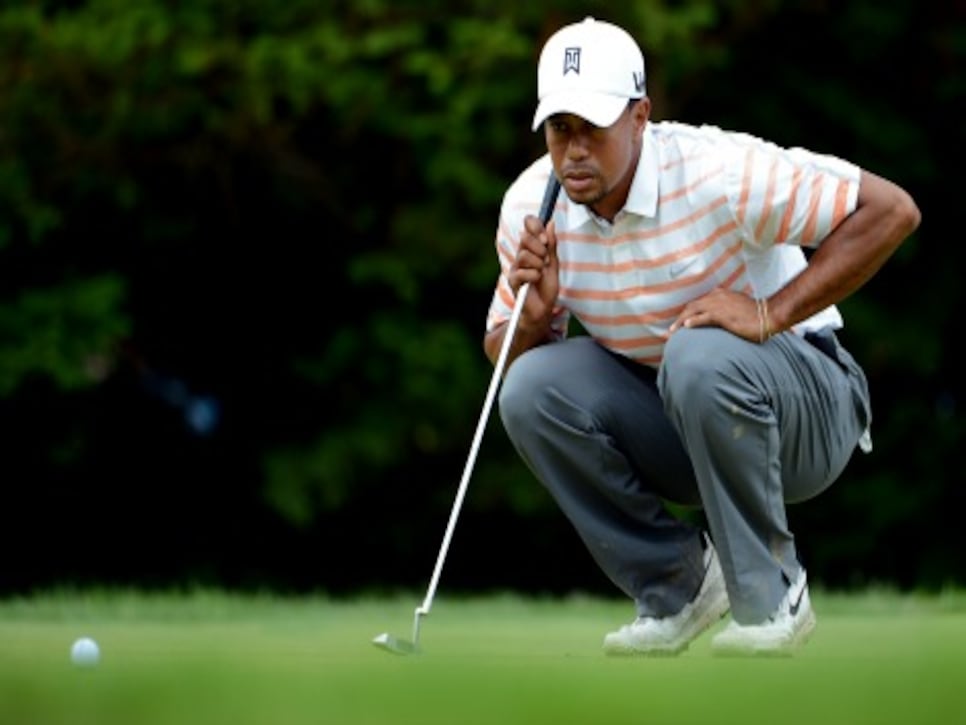 Certainly he did miss a couple of makeable birdie putts and hit a few loose shots, but he fought gamely. Through 27 holes, Woods was four over par and flirting with the cut line. He then birdied two of the next three holes and appeared poised to push himself onto the first page of the leader board. But a poor approach shot on No. 7 from 149 yards that ended in the left rough was followed by a grimace and a shake of his left arm -- the arm he tweaked in Thursday's first round.
Related: U.S. Open marquee group struggles at Merion In a series of questions that made it seem like Woods was stalling until he could be read his Miranda rights, he offered precious little insight into his injury. Asked when he first hurt his arm, Woods said: "A few weeks ago." Asked if it was feeling better or worse than after his first round, he said: "Well, it is what it is." Asked how he hurt himself, he said: "Playing golf at The Players." Asked when at The Players the injury occurred, he said: "One of the rounds." Asked if this weren't the U.S. Open if he'd still be playing given his elbow, he said: "Yes." Well, I'm glad we got that all cleared up. Woods, who more than a few players have referred to as "Oscar" because of his dramatics over injuries, can now add the left wrist-elbow-shoulder or earlobe to his left knee and both Achilles tendons as damaged parts of his body.
Related: Tiger's performance anxiety Let's get back to those par putts that maintained momentum. The first important one came on No. 5, the 13th hole of his second round. After he "stuck in the ground a little 6-iron, but thought I hit a really good pitch" that ended up 15 feet short, he made the putt. "Five was a nice putt," Woods said. "It was good to get one up the hill. Then after the bogey on No. 7, Tiger rolled in a 12-footer to save par on No. 8. What for a lot of players would have been three bogeys in four holes -- see Luke Donald who made five in six holes on the front nine in finishing 36 holes at even par -- was for Woods only one bogey. That's what wins tournaments for you. "It's hard with the wind and the pin locations," Woods said about Friday's course set-up. "They're really tough. We didn't think they were going to be as severe as they are. A lot of guys are missing putts and blowing them by the holes and of that nature because obviously it would be a little more difficult trying to protect par."
Related: Merion A Pushover? Puh-lease Woods, who is 14 for 15 in major championships with at least a share of the lead going to the final round but has never won a major coming from behind, was asked how he will handle the weekend. "Just keep grinding," he said. "You just don't ever know what the winning score is going to be. You don't know if the guys are going to come back. We have a long way to go, and these conditions aren't going to get any easier. They're going to get more difficult. As the fairway starts drying out, the ball is going to pick up mud, and you're going to get bad breaks." Then he closed things out by going back to his best John Wayne monosyllabic imitation. Asked if he liked his chances given where he is after two rounds, he said: "Yes sir." Asked if he believed the USGA when it said the U.S. Open is not about the winning score, he said: "No." And with that he rode off into the Pennsylvania night, presumably to ice his left wrist-elbow-shoulder or earlobe, which he hurt somewhere between May 9 and 12 doing something related to the game of golf. Got it. Yup.