News
Americans win Ping Junior Solheim Cup
With a resounding 15.5 points to 8.5 points, the Americans took back the Ping Junior Solheim Cup. Victories in eight of the 12 singles matches accounted for the rout. And true to the tradition of the Cup, the home team has won every time. The series now stands at 3-2 in favor of the Americans. It will next be played in 2011 in Ireland.
The American girls got off to a quick lead on the first day and had to win only five singles matches on Wednesday to reach 12.5 points, the number needed to retake the cup.
The day began inauspiciously for the home team when Sally Watson, representing Europe, easily defeated Jane Rah, 4 and 3. Other matches weren't decided until the 17th and 18th holes. In fact, the cup wasn't secured for the Americans until the ninth match. Kristina Wong, who hadn't won a point yet, beat Johanna Tillstrom, 3 and 1, in an emotionally fought match. Her victory got the Americans to 12.5 points.Â
Four Americans were undefeated in the competition -- Sarah Brown, Tiffany Lua, Alexis Thompson, and Kristen Park each won three points. Only Kelly Tidy for Europe had this distinction.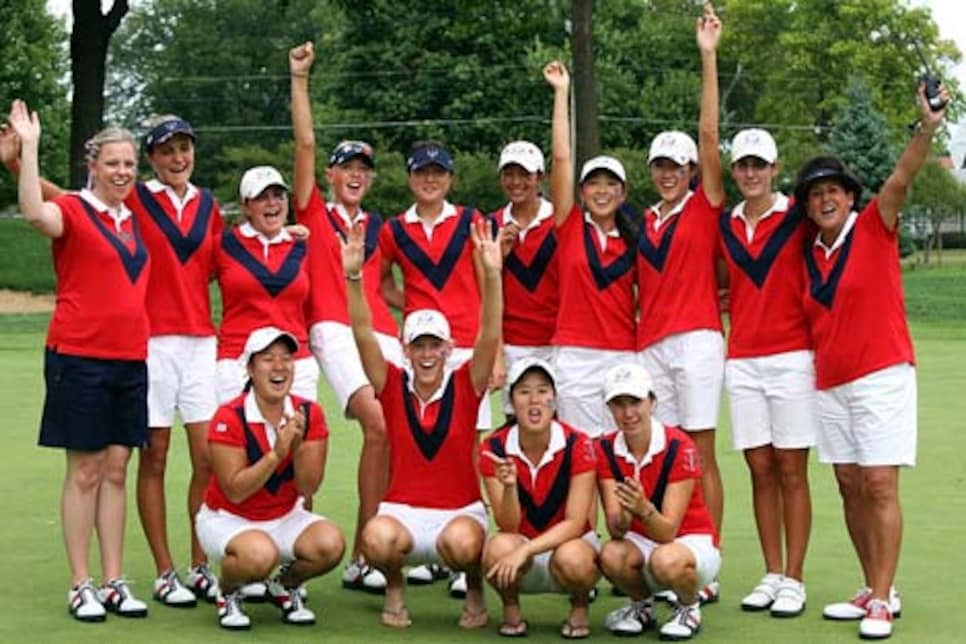 U. S. Captain Nancy Lopez was justifiably pleased, "The score doesn't show how close it was," she said. "I'm so proud of my team for never giving up. They played with heart and are a fantastic team."
FINAL TOTAL: USA 15.5, Europe 8.5
SINGLES TOTAL: USA 8, Europe 4
Sally Watson, Earlsferry, Scotland (EUROPE) def. Jane Rah, Torrance, Calif. (USA), 4 & 3
Sarah Brown, Phillipsburg, N.J. (USA) def. Klara Spilkova, Prague, Czech Republic (EUROPE), 2 & 1
Jessica Korda, Bradenton, Fla. (USA) def. Rosanna Crepiat, Toulouse, France (EUROPE), 3 & 2
Ani Gulugian, Irvine, Calif. (USA) def. Leona Maguire, Co. Cavan, Ireland (EUROPE), 5 & 4
Sherlyn Popelka, Zurich, Switzerland (EUROPE) def. Stephanie Kim, Whitestone, N.Y. (USA), 4 & 3
Tiffany Lua, Rowland Heights, Calif. (USA) def. Anna Arrese, Barcelona, Spain (EUROPE), 4 & 3
Ana Fernandez de Mesa, Puerto de Santa Maria, Spain (EUROPE) def. Alison Lee, Valencia, Calif. (USA), 1-up
Alexis Thompson, Coral Springs, Fla. (USA) def. Tonje Daffinrud, Tonsberg, Norway (EUROPE), 1-up
Kristina Wong, Bradenton, Fla. (USA) def. Johanna Tillstrom, Taby, Sweden (EUROPE), 3 & 1
Jennifer Johnson, La Quinta, Calif. (USA) def. Sophia Popov, Weingarten, Germany (EUROPE), 2 & 1
Kelly Tidy, Bolton, England (EUROPE) def. Alexandra Stewart, Peoria, Ariz. (USA), 5 & 4
Kristen Park, Buena Park, Calif. (USA) def. Lisa Maguire, Co. Cavan, Ireland (EUROPE), 2 & 1
(Photo by David Cannon/Getty Images)