News
American team leaders continue to dissect Ryder Cup loss in series of post-match conversations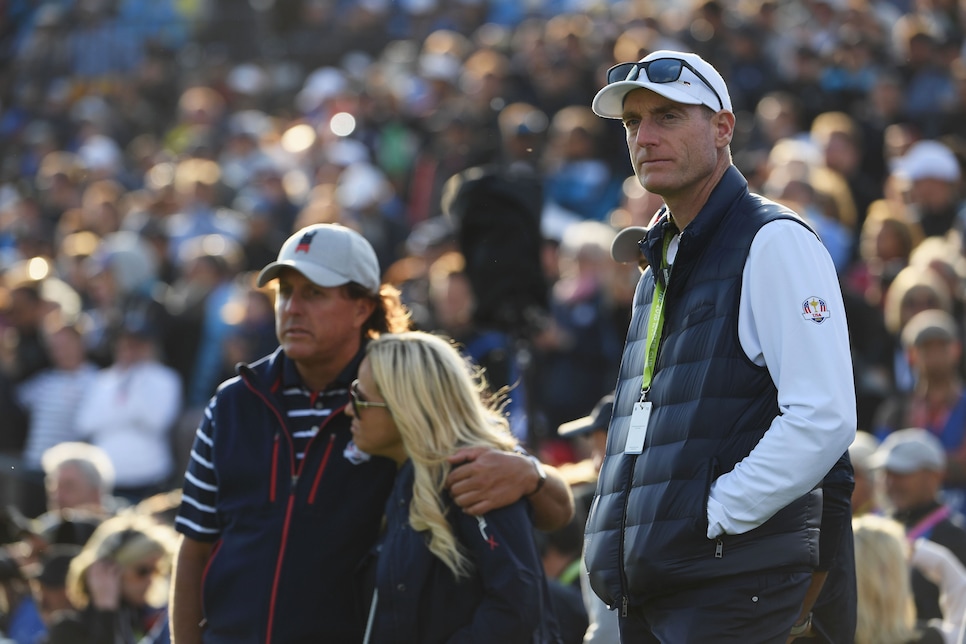 Photo By: Ross Kinnaird/Getty Images
It has been a month since the U.S. was blown out by Europe in the Ryder Cup at Le Golf National outside Paris, and with the passage of time, a broader question still remains: What does it mean for the Americans going forward?
Almost immediately after the seven-point drubbing in France, the leadership within the U.S. team room started dissecting what went wrong—on the course and off it—according to assistant captain Davis Love III. That conversation hasn't stopped in the ensuing weeks, either, with a series of debriefings taking place and a string of ongoing text messages exchanged.
"I dropped the ball on two or three things that could have helped, and I apologized to Jim," Love told Golf Digest last week. "I should have seen some of those things coming."
That's overstating things a bit, but one of the responsibilities of Love, a veteran of eight Ryder Cups including his captaincy in 2012 and 2016, was letting Patrick Reed know that he wouldn't be playing with Jordan Spieth, whom he'd compiled a 4-1-2 record with in two previous Ryder Cups.
Love informed Reed during the week that he would be paired with Tiger Woods, and Reed was indeed aware of that likelihood before the team even crossed the Atlantic.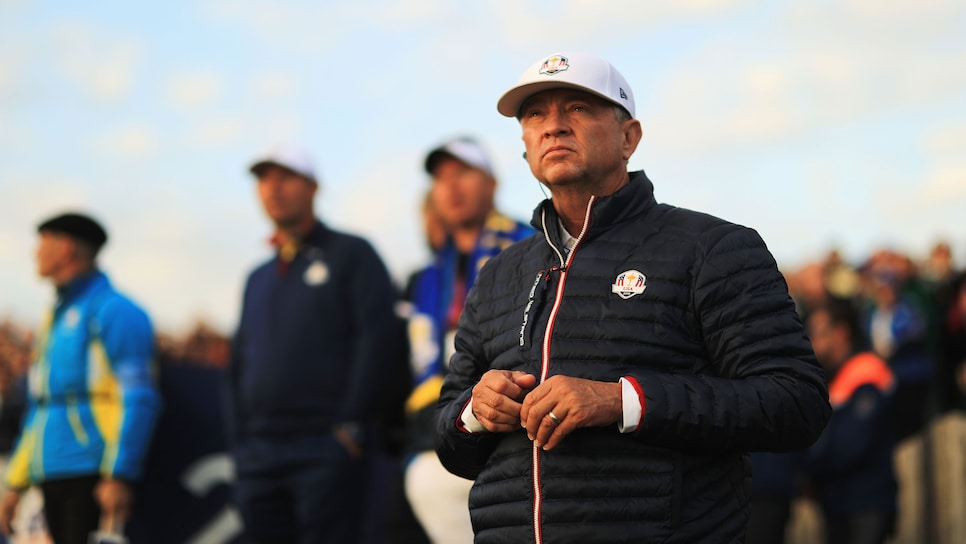 But somehow it got lost on Reed, and the frustration of losing boiled over in his post-match comments to the New York Times in which he said he felt blindsided and called the decision-making process a "buddy system" that ignored the input of all but a few players. Since that story, Furyk and others have spoken to Reed to try and clear the air, among other conversations that have taken place.
Then there was the situation involving Brooks Koepka and Dustin Johnson at the European's post-Cup celebration. Though Koepka repeatedly has said nothing happened, multiple sources (including Furyk in an interview with the Golf Channel) say some type of exchange took place, the nature of it centered around a third party.
Regardless, there has been cleaning up to do internally. "We all talked to one another in the week after and tried to decipher what came out compared to what actually happened," said assistant captain Steve Stricker. "It's sad we lost and unfortunate [that some things happened]."
Reed mostly talked around the question of the Ryder Cup when asked about it at last week's WGC-HSBC Champions, his first tournament since Paris. "Ryder Cup was three, almost four weeks ago," said Reed, who finished T-7 in his return to competition. "Right now I'm just trying to play great golf and finish off the year right. Because even though the PGA Tour season has now started, for the European Tour, it's still going on. I'm a little bit behind Francesco [Molinari] in that, and I'm hoping to close that gap and have a chance to hopefully win the Race to Dubai."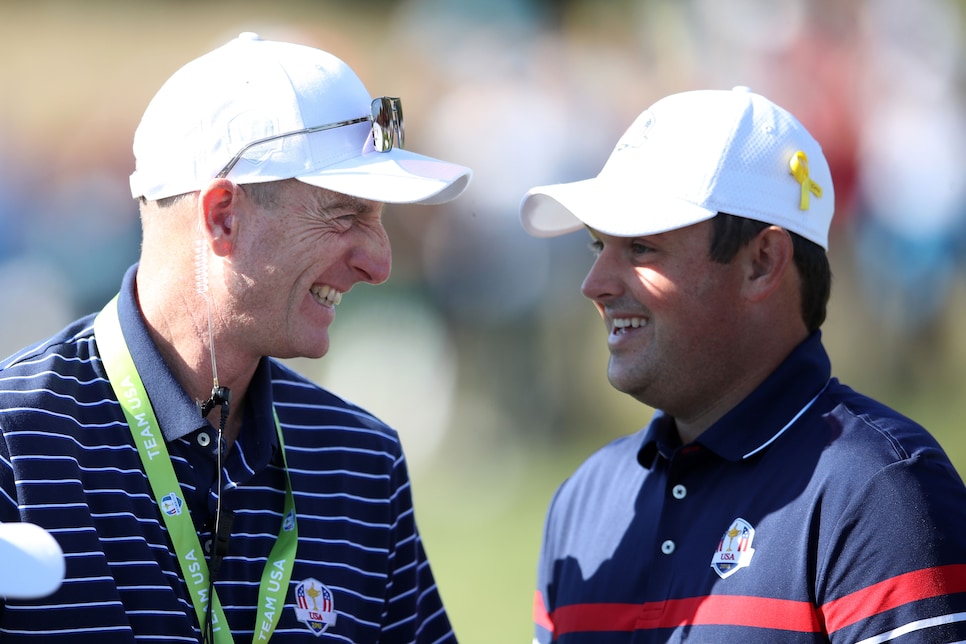 The U.S. team hopes to move on from the topic just as swiftly. It's something that should be easier to do than in 2014 at Gleneagles, where Phil Mickelson used the Sunday team press conference to publicly voice his displeasure with captain Tom Watson for what he felt were a series of missteps that ultimately led to a complete overhaul of the U.S. Ryder Cup system.
While the Americans lost by a larger margin in France than in Scotland, don't expect a back-to-the-drawing-board rebuild like we saw four years ago. The differences between then and now are significant. For one, Mickelson served as the voice of an entire team that had grown frustrated under Watson's captaincy; for another, the makeup of the players who will be part of U.S. teams for the foreseeable future, and the culture between that group and future captains and assistants is more cohesive. And even with Reed's rant, there have been plenty of teams with a lone wolf across all sports that found a way to be successful.
"What we did after '14 was create a sort of USA Basketball mentality," said Love, referring to, among other things, a continuity in leadership as well as a higher level of commitment. "We're in this for the long haul."
Added Stricker: "We didn't see [Reed and Spieth not playing together] as an issue while we were there, and it's unfortunate it came out the way it did. But Jim did an unbelievable job, and he was up front [with Reed and Tiger] and [Reed] handled it great at the time. But I don't think it will be an issue going forward. I think going forward we'll stay the track."
The U.S. won't have to wait until the next Ryder Cup two years from now at Whistling Straits, when Stricker is expected to be the captain, to find out. In just over a year the Americans will travel to Australia to play the Presidents Cup. Many of the same players who were in France will be in Oz, and Woods will be the captain.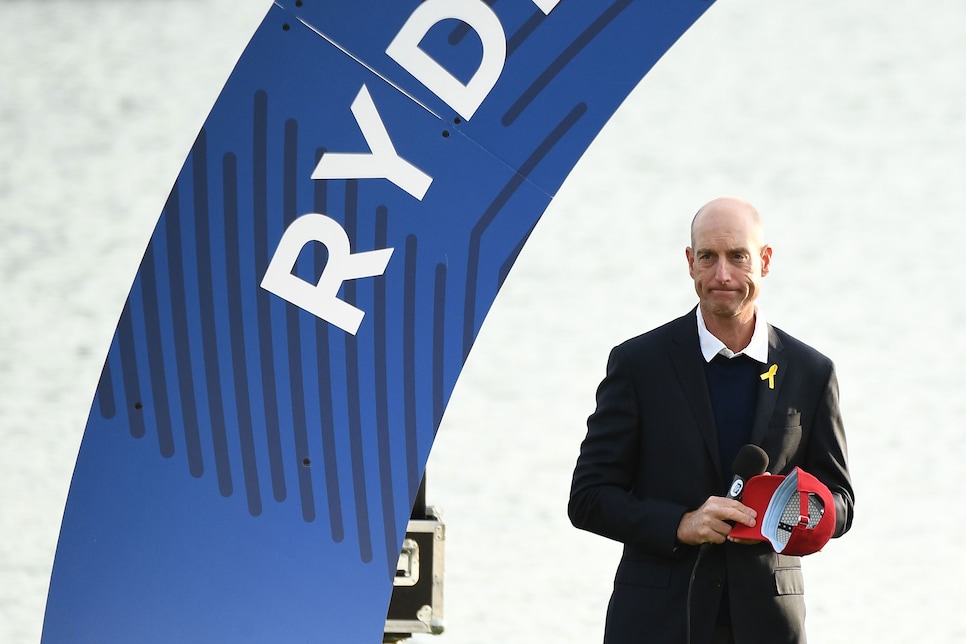 Though the U.S. has been wildly successful in that event against the International team compared to the Ryder Cup against Europe, losing just once in the 12 meetings, the message remains the same in the months leading up to it, according to Love.
"We've done a massively better job communicating," he said. "But we still have to get a lot better. My advice to Tiger: Keep ramping up the conversation."