The Loop
American golf looks for a jumpstart in nation's capital
BETHESDA, Md. - The 1911 U.S. Open at Chicago Golf Club produced something none of the previous 16 national championships had managed to churn out since the USGA played its first professional event in 1895: An American winner. Johnny McDermott took home the title at age 19 and proved it wasn't a fluke when he won again the next year, beginning a streak in which Yanks took home the trophy in 71 of the next 78 competitions.
A century later, the best players in the world come into Congressional Country Club to find that the balance of power in golf has not exactly gone full circle, but a large position of the way around it. An American currently holds none of the four major titles and if someone born outside these shores wins the U.S. Open this week it will be the first time since the Masters was started in 1934 that five consecutive majors have been played without an American winner.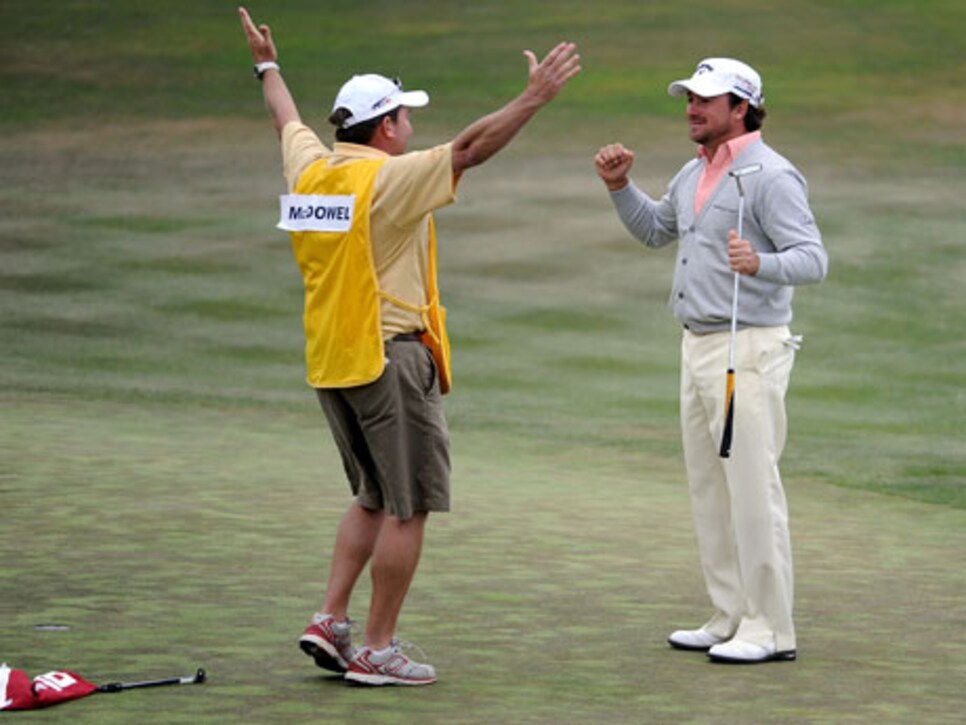 Graeme McDowell celebrates with his caddie Ken Comboy after making par on the 18th hole to win the 110th U.S. Open at Pebble Beach. (Photo by Harry How/Getty Images)
When Graeme McDowell of Northern Ireland took home the trophy at Pebble Beach last year he became the eighth international winner in the last 17 U.S. Opens. In fact, 11 of the last 17 majors have been won by non-Americans and the last time Yanks swept all four majors in the same year was 1982 when Craig Stadler won the Masters, Tom Watson took both the U.S. Open and the British Open and Raymond Floyd won the PGA Championship.
](http://www.golfdigest.com/golf-instruction/2010-09/graeme-mcdowell-drills)
After a decade and a half of Tiger Woods and Phil Mickelson being pretty much the consensus No. 1 and No. 2 in golf, the top three in the Official World Golf Ranking -- Luke Donald, Lee Westwood and Martin Kaymer -- are from Europe and nine of the top 15 are from outside the United States, with No. 15 being Woods. The politically correct position for players is that domination is a cyclical thing and that the pendulum will eventually swing back in the direction of the United States.
"I'm actually very encouraged with where our American golfers are, especially the young players," said Mickelson, whose victory in the 2010 Masters was the last by an American in a major.  "We have a plethora of great players coming up.  And I think at the forefront is a guy like Dustin Johnson.  This guy has got so much raw talent that I really enjoy playing with him because he's a fun guy and he's got all kinds of game."
Mickelson's list of up-and-coming Americans includes Jeff Overton, Hunter Mahan, Anthony Kim, Rickie Fowler and Jamie Lovemark. Lefty also referenced Anthony Paolucci, the high school kid who made the cut at the Farmers Insurance Open at Torrey Pines this year and will play college golf at USC beginning in the fall. Yet, he admits golf's talent pool has gone global.
"It's obvious that world golf as a whole has become so much stronger and that international and European golf has become world class and top notch and some of the best players in the world and certainly in the rankings right now [come from outside the U.S.]," Mickelson said before Thursday's start of the U.S. Open. "So although international golf has really taken off, American golf is still in very good shape."
Twice in the last four majors, Americans went into the final round with the lead and spit the bit big-time. Nick Watney headed last year's PGA Championship at Whistling Straits after three rounds and shot 81 on Sunday. A couple of months earlier at Pebble Beach, Johnson was atop the leader board after 54 holes at the U.S. Open only to close with an 82.
"It's not like we're not trying or not playing well," Johnson said at Congressional. "I think the American guys are playing really good.  A lot of things have to go right to win a major, and obviously the guys that have won the last four majors have played really good golf, and that's what you have to do to win a major."
One of the international players to win the last four majors is Kaymer, the German who took home the Wanamaker Trophy at the 2010 PGA Championship. He noted than not only have 10 different players won the last 10 majors, but that those players are coming from all over the globe.
"I think it's nice," he said.  "It's exciting, isn't it?  It's nice to have different champions.  It's interesting for golf and the world. It's nice that K.J. Choi, that he won TPC recently.  It's great for Asia, as well.  You can see the World Rankings, it's changing every week, every month it's something else is going on.  So I find it very exciting."
After McDowell, Louis Oosthuizen at the British Open and Kaymer won the final three majors of 2010, Charl Schwartzel, like Oosthuizen from South Africa, captured this year's Masters.  Of course the elephant in the room when discussing recent major championship winners is the fact that Woods hasn't taken home a title since the 2008 U.S. Open at Torrey Pines.
"Why it is like this?" Kaymer asked before not answering his own question about the revolving door of major championship winners. "I have no idea. Obviously Tiger, he hasn't been up to his best form recently, the last two years.  That's why he probably didn't win.  The last 12, 24 months, but I think for us Europeans obviously it's fantastic, it's very exciting to see us up there."
For American contenders -- and Steve Stricker, Bubba Watson and Matt Kuchar have to be considered in the mix along with Mickelson, Watney, Watson, Jim Furyk and Hunter Mahan -- it may be time to channel their inner Johnny McDermott. There's no better time for an American to win this U.S. Open in the shadow of the nation's capital than one hundred years after a teenager staked a claim to greatness for golf in the United States, perhaps triggering another red, white and blue renaissance.