The Loop
I Ambush a group every month. And in my months filled with great golf courses all over the country played in perfect weather and paid for by the company, it's the day I Ambush that I consider my favorite--by far. I consider the role of rolling up on an unsuspecting group of people participating in a few of their favorite days of their year a privilege. My goal is to hang out, look, listen, take notes, pictures and pass out gifts. The real purpose is to connect with loyal readers, avid golfers and celebrate the essence of the buddy trip. We, Golf Digest, feel like we were poking around in an open field and struck a well of passion for golf and information about the people who play the game.
A guy like Greg Waldrop has distinguished himself as one of the biggest fans of the Ambush. Waldrop submitted a winning itinerary for 40th Annual Bratton Brothers Invitational--getting together every year in Gulf Shores, Ala. since before I was born. Waldrop now follows the blogs and sends congratulatory notes to other winning groups. After an exchange of e-mails, he befriended Dave Walker, of Ambush No. 14--the 20th Annual Watson's Springfest in Canangaigua, New York.
Last week Waldrop, Walker, Walker's brother-in-law and Bobby Bratton met in Gulf Shores and played golf at the Peninsula Golf and Racquet Club. They exchanged gifts, shared recipes of their group drinks and told stories about their Ambush experience. There's paying it forward, and there's playing it forward.
After the round, Waldrop filed this report about their day and sent in this picture (from left to right: Hank Drake, Greg Waldrop, Dave Walker, Bobby Bratton):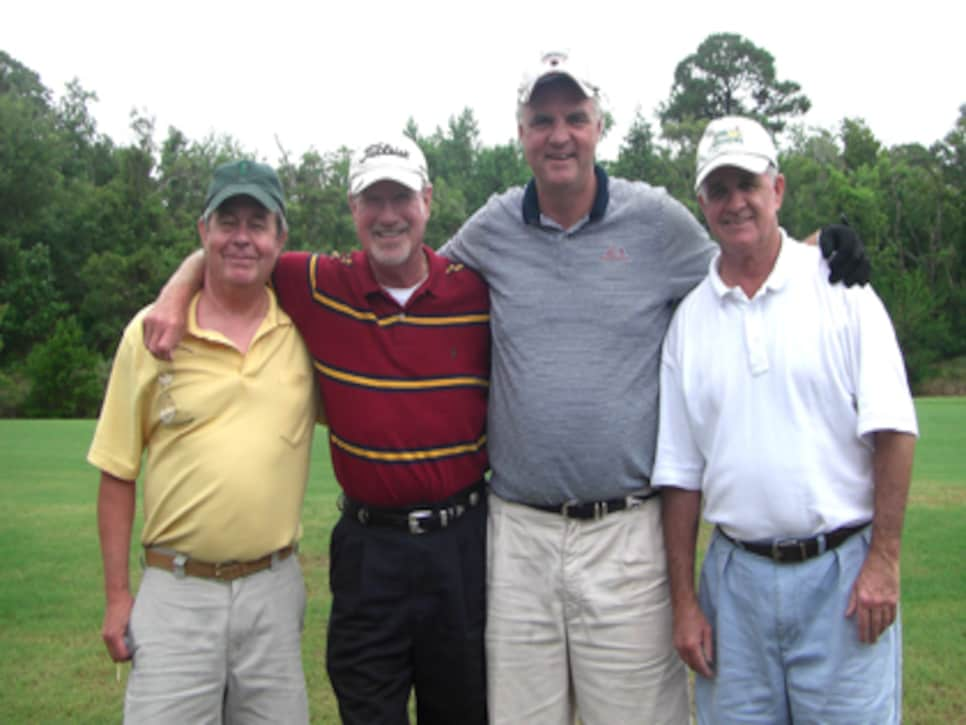 Well, you were right again. In one of your Ambush articles, you wrote that Dave "Walk" Walker could walk on most any course and shoot a 75. He double bogeyed the last hole we played on the Marsh nine of the  Peninsula to shoot a 2 over par 74. He started out with  birdies on 1 and 2 and he should have birdied 3, 4 and 7. He is a real good  player. Also, in that same Ambush article, you wrote that Walk occasionally gets the "yips" when chipping. This happened on the last hole we played. He was lying 2 on a par 5 about 30-40 feet off the green. He chipped (bladed) it across the green and into the water. Bob and I both shot 87 and Hank  (Walk's brother-in-law) shot a 101.
Matt, if it were not for your Golf  Digest "Ambush", I would have missed meeting two really super "guys" that I  will continue to stay in touch with. Bob and I have invited Walk and Hank to  attend the 2010 edition of the BBI. As much fun as I had  playing/talking/riding/drinking with Walk, I bet 3 to 4 days would be a hoot! Speaking of drinking, when we picked Walk and Hank up after their  ferry trip across the Mobile Bay from Dauphin Island, we all had a "Caesar" on  the tailgate of Bob's GMC Denali. Walk brought all the fixings and gifts for Bob, Hank and myself. Bob and I purchased Walk a windshirt just like we sent you, except a "bunch more" material was used for Walk. As you know, he's a big  guy.
Once again, thanks for coming up with the "Ambush". I'm confident that I  will get to meet and play with others from other Ambushed groups.
Best regards and Good Golfing!
Thank you, Greg. I'm in Pinehurst this week with Dave Walker. He was one of six winners of the Golf Digest Trip Planner Contest. We've assembled a Top Gun crew of buddies trip planners for three days of pampering at Pinehurst. We're giving back to the givers of the game. We're passing out gifts (supplied by Golf Digest, Pinehurst and Callaway), treating them to free golf (we're playing No. 8, No. 4 and No. 2), food, drinks, spa treatments and we're going to pick their brains about buddies golf trips. Where they go, with how many, how much do they spend, how do they negotiate better prices, the benefits of going to the same venue, the benefits of switching it up. Stuff like that. I'm actually on Twitter (wheresmattyg) if you'd like to follow along.