Courses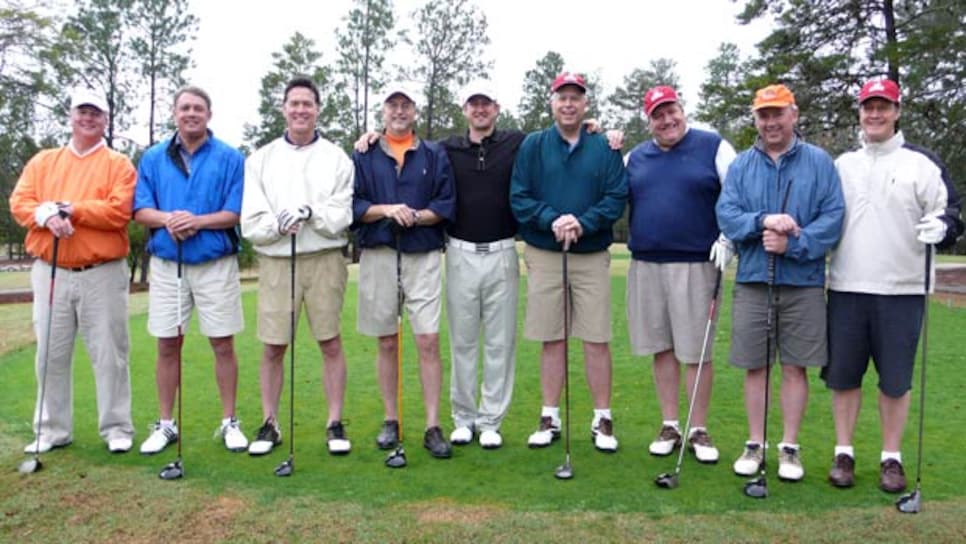 From left: "Willie" Arnold, Jerry Hampton, Merle Glasgow, Mike McPherson, Matt Ginella, Dave Raiford, Mike Hendren, Leonard Cathey, Tom Keck.
In a fishing and golf lodge on Miss Maggie Drive in Homosassa, Fla., an hour north of Tampa, eight friends from a suburb of Nashville pass around a 1974-'75 Dickson County High School football program.
Merle Glasgow figured the classic snap of William (Willie) Arnold in uniform, posing like a pro on a trading card, might inspire some laughs.
"Right there," says Jerry Hampton, who also went to Dickson, "Willie was on the verge of becoming a derelict."
Dave Raiford piled on: "It says Willie weighed 170 pounds? Now that's the weight of one leg."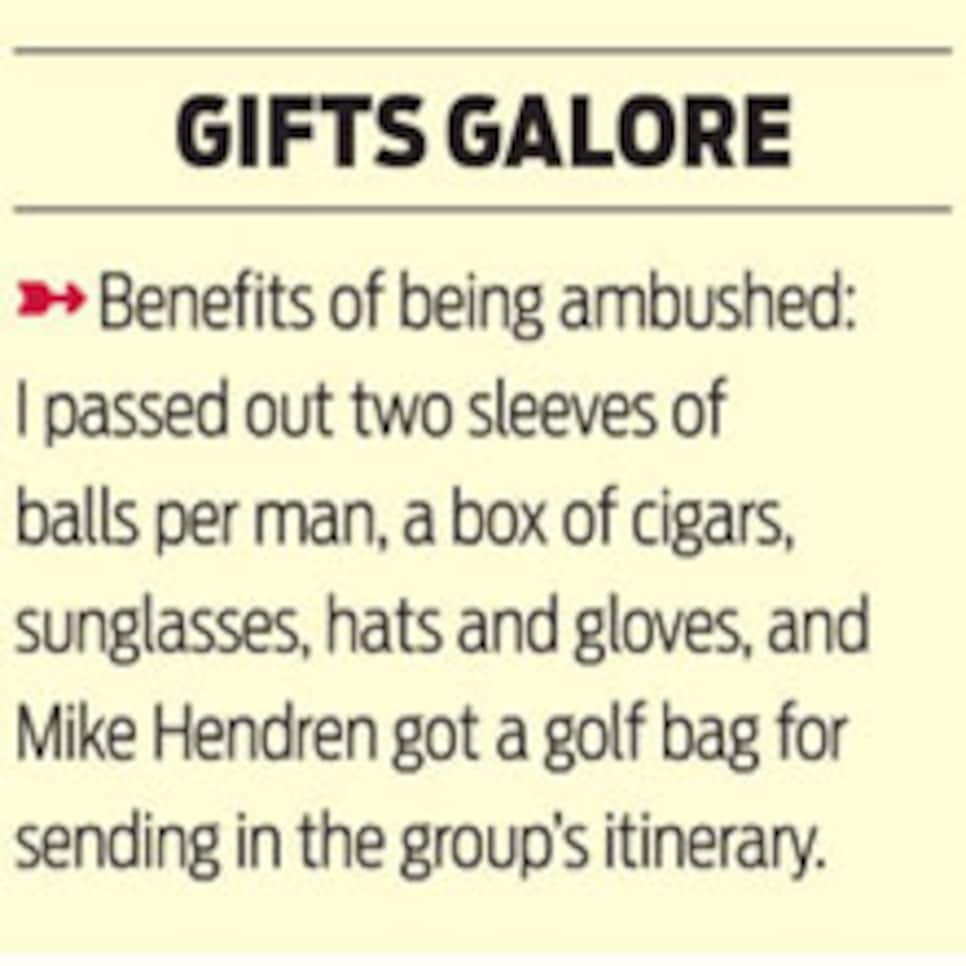 Arnold took the buddies-trip banter in stride as he heated a plate of food for Mike McPherson, who arrived late but still received trip MVP. That's because he played knowing he was going to have back surgery two days after he got home.
The guys pray as a group before dinner, they give thanks for close friends, and they toast Mike Hendren's wife, Kathie, the catalyst for their favorite few days of the year. She organized the first trip as a surprise party for Hendren's 40th birthday.
During the 13 years of annual gatherings, some of the behavior has been diluted.
"Our 'sponsor' used to be Crown Royal," says Hampton.
"Now it's Metamucil," says Leonard Cathey.
They've always limited the group to eight to keep things manageable, and they've sampled Pinehurst
in Brooksville, Fla., where there are two four-and-a-half-star courses and a famous 360-degree practice range.
two years ago, Hendren, who is this trip's bell cow, saw a link to the Chassahowitzka Hotel (chazhotel.com)
. It's a B&B with eight rooms, sleeps 15, and is owned and operated by David Strickland.
"We generally keep it to one group at a time," says Strickland, who started hosting golf trips four years ago. "If you stay here, you get the run of the establishment."
"The Other Senior Tour," as the group calls itself, paid $550 a man for two nights of lodging, two home-cooked breakfasts and dinners, and four rounds of golf, lunch included. (Strickland cooks the meals and arranges the tee times.) The guys played both courses at World Woods (Pine Barrens, ranked No. 46 on America's 100 Greatest Public, and Rolling Oaks), Brooksville Country Club
, their favorite of the four.
Where are they going next? Hendren isn't sure, but value is their priority. "There's something to be said for familiar," he says. "Then again, it's a great big world out there."