The Loop
The Complete Ambush History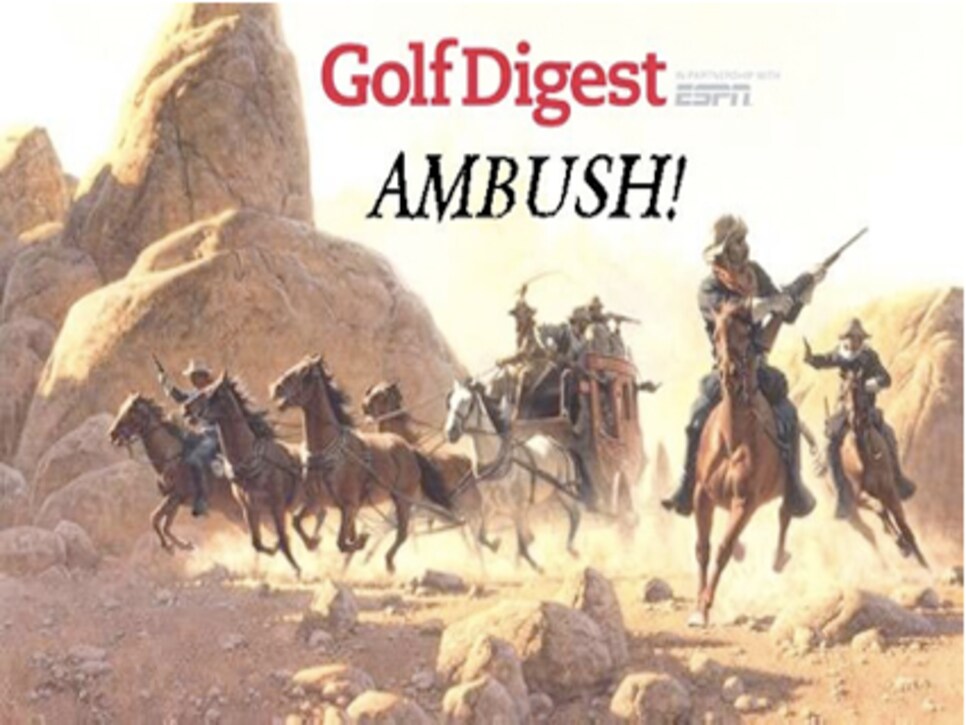 Waldrop submitted a winning itinerary for Ambush No. 13, the 40th Annual Bratton Brothers Invitational, and I met him in Gulf Shores when I showed up, passed out beer, balls, hats and a range finder to his group and wrote their story for the June issue.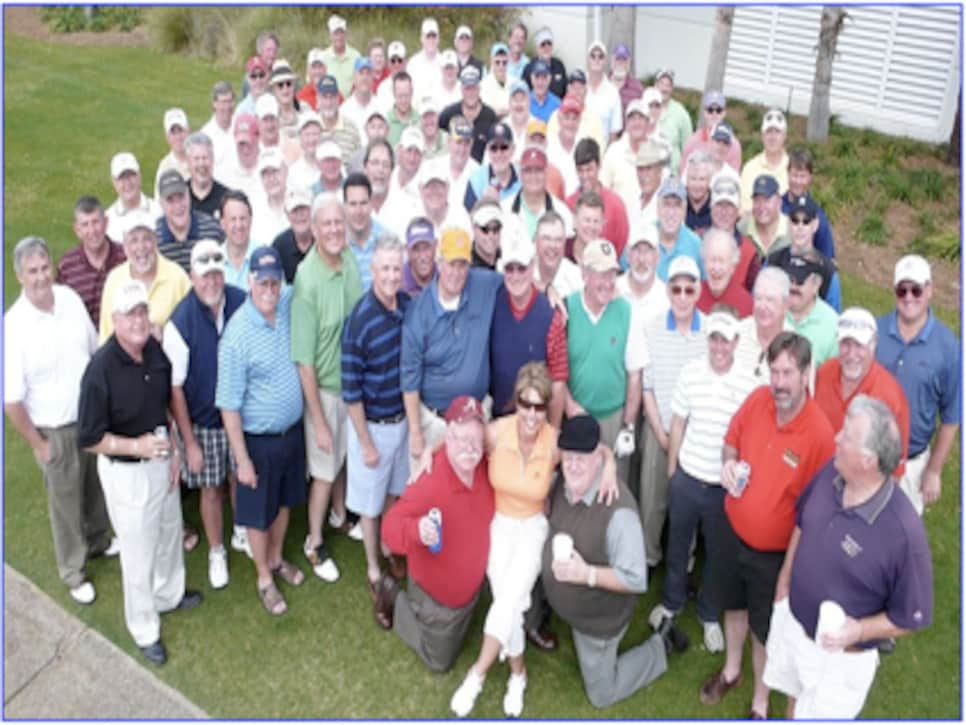 I think it's safe to say that Waldrop is an Ambush groupie. Or, as Kate Hudson delightfully explained in Almost Famous (one of my favorite movies), Waldrop may best be described as a "Band-Aide."
Either way, I'd argue he is an Ambushaholic, and we're all benefiting from his insatiable appetite for buddies trips.
Waldrop compiled a chart of all 17 Ambushes so far. In his grid, Waldrop listed the number of golfers I Ambushed on each trip, where the Ambush took place, how many years the group has been getting together and the issue date of the Golf Digest where their story was published.
Here's a version of his work with a comment about what I remember from each Ambush:
-No. 1: April, 2008--"The Ponce" was a story about 16 guys at Sea Island Resort on St. Simons Island, Ga. The Ponce set quite a precedent. I've always said that The Ponce, at a resort like Sea Island and with the competitive format put together by Neil Thomson and his friends, is the type of trip I would like to plan one day for all of my brothers and friends. I do buddies trips, just not at Ponce level. And you can't beat the Lodge at Sea Island or the Seaside Course as a venue.
-No. 2: May--A group of eight guys from Holland, Mich. had been getting together for 17 years and this trip was to Scottsdale, Ariz. I remember I didn't love the Arizona golf courses (narrow and lined by houses) but I loved the weather and the deal they coordinated for their lodging. And some of the nicest people I've met while out on the road have been from Michigan. (The craziest are from Canada--or Ball Ground, Ga. More on that later . . .)
-No. 3: June--The "Louisville Sluggers" was a group of eight guys from Kentucky on their sixth annual gathering in Destin, Fl. This trip was memorable because the group bumped into the Playboy Bus . . . 'nuf said.
-No. 4: July--The "O'Toole Invitational" was 16 guys on their 12th annual trip to Orlando. Bryan O'Toole got hot on this trip. His team finally beat his brother's squad, he chipped in from a bunker and fleeced me in late-night Texas Hold 'em. Ms. Kara Bristol in our accounting department kicked back the line in my expenses that read: "Poker lesson--$60." I gambled again and lost.
-No. 5: Aug.--Three friends from San Diego celebrated their 40th birthdays by treating themselves to an ultimate buddies trip to Pinehurst. They were a threesome before I showed up. I conveniently joined them for a day of 36 holes at Pinehurst No. 2, followed by a spontaneous lunch with Peggy Kirk Bell and an afternoon round at Pine Needles. It was an unusually tough day on the job.
-No. 6: Sept.--The "Baroo Cup" was 20 guys on their fifth annual trip to Charleston, SC. I remember a lost wallet, a flirty beverage cart girl, a pair of Tom Fazio's first golf courses and a replica British Open trophy they ordered from a small store in St. Andrews.
-No. 7: Oct.--The "Mid-Michigan Invitational" was 14 guys on their 14th annual trip to Lewiston, Mich. A great group of emotional guys honored two of their fallen friends on this trip, both who had died within a year of the previous trip. They toasted the two friends before every round and every meal. There were lots of tears on this trip but they played on because that's what their friends would've wanted them to do--they would've wanted the boys to play on.
-No. 8: Nov.--The "Roadrunners" was a story about a group of 45 guys on their 18th annual trip to St. George, Utah. A display of impressive inexpensive golf and a fine delegation of trip responsibilities. For example: three guys were assigned the job of human alarm clocks, one guy marked every putter with a piece of tape to determine a unified gimme length, and one guy coordinated mid-trip rub downs by a trio of local massage therapists.
-No. 9: Dec.--"Fore on the Porch!" My first experience Ambushing an all-female trip was at Hawk's Ridge in Ball Ground, Ga. What can I say? To date, still the wildest bunch of golfers I've Ambushed. These women made the Canadians in Ambush No. 11 and No. 14 look like kindergarten cops. These fun-lovin' ladies, 12 of them on their fourth annual gathering, did most of the Ambushing. And I loved every minute of it.
-No. 10: Jan., 2009--The "Jay Rivalry" was eight guys getting together for their sixth season of golf and college football in Birmingham at the Magic City Classic. Jay Roberson and Jay Walker got me on the sidelines for the football game, we played Oxmoor Valley on the RTJ Trail and we devoured massive amounts of finger-lickin' Dreamland BBQ. I haven't been hungry since.
-No. 11: Mar.--The "Canadian Pro Am," which is coordinated, organized, updated and executed by Russ DaSilva, who must hide a cape under his golf attire, was only 135 guys getting together for the 17th year. I'll never forget the hockey glove head cover they gave me as a parting gift. One guy told me, "Take it off your driver and throw it down on the ground when you're ready to press a bet."
-No. 12: Apr.--After reading about the Ambush in Golf Digest, the "Wolf Pack" decided to get together for their first annual golf trip to Las Vegas. They were 12 guys working on building a new hospital in St. Louis and they loved playing Wolf Creek in Mesquite, Nev. One guy played with a sprained ankle and one guy played in a pink skirt because he didn't get his tee shot beyond the forward tee box (also known as the red tees or ladies tees).
-No. 13: June--This was Waldrop's group of 90 guys, the "Bratton Brother Invitational." Bobby and Joe Bratton started this trip when they were in their twenties. Now that they are in their sixties they might move a little slower around the course, but not on the dance floor. The Florabama, two notches below the class of dive bar, will never be the same. Neither will I.
-No. 14: July--"Watson's Springfest," organized by Dave Walker, is a group of 132 guys who drive over from Toronto to spread their frozen golf swings on the course overlooking Canandaigua Lake at the Bristol Harbour Resort. I still love the fact that Walker pairs himself with his father, his brother and his son each year for the Saturday round of golf.
-No. 15: Aug.--The "Wedgewood Cup" was about a group of eight guys who used to be neighbors in Dallas. They've been getting together for five years in Frankston, Tex. for golf, great food and a high level of fun. I was loving the chipping contest to the 18th green until 3 a.m. That is until our source of light, my rental car, became the target. Game over.
-No. 16: Sept.--The "Gantsters." The first story to include a mix of males, females (and kids). The Golfers Across Nebraska Tournament, a group of 42, is out in the current issue of the magazine. This was the closest I've come to an arranged marriage. You'll see what I mean if you watch their video.
One last thing. If you care to read any one of the Ambush stories listed above, Waldrop, along with his web-technician, Jeff Graham, has made every Ambush story easy to find on the Bratton Brother Invitational website. Click here, scroll down to the link and click on "See Golf Digest's Ambush of the BBI," and then scroll down again and click on "Ambush History." Click on any one of the Ambush pictures and it will call up the story of that Ambush.
The page you're trying to find looks like this:
Do you have a trip you take that you'd like to share with the readers of Golf Digest?