The Loop
Ambush No. 20: Are You Next?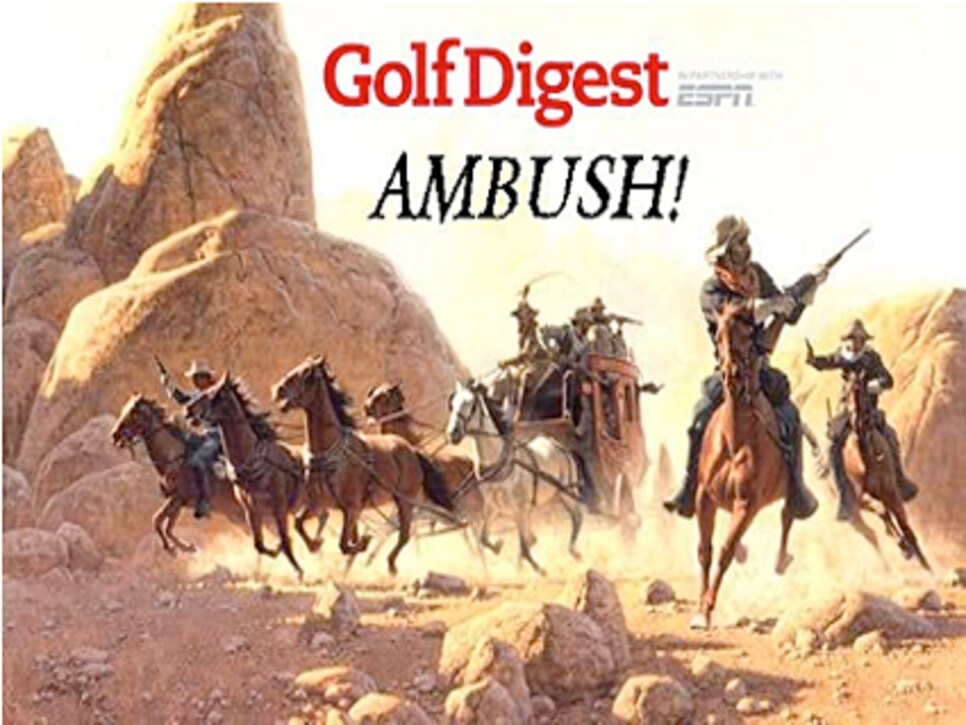 As I'm going through the itineraries taking place in late January and early February, I've circled a few finalists:
-Walter Freundt of Lehighton, PA. wrote in about the the "Big Dog Summit" being held in Myrtle Beach. "This is by far the best organized trip that I have ever attended," says Freundt. They use a Modified Stableford scoring system and they use USGA software (?) that calculates skins and the best ball of two-man teams each day as they gather around the 19th hole.
-Cal Violette of Fayetteville, NC. is also going to Myrtle Beach. "Our group started off 20 years ago," says Violette, "we were eight coaches getting together after the school year ended. It has grown to over 40 members, it's a great fellowship with mediocre golf skills. We gamble with the weather, January in Myrtle Beach, but we've also had some pleasant surprises. One of our members passed away, so now our trip bears the name of, The Rodney Buhrman Classic."
-Tim Hall of Collinsville, VA. is embarking on his 17th consecutive trip to The Grand Strand. They call themselves the "We Suck But So What." There's 28 in their group, they play bad golf, eat a lot of food and "rag the heck out of each other," says Hall. "We respect the traditions of the game, especially the tradition of getting together with lifelong friends, but you can tell by our name, we don't take it too seriously. We will keep going each January until we are physically unable to climb into the car."
-Burley Campbell of Chesterfield, VA. is in a group of eight going to St. Augustine, FL. "We have some crazy stories to tell," says Chesterfield, "and some we can't tell. We're called the 'The Blind Snake Tour.' That's one of the stories I can't tell."
-Vyomesh Desai of Hixson, TN. has organized eight friends from the East Coast for their first buddies trip. They're going to the RTJ Trail in Alabama, home of some of the best value golf in the country. They're starting at Ross Bridge, ending up at Grand National, with a stop at Capitol Hill. "Four of the guys are married and four are getting close," says Desai, "so this will probably be the last trip as a single guy for some of us."
-Al Smith of Ararat, NC. says, "The annual Poler Bare outing (misspelled on purpose) is 20 to 24 golfers on our eighth trip to Tobacco Road and The Pit in North Carolina. If the course is open, we play. We've actually been lucky with the weather. Only one time have we done the 'Poler Swim.'"
Thanks Al . . . for being straight with us.