The Loop
Ambush No. 19: Are You Next?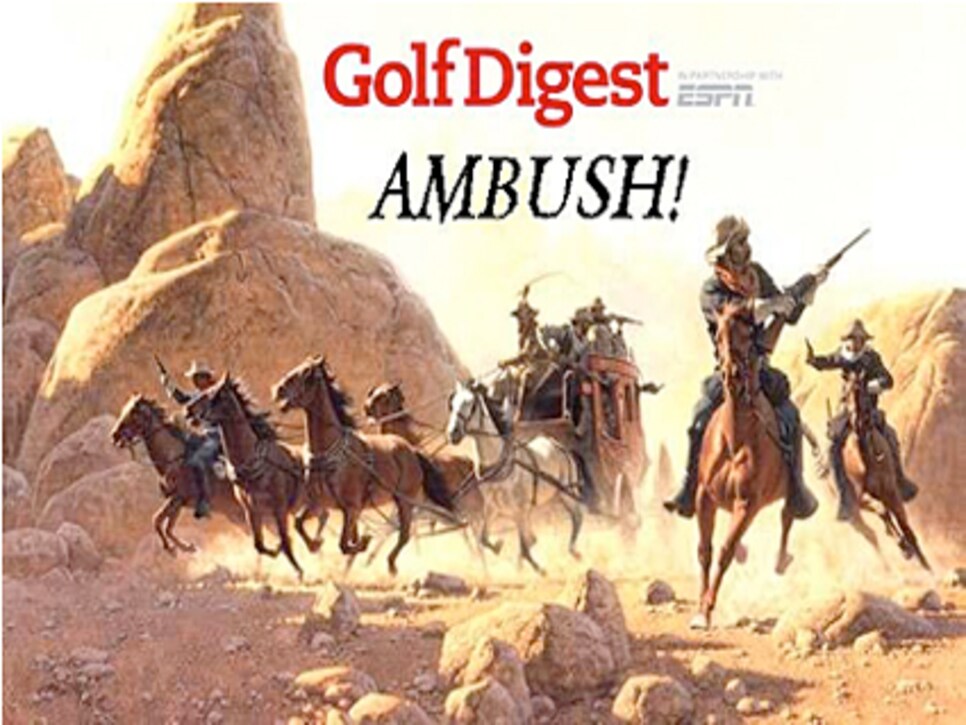 This month a few entries have made their way to the final phase of judging. Among others being considered, I'm looking at "The Inaugural Sandbagger Open," which is "descending upon the historic Sandhills of North Carolina," says Eric Dyer of Shelton, CT. Dyer will have 15 friends playing 36-a-day and their itinerary consists of: Tobacco Road, Foxfire East and West, Talamore and Mid South Club. Dyer says, "Our motley crew claims to be between 14-20 handicaps, and yet, by some amazing string of luck, they turn in scores in the high-70s and low-80s. Things that make you go hmmmmmmmm."
John Rice of San Diego will be attending his annual Harvard class of '83 roommate golf trip. Rice says, "Some members have never missed in over 25 years!" They come from all over the country--this year the host city is Charlotte, NC. "One of us is a member at Oakmont and others on this trip wouldn't be welcome at the most bedraggled muny."
Yep, sounds like the makings of a buddies trip. But what Harvard grad can't get in a round at a muny? Damn, this really is a recession.
Jake Ramirez of Los Angeles is leading his group of eight dudes to Bandon Dunes (aka-- heaven on earth). This is their sixth getaway to the coast of Oregon; the only time they skipped was in 2005. "It has become the ultimate trip as we're all in a place in our life where we respect the game, respect each other and appreciate the time away from our wives/girlfriends," says Ramirez. "We make the annual pilgrimage to Bandon for the reasons that Mike Keiser developed the resort--a destination for golf and golf only. No spas, no tennis, no carts, no strip clubs. We play a three day tourney on the three courses at Bandon over three days (hoping to play Old Macdonald if we can be so persuasive)."
What happens on an Ambush? I roll up on you and your group at some point in your itinerary. I've usually conspired with the resort or the course and they're in on the Ambush (so quit asking the pro if they've heard from me). I bring gifts and buy you things, such as drinks and food. And then I shadow the group for at least a day, or until I have enough information for a short story in the magazine.
Here's a short spot I did on the Golf Channel highlighting the first few Ambushes:
Do you take a trip you'd like to share with our readers? Do you know of one that should be shared?
You never know, you and your crew might be next.