The Loop
Ambush No. 17: Are You Next?
A few weeks ago I was in Omaha. I ate a lonely meal at a Marriott bar while watching Larry King with no volume. If you have to watch Larry King, no volume isn't a bad way to go. I woke up the next morning at 5:30 and I started a one-hour drive west to Schuyler Golf Club. The posted speed limit was 75 mph. I raced trains, cell signal was spotty and I thought to myself: "Why do you keep picking Ambush winners in pockets of the country where a rented GPS is as useful as wheels on the belly of a cruise ship?"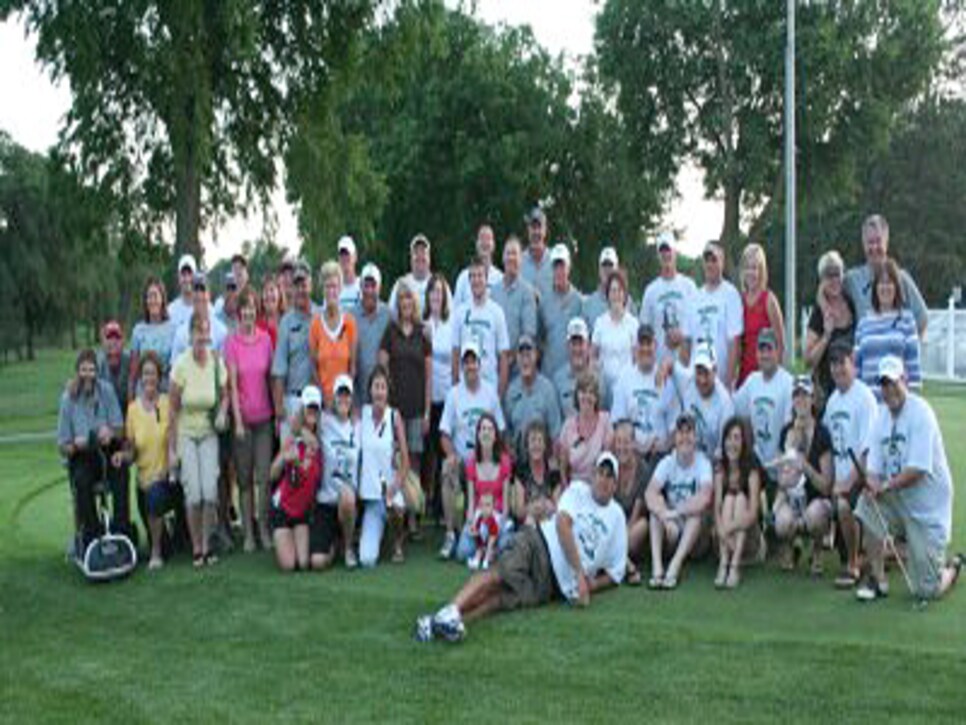 As much as I love the Pebbles and Pinehursts, there's nothing better then spending a day with the true roots of the game. At Schuyler Golf Club, where the golf carts and bridges they roll over both make more noise than kids at recess, you get the impression this scene is only a few generations away from herders with sticks banging rocks around a sheep covered field of Scotland. You'll read more about Ambush No. 16, the Gansters (men, women and children) and their charge on Schuyler, in the September issue. But now it's time to pick my next set of recipients of free stuff and a page of buddies trip fame in the October issue of Golf Digest.
I was sure Joseph Welsh of Portland, Ore. made a mistake in the "Dates of your trip:" portion of the Ambush entry form. Welsh wrote: "The end of July to the end of August." That's not a buddies trip, that's a change of address. He started the essay with the sentence: "One month in Scotland." The first ten days he's meeting up with a fraternity brother in Prestwick, Aberdeen and St. Andrews. The next eight days are with three other friends in St. Andrews. "The last ten days in East Lothian and the Highlands are on my own," says Welsh. "It would be such a hardship if Golf Digest had to send Matt all the way to Scotland to Ambush my group."
St. Andrews is my second favorite small town in the world. Nothing beats Montauk.
"This year marks the Seventh Annual Robert August Surf-N-Turf Golf Charity," writes Dan Jenkins, Jr. of Costa Rica, who must be used to being referred to as the son the Dan Jenkins--one of the greatest sports writers of all time. Jenkins, Jr. says the Robert August is hoping to raise $20,000 for the under privileged children of Costa Rica, and especially the ones affected by the earthquake. "In attendance will be surf legends who also have a love for the sport of golf."
Robert Moreland of Charlotte, N.C. has been leading his group of eight, now 12, to Myrtle Beach for the past 18 years. They all crash in sleeping bags at a house on the Waccamaw River. "After each round of golf," says Moreland. "We float with beers in the river to cool off. We play cheap poker at night and dinner is always the same--chicken bog the first night, steaks the second night. Two years ago Hoyt Hendrick, one of the key members of their group, passed away. It's Hoyt's house they stay at for their annual gathering. "We weren't sure if our home away from home would still be available. But my best friend's mom (my adopted mom) continued the tradition. Bring your suit and float the river. Signed Hoyt's gang (in memory of our lost hero and friend)."
I appreciate the invite. But chicken bog? Sounds like a leading cause of constipation. If I see you guys, it will most likely be on steak night.
Stephen Borse of Crossville, Tenn. is a three-time green jacket winner of the Tennessee Masters, "A tradition like some others," is what he wrote in his Ambush entry. Since 1996 Hugh Ahlering and Bob Titzer have been getting together with their sons and their son-in-laws to play golf "in the Cumberland Plateau, roughly an hour east of Nashville." They play six rounds in four days and they come from as far as Qatar. Newsletters go around throughout the year and the Tennessee Masters has sponsors, such as Lefty's Barbeque. "We would be honored to share our tradition with Golf Digest," says Borse. "We would enjoy introducing the people and annual anecdotes that make the Tennessee Masters a tradition like some others."
Borse says he picked up their green jacket at Goodwill. Of course he did. Where else, other than Augusta, would you find a green jacket?
And finally, Tim Meyer of Indianapolis, Ind. and three of his friends, who all just graduated from college, are chasing championship golf this month. "We are driving from Bethpage Black, where we plan on sleeping in our car the night before," says Meyer. "Upon completion of the round we are hitting the road again to play Pinehurst No. 2. And when we're done at Pinehurst we are off to the Ocean Course at Kiawah Island. To us, this is the ultimate buddies trip. We plan on coming home broke, but it will be well worth it."
These kids have style. After I graduated from high school my Dad took me down to Monterey for rounds at Pebble Beach, Spyglass Hill and Poppy Hills.