Courses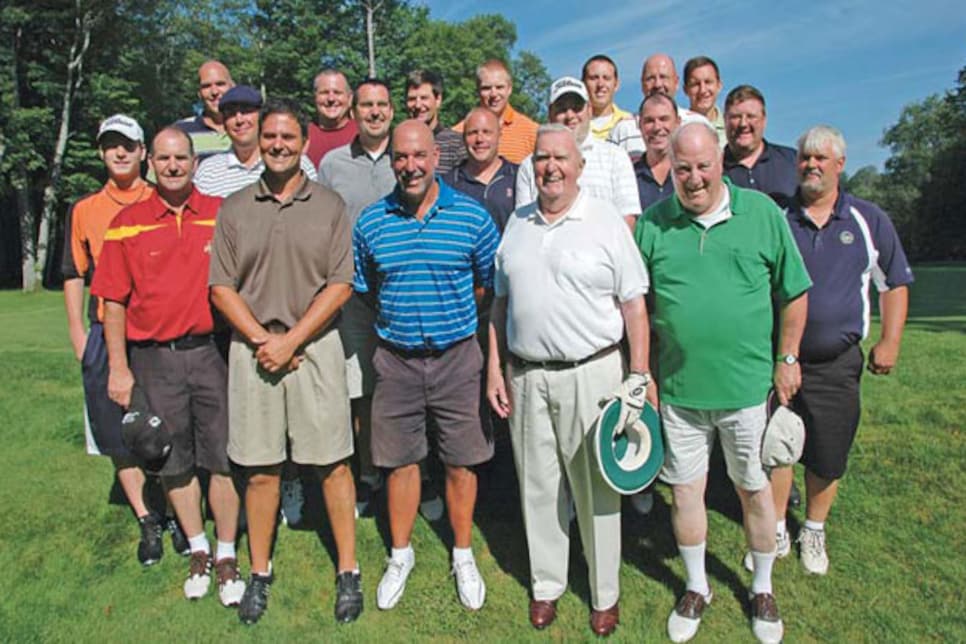 Phil Hart (front left, in brown shirt) leads his family and friends to Thendara Golf Club, designed in part by Donald Ross.
near Old Forge, N.Y., has a decorated history that starts with Donald Ross, who designed the front nine in 1921. By the mid- '60s, the club was funding challenge matches among names such as Nicklaus, Trevino and Player. The first year, Arnold Palmer beat Sam Snead. The Slammer was so bitter about his loss he wanted to leave immediately. But he had another problem: Palmer's plane was his only way out of the Adirondack Mountains. The King, being The King, wanted to stick around and celebrate. According to one Thendara member, Palmer told his pilot, "Take Sam wherever he wants to go." Palmer stayed and partied with the locals.
Golfers in the Thendara Memorial Classic buddies trip have been partying with the locals for more than 35 years. The three days are sacred to this group of 20 from Boston and Rochester, N.Y., because they love the setting, the course, the banter and the deal.
They each pay $243 for three rounds of golf, two massive meals prepared by group member Andy Hart, who went to culinary school, and two nights of lodging at the Country Club Motel, which is next door to the course. Golf Digest threw in an open bar for an hour after the first round of low-net competition, sleeves of golf balls and $150 in gift certificates to the tournament winners. Philip Henry Hart, 25, received a new golf bag for sending in the group's itinerary.
Father Leon Hart, Philip's great uncle, was one of the trip's founders. He'd come down from Ontario every summer with a few fellow priests, and they'd meet up with his brother, Tom, his sister-in-law, Betty, and her husband, John, all from Rochester. They'd play golf by day, camp at night. And as with any successful buddies trip, avid-golfer-moths began flying to the flame of camaraderie. The biggest group was 28, with handicaps from 5 to 36 and ages 16 to 80.
Phil Hart, Philip's uncle, assumed commissioner responsibilities in 2005 after his father, Tom, died of cancer. "When he started getting sick, he pulled me aside and told me this tournament will continue," says Phil, 45. "I told him I would never let it die."
Thendara's golf course (thendaragolfclub.com) offers distinct nines: The front is open off the tee but protects par with Ross' wild undulations on the putting surfaces. "I think Ross buried a school bus under the ninth green," said Glenn Robinson, a 25-handicapper. The back nine, designed by Russell Bailey in 1956, is narrow and lined by dense wilderness, which locals say looks spectacular in the fall.
Among many notable traditions, rookies on this trip sing solos on Monday night. Paul Green is a Yankees fan, and he chose "New York, New York" for his vocal flop. A few notes in, the contingent of "Boston Beauties" booed Green into submission.
To call the getaway sacred might be an understatement. Some of the guys go so far as letting the dates of the trip influence their, um, family planning. A July baby would mean they probably couldn't go on the trip -- and that'd be unacceptable.
"There have been some cold nights in November and December when I think about it," says Scott Ricker of Boston. "I say, 'Not tonight, honey.' "