Courses
'Ohhh, Billy, Billy, Billy...'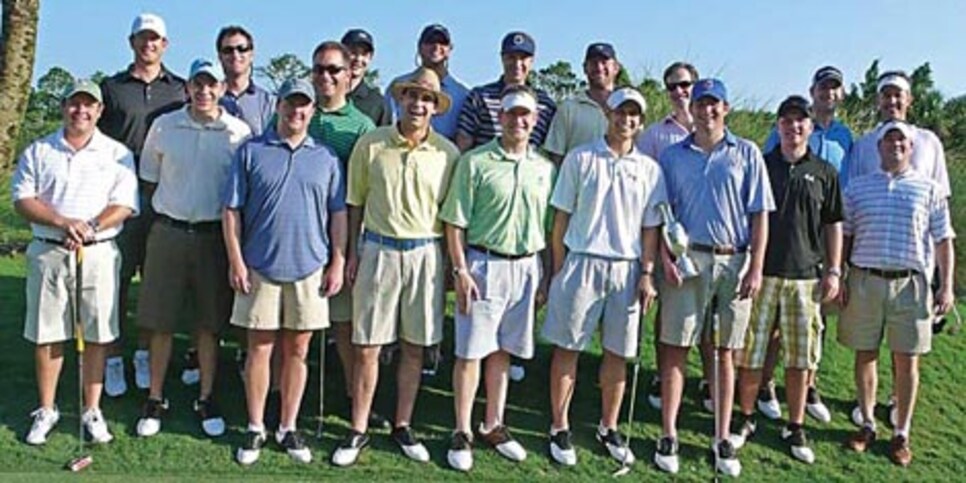 Back row, from left: M. Ginella, A. Nesbitt, A. Cole, S. Parrot, T. Shoemaker, R. Matthews, S. Skager, K. Insley, B. Dellinger, D. Strickland.
The message was loud and clear. Andrew Cole had just teed off on the second hole of the Harbor Course at Wild Dunes in Charleston, S.C. His ball was still rising, but dangerously close to the water hazard. "Swim, baby, swim!" yelled his opponent, Rick Matthews. "There's no love lost between Team Charlotte and Team National," said Bill Warren. The fifth annual Baroo Cup, named for the putter Judge Smails used in "Caddyshack," was under way.
A few guys missed flights, some lost clubs, and one guy shipped his clubs and rode 11 hours on a motorcycle (Tim Shoemaker had a severe sunglasses tan to prove it), but eventually they went 10-on-10 for three days on two courses with a modified Ryder Cup format.
Brandon Lowery, Zack Sexton and Jack Burris started this buddies golf trip "because we realized, as we were reaching our mid-20s, that life was getting faster paced," Lowery said. "It was harder and harder to see all the guys we knew from our days in college at the University of North Carolina." They also wanted to get this on the calendar every year before they all got married and started having kids -- as if a sense of tradition would help their negotiations with future significant others.
I ambushed the Baroo Cup crew at a bar near Charleston where the group of 20 was having an opening ceremony. I gave them each a dozen balls, a hat and bought them a night of dinner and drinks.
[Ljava.lang.String;@14276131
At this year's Baroo Cup, Team National was undefeated and going for its fifth win. "Being on Team Charlotte is a lesson in dealing with disappointment," said Bain Storch of Team National. Sexton, captain of Team National and the best golfer in the group, went Namath: "I guarantee Team Charlotte will lose," he said.
But Team National didn't know there was "an underground movement to get our handicaps where they need to be," said Cole. "In a word: talent. It's not there for Team Charlotte. It's time to cheat."
Team Charlotte had the momentum early. Playing in the first group for Team National on the first day, Storch dropped his wallet in the fairway. Eric Hartley of Team Charlotte found it. With about $600 in cash, Hartley eagerly awaited a visit by the cart girl. He would treat the course to a free drink. Charlotte, 1 up.
Team Charlotte members ended the losing streak and celebrated a 10½-9½ victory Saturday night at the Market Street Saloon for as long as they could. "We were gently asked to leave," Lowery said.
Team Charlotte, with stolen wallets and swollen handicaps, were drinking from the trophy -- a claret-jug replica they ordered from a shop in St. Andrews. "The win will keep those guys coming back, I guess," Burris said. Like an old, trusty putter, the Baroo Cup is serving its purpose.