Courses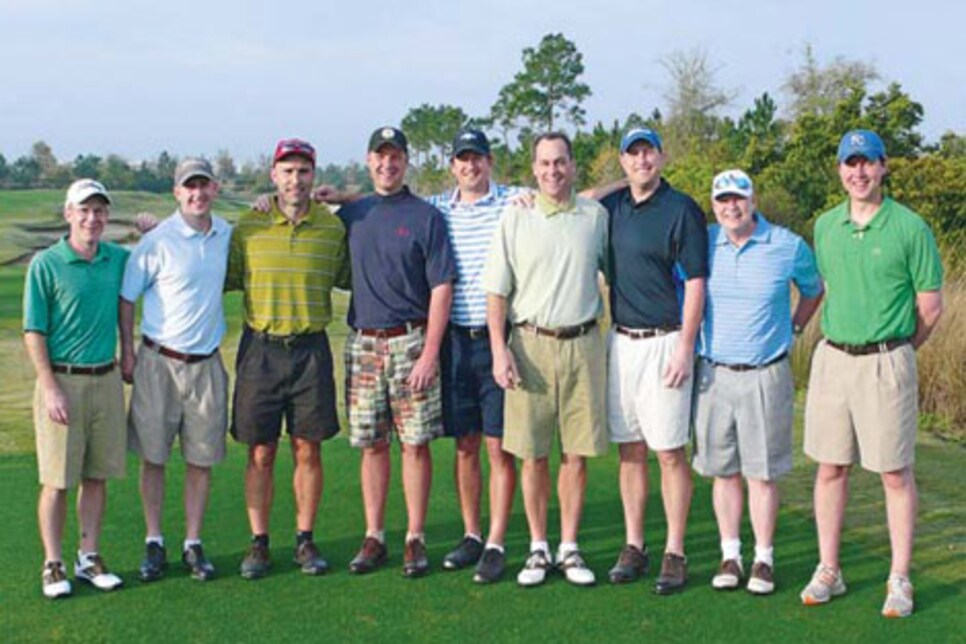 From left to right: Matt Kamer, Mike Carr, Ben Allison, Nick Gerch, Matt Ginella, Andy Kiehl, Norman Combest, Rich Robben, Jeremy Gerch.
For many, March Madness begins and ends with college basketball: face paint, buzzer-beaters and beer. But for eight guys from Louisville, it means an annual trip to Destin, Fla., where they combine golf all day with hoops all night.
I ambushed this group of guys, ages 27 to 44, with beer, golf balls and a couple of meals on Golf Digest. I felt like a special guest until they bumped into a Playboy bus (and all that comes with it).
"We never do anything on these trips we don't tell our wives about," says Matt Kamer.
This year, their sixth, was all set for the first week of the basketball tournament. Then someone realized it would overlap with Easter Sunday. Via an e-mail chain with the subject heading "Off-Site Training," they moved the trip back a week. "I can't believe we put family ahead of golf," jokes Nick Gerch.
The group usually flies into Fort Walton Beach, Fla., which is 20 minutes from Destin. This year, because each guy saved $350 in airfare, they flew into Birmingham, Ala., and made the five-hour drive. They stopped along the way for their first 18 at Cambrian Ridge in Greenville to settle the "bed bet": Low net wins first pick of the rooms. High net gets the sofa.
Gerch's little brother, Jeremy, the rookie this year, won the bed bet. Norman Combest and Andy Kiehl had to share a king-size bed. "I wouldn't be horribly disappointed if that fact didn't make it in the story," Kiehl says.
Rich Robben, a portfolio manager who controls billions of dollars back home, earned a special distinction this time: He didn't take off his 12-year-old pair of FootJoys for 48 hours of this trip. "Hey, they're the most comfortable pair of shoes I own," he says.
The guys' favorite course is Camp Creek, a semiprivate course in Panama City Beach designed by Tom Fazio. They like it so much that they pay $860 for two rooms at the WaterColor Inn & Resort that go unused. This allows them access to Camp Creek and, for the first time this year, Shark's Tooth -- a Greg Norman design. They played both twice. The guys got in 18 at Regatta and another 18 at The Judge in Alabama on their way back to the airport in Birmingham.
Each guy was in for $1,500, which included lodging, two rented vans, food, drinks and airfare. They also put in $60 per man for five days of side bets, but all of the winnings go to paying food and bar bills. "We had one guy who insisted on keeping his winnings," says Mike Carr. "He no longer gets an invite."