Courses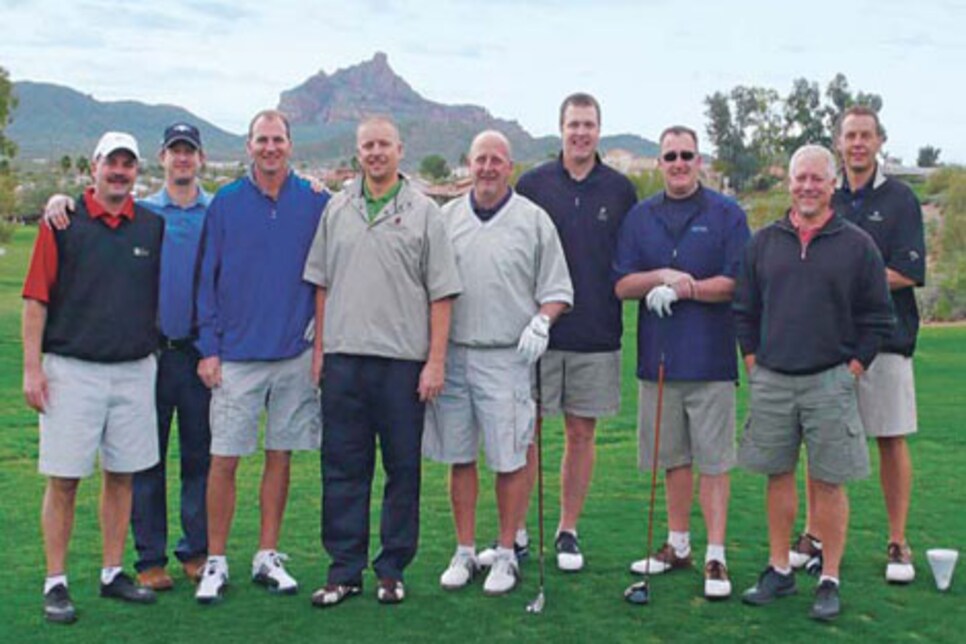 From left to right: Marc VanDam, Matt Ginella, Sheldon Dykstra, Phil Nykamp, Tim Genzink, Chuck Wierda, Dan Mannes, Mark Vredeveld, Tim Kalkman.
Chuck Wierda grew up across the street from Tim Kalkman, who playfully used to put a young Wierdain in a sleeping bag face-first, cinch it with a belt, and hang him upside down from a peg on the wall. Now that they've matured, both have resorted to making a small wager on every shot (not an exaggeration) and an intense form of heckle golf. "Don't choke! ... Miss it!... Noonan!"
Wierda and Kalkman belong to a group of eight guys from Holland, Mich., who've been taking an annual golf trip for 17 years. We surprised them with a Golf Digest Ambush in Scottsdale, where they were treated to a round of golf, a dozen balls per man and four mini-kegs of beer. The sum reaction was more shock than awe. One guy went so far as to tear up.
"It's a fun group of guys, and the neat thing is, there are never any fights or disagreements," Wierda says. After the most stinging of digs, or yelling in one another's backswing, there's often not even an acknowledgement of the disruption. It's more like a smirk, as if to say, "It's my turn now."
The guys booked their five rounds through the travel agency Golfpac. They played Long Bow, Desert Canyon, Eagle Mountain, Cholla Course at We-Ko-Pa (by far their favorite) and Las Sendas, all in and around Scottsdale and Fountain Hills.
Ranging in age from 38 to 48, the buddies were willing to share rooms, but the woman who rented them the four-bedroom house for four nights threw in an additional house next door for free because she doesn't like cots -- they scratch her walls. The group found her through vrbo.com (vacation rentals by owner). Each guy was in for about $1,800 for everything, including airfare.
If you cook on this trip, you don't clean. There's plenty of $20 buy-in for Texas Hold 'em. Dan Mannes is affectionately known as George (as in Costanza) because he lived at home until he was 30. There has been only one hole-in-one over the years. Sheldon Dykstra aced the third hole at TPC Sawgrass the year they went to Jacksonville.
I asked Dykstra how they distributed rooms. "We draw numbers from a hat," he said. "Is it any wonder that the four guys who work for the same insurance company ended up with one through four, and I, who work for the rival insurance company, ended up with the eighth pick? It's fine. My last e-mail to them after I found out was,
'I don't care where I sleep, I'm just happy to be going.' "
The eighth pick is better than hanging face-first in a cinched sleeping bag.