Courses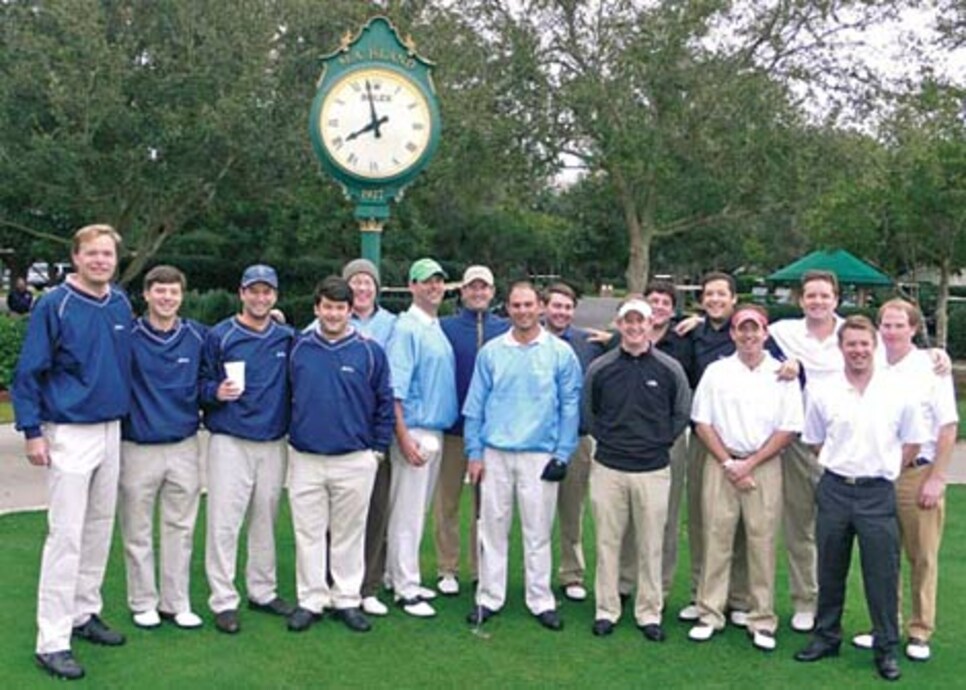 From left: Neil Thomson, Michael Palmore, Cole Clarkson, Jamie Rankin, Andrew Hollowell, John Klim, Golf Digest's Matt Ginella, Wes Battle, Bill Wainscott, Richard Massie, Jeremy Bird, Clark Coulbourn, Michael Aide, John McAllister, Clay Thomson, Muscoe Garnett. Not pictured: Scott Winn.
"It came to me in a dream," says Neil Thomson, a lawyer from Charleston, S.C. "I saw Ponce de Leon."
And so, in its sixth year, the Ponce de Leon Invitational has become the annual search for eternal youth and great golf with friends. It began in 2003 with eight guys. Now 16 men (four teams) play a loose interpretation of the Ryder Cup. The group has been to Scottsdale twice, Orlando, Palm Beach Gardens, Fla., and now back-to-back years at the Sea Island Resort in St. Simons Island, Ga.
They come the same weekend in January for better rates. Not counting transportation, each golfer is in for about $2,500, which includes four nights (two guys per room), five rounds of golf, food and drink. Sea Island provides a golf concierge, who arranges tee times, posts their scores on the course and in the locker room, and places the Ponce trophies in the Sea Island trophy room, where they share space with those won by Sea Island residents Louise Suggs and Davis Love III.
Players receive an 11-page guide with tournament history, rules ("autographs are allowed only outside of the ropes when play is complete") and safety tips ("under wet conditions the grounds could become slippery"). They also have their own website (poncedeleongolf.com) with a mock television schedule, player bios and tournament records.
Tipped off by Michael Palmore, the 2008 tournament chairman, I surprised the group with a Golf Digest Ambush during opening ceremonies. I presented them with some bottles of wine and shot a little video. Check out their shocked reaction to my Ambush.
The Ponce competition has several formats, including two-man match play, Pinehurst alternate shot, four-man captain's choice scramble and Sunday singles. This year every half-point mattered. Palmore two-putted from 20 feet to secure a half against his Sunday singles opponent, John Klim, and lifted his team, the Virginia Gentlemen, to 10 points and a narrow victory over Another Black Sunday (9½ points), 6 & 5 (9½) and Team Lacoste (8½).
"It was the closest Ponce in history," says Thomson. "I told the guys at the Champions Dinner that this tournament is starting to resemble my vision for what it's supposed to be: to preserve golf tradition and to keep friendships going."