The Loop
Amateur Spieth a legit contender at Valero Texas Open
SAN ANTONIO, Texas -- With only two players among the top 50 of the World Ranking here this week, the Valero Texas Open is pretty much the Texas Wide Open. Anyone could win on a difficult TPC San Antonio layout, and that anyone could well be 18-year-old amateur Jordan Spieth, a freshman just an hour up the road at the University of Texas in Austin.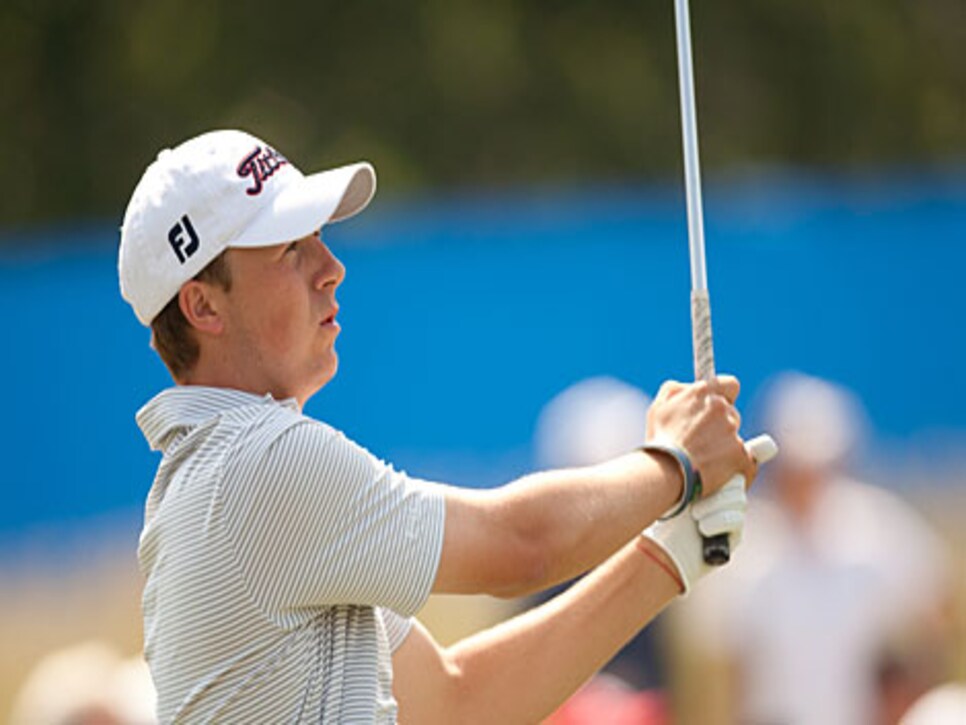 Photo by Darren Carroll/Getty Images
Spieth, who will be playing his fifth PGA Tour event, has two victories and two runner-up finishes among his seven top-six efforts for the Longhorns this season. And he says his game has grown because of the quality of the competition and the difficulty of the courses in college golf compared to high school, as well as from the fact he's been able to work on his game more.
"I have a lot more time to practice than I did in high school," a composed and thoughtful Spieth said Wednesday at the Valero. "We get out of classes at 12:30 and I have the rest of the day to practice, which is nice, versus in high school, I was there at 3 p.m. and [then] out on the course."
Spieth, who finished T-16 at the 2010 HP Byron Nelson Classic at the age of 16, was only three strokes off the lead last year going into the final round of the Nelson at TPC Four Seasons in Los Colinas, near his Dallas-area home, but closed with a 77 to finish T-32. Earlier this year he missed the cut by two strokes at the Northern Trust Open at Riviera after double bogeying his final hole.
"Everything is just really more refined," Spieth said about the improvement in his game over the last eight months. "I wouldn't say any one area is specifically [better]. It's really just grown. More of everything, kind of tightening up how it needs to be."
This tournament, whose field has been hurt in recent years by its spot on the schedule between the Masters and the Players Championship, has produced surprise winners like Eric Axley in 2006 and Brendan Steele last year. With only No. 15 Matt Kuchar and No. 26 K.J. Choi among the top 50, it's not out of the realm of reason that Spieth could contend, or even win.
"I want to get out there and get in contention and hopefully win," he said Wednesday. "I feel like the course fits my game and I'm confident. I've played it a few times now and everything seems to be falling into place."
While Spieth artfully evades questions concerning his college career and how long it might last, the elephant in the room is that this is the last year of a traditional Q school path to the PGA Tour, with it being replaced by a season-ending three-event tournament in 2013. If he's not going to go the full four years, this would be the year to leave.
"Obviously, if I were to win as an amateur that makes life a lot easier, makes decisions easier but, you know, the better I play these events the more everything takes care of itself," Spieth said, referring to the fact he'd get an automatic tour card with a win.
"So I'm not really thinking ahead too much right now," he said. "I'm just focused on this week and focused on winning and if I can win it, then we'll kind of assess it from there and it will be a good problem to have."
While the crowds at TPC San Antonio won't be as large or as supportive as he had at the Byron Nelson, which was in his backyard, the fact Spieth is a Longhorn will earn him a lot of fan support this week. "I know there's plenty of University of Texas alums and I'm also going to have quite a few friends down, too. It will feel like I am at home, which will be good."
One of the things that strikes you about Spieth is that, even as a teenager, he has a quality all great players have -- a belief in himself. When Tiger Woods first came on tour and was asked his goals for the week, he always said if he didn't think he could win he wouldn't tee it up. Spieth has a lot of that in him, successfully walking the fine line between confidence and arrogance.
"I expect myself to play well coming from playing a lot of really difficult courses already this year in our college tournaments and also playing the Northern Trust," Spieth said. "I have high expectations for myself."
And playing a course he knows, in front of supportive fans and with a less-than-stellar field, those expectations that a victory is possible are far from unrealistic.